EMH Upgrades its Lithium Resource as Lithium Prices Soar
European Metals Holdings Ltd (ASX:EMH) 's hard rock lithium resource just got bigger.
Located in the Czech Republic on the border with battery metal hungry Germany, EMH's lithium deposit is called 'Cinovec'.
This monster of a deposit is the largest hard rock lithium resource in Europe, and the fourth largest 'non-brine' deposit in the world.
We are long term EMH investors, as we are big believers in the EU battery metals thematic, and we liked how EMH is at an advanced stage of development, with a large local lithium asset in the EU. EMH also ticks a lot of ESG boxes for us, and EU battery makers.
EMH's Cinovec just got bigger - it now contains 7.39 million tonnes of lithium carbonate equivalent - up from the previous estimate of 7.22 million tonnes.
Yesterday afternoon EMH released a resource upgrade and re-classified its lithium resource into higher confidence categories.
The total measured, indicated and inferred resources have increased by 12.3 million tonnes (mt) to 708.2 mt @ 0.43% Li2O.
This now equates to an overall resource of 7.39 million tonnes of LCE (lithium carbonate equivalent).
Here you can see EMH's resource growth over time: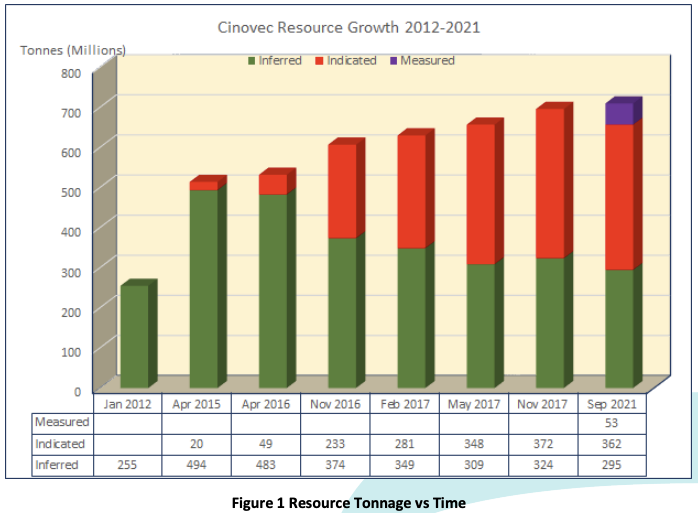 Resource upgrades for companies like EMH are very important, as they provide greater certainty of the financial model and security to financiers that will facilitate bringing the project into production.
The lithium price is soaring due to massive EV demand, particularly in Europe and global lithium supply is not keeping up. The EU has no local lithium sources... yet.
Analysts expect China's lithium carbonate spot price to average $US19,500 a tonne in the second half of this year - more on the lithium price further down.
EMH is racing to become the first local EU battery grade lithium producer to deliver to the emerging local industry.
EMH is at an advanced stage of development, with a very well defined resource and processing flow sheet - its next major catalysts are securing financing for construction and getting an offtake agreement.
With lithium prices continuing to rise, it's definitely a sellers market out there for lithium producers. We think financiers are going to be very interested in taking a stake in a large, near term lithium production asset, in the same region as a host of local EU battery makers.
EMH's project partner is a massive energy conglomerate - who is in talks with Volkswagen for Czech battery and EV plant.
EMH has 49% of the Cinovec lithium project, with ČEZ owning 51%.
ČEZ is a powerful €10BN eastern Europe energy conglomerate, and 70% Czech state owned.
ČEZ is aiming to build a gigafactory in the Czech Republic - and according to this article it's going to decide by the end of the year who will make up a consortium to build it.
It also looks clear that the Czech government is very keen to start lithium mining from 'deposits on the north west border with Germany' - this sounds exactly like EMH's project.

Earlier in the year there were rumours that ČEZ had partnered with Volkswagen in a push to build a battery plant 64km away from EMH's lithium project. We know they are in 'talks' and 'discussions', and both entities have been pretty tight lipped on these plans so we will have to wait and see how it all plays out.
But in any case, whichever big car and battery makers come to the Czech Republic, we cant see why ČEZ would not want to use the lithium resource that it shares with EMH for this planned battery plant...
So all in all, ČEZ is a very helpful local partner to have on the project for EMH, and we think this will facilitate a quick and smooth regulatory process to get EMH into production.
Lithium Carbonate Prices Soaring - Great Timing for EMH as it Nears Production
Lithium carbonate prices have surged over 75% since July, and with further upside in the price expected this year, Morgan Stanley has labelled the commodity one of its top picks.
Chinese EV production has increased almost 250% this year, and supply just cannot keep up with demand. Analysts are expecting China's lithium carbonate spot price to average $19,500/tonne.
EMH's pre-feasibility study (PFS) valued the project at $1.1BN net present value - what is it worth now with a higher lithium price?
That NPV calculation was done back in 2019 and equated EMH's stake to ~ $550M - which is already more than double EMH's current market cap of $240M.
However - the PFS assumed a battery grade lithium hydroxide price of $12,000/tonne.
The world has changed since 2019 - We dare say given both the soaring lithium price and the resource upgrade, EMH's NPV on the project must be higher.
Again, showing vastly improved project economics should present financiers with a pretty compelling case to bring EMH into production.
EMH is reporting ESG disclosures and progress
Best in class ESG companies attract more capital, better customers and top talent – this leads to better shareholder returns over time - EMH discloses its ESG progress and improvements on a quarterly basis.
Click to view EMH's latest ESG report: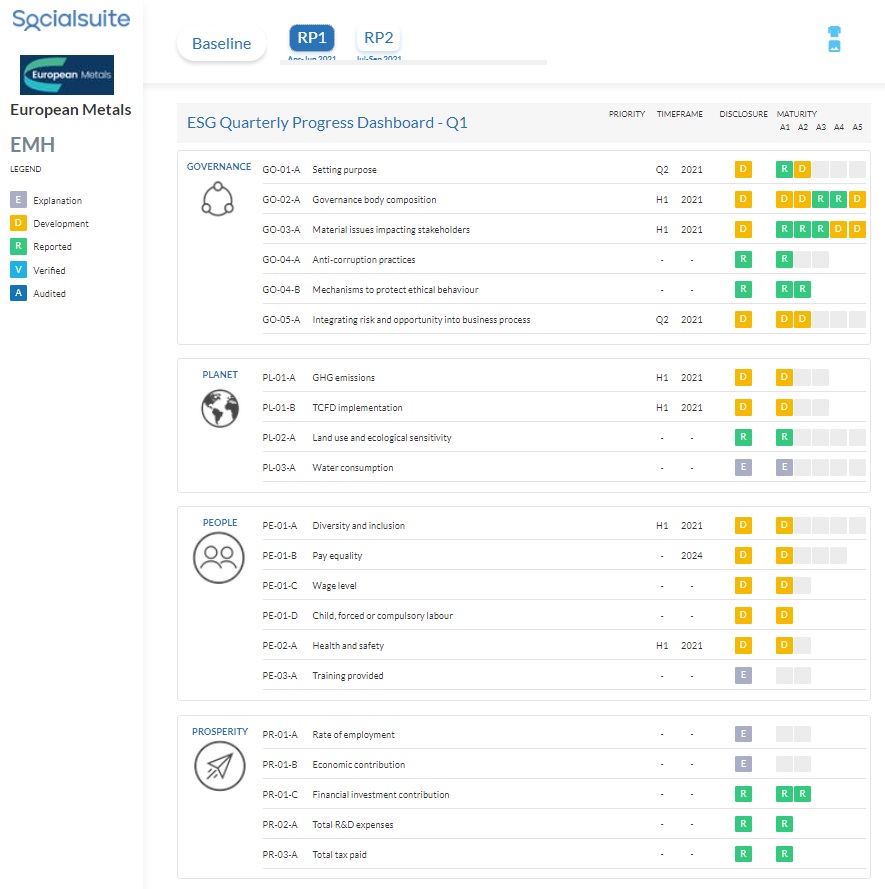 EMH Company Milestones
Cinovec Lithium Project
✅ Environmental Impact Assessment Approved
✅ Confirmation of Refining process
✅ Rumoured VW gigafactory near project
✅ Key Hire: Operational Manager
✅ CEZ supports electric car gigafactory
✅ Resource Upgrade
🔲 Offtake 1
🔲 Offtake 2
🔲 Financing for Production
🔲 Further development in Cech Republic gigafactory
EMH Corporate Milestones
✅ $7.1M Capital Raise @ $1.1 / CDI
✅ Green Energy Fund Takes Position in EMH
✅ Wise-Owl Portfolio Initiation
🌎 VW "Power Day" (1) , (2)
✅ OTC NASDAQ Listing
🌎 Lithium Price Running
Wise-Owl Investment Milestones
✅ Initial Investment: @$1.10
🔲 Increase Investment
🔲 Price increases 250% from initial entry
🔲 Price increases 500% from initial entry
🔲 Price increase 1000% from initial entry
🔲 12 Month Capital Gain Discount
🔲 Free Carry
🔲 Take Profit
🔲 Hold remaining Position for next 2+ years
---