EMH Life Cycle Study Paves Way for Low Carbon Lithium
Disclosure : The authors of this article and owners of Wise-Owl, S3 Consortium Pty Ltd, and associated entities, own 283,000 EMH shares at the time of publication. S3 Consortium Pty Ltd has been engaged by EMH to share our commentary on the progress of our investment in EMH over time.
Carbon emissions are now a top priority for boardrooms across the world.
It's not just enough to provide the materials for decarbonisation (like lithium in lithium-ion batteries) - these materials themselves need to be sourced in a way that is also low carbon.
This race to decarbonise is part of why we like the latest announcement from our investment, European Metals Holdings Ltd (ASX:EMH), which is developing the largest hard rock lithium resource in the European Union.
EMH's goal is to supply this lithium to local EU battery makers.
With big deposits come big responsibilities - especially around Environmental, Social and Governance issues.
Earlier this year, EMH announced that it had commissioned a "Life Cycle Assessment" , which measures the carbon footprint of various methods that EMH could use to make battery grade lithium.
Yesterday EMH announced the results from that study, which pave the way for more than a 70% reduction in the mine's carbon footprint.
As the world shifts to decarbonisation key stakeholders like financing partners, offtake partners and institutional investors will look more favourably upon companies that have undertaken studies to reduce their environmental impact.
This Life Cycle Assessment places EMH at the forefront of the green revolution, as organisations look not only to improve their own processes, but partner with ethical suppliers as well.
With the Life Cycle Assessment completed, we will now be waiting on a revised Pre-Feasibility Study to be released before the end of the year, which will update the project economics and the value of the project.
With a surging lithium price, we are looking forward to seeing what kind of impact that will have on EMH's June 2019 PFS - which at the time demonstrated EMH's project can deliver a post tax NPV of over US$1BN.
We can also expect to see some additional commentary on the additional benefits from a mine backfill study . We are also expecting this to come out around the same time as the revised Pre-Feasibility Study.
Whilst all of this is being prepared, EMH will be busy finalising its Definitive Feasibility Study (DFS) for release in the second half of 2022.
Click here to learn more about feasibility studies.
We are hoping between now and then some offtake agreements will also come in from lithium buyers, but the timing for these is hard to predict.
EMH's Life Cycle Assessment study came from the same consultants who completed a Life Cycle assessment study for Vulcan Energy Resources in 2020.
Vulcan is another one of our European lithium positions, which is pursuing a Zero Carbon lithium project in Germany.
We like that EMH is following in Vulcan's footsteps and is focused on reducing its carbon footprint.
In our eyes, it bodes well for EMH's ability to access capital for its final investment decision on its mine.
Just to give you a sense of how a low carbon footprint helps a company, consider this factoid from Deloitte late last year:
'on average, the weighted average cost of capital of 8-10% for an oil and gas company is twice as high as renewable companies.'
Lower cost of capital makes a company more competitive.
Which is why we are pleased that EMH now has a decarbonisation 'roadmap' study for its resource.
EMH's planned mine could have one of the lowest carbon footprints in Europe
A Life Cycle Assessment is a study done by independent consultants which looks into any de-carbonisation opportunities for a project with the ultimate goal of reducing the mine's carbon foot-print.
By getting this done now, EMH is positioning its lithium project to have one of the lowest carbon-footprints of any hard rock lithium mine not only in Europe but also on the world-stage.
We made our investment in EMH because we believed that as Electric Vehicle production increased in Europe, European manufacturers would look to secure a local supply of key battery materials that are ethically sourced.
EMH's partnership with the Czech Energy behemoth "ČEZ" (which has a AU$24BN market cap and owns 51% owner of the Cinovec Project) as well as its proximity to major automakers, make EMH an ideal partner for offtake agreements, which will help secure project financing for production.
We think that lithium is the oil of the EV revolution and that the biggest winners in the lithium space will be those that have the lowest carbon footprints.
We think that EMH is well positioned to be marketed as one of the cleanest sources of domestic lithium supply available in the EU, with the study bolstering EMH's green credentials, in an environment where the EU has just committed to cutting emissions by 55% before the year 2030.
Why we like the outcome of the Life Cycle Assessment
Regular Wise-Owl subscribers will know that we recently put an update on the quarterly performance of the stocks in our portfolio, in there we highlighted that what we want to see next for EMH was the outcome of the Life Cycle Assessment.

The main thing we were looking out for was for the project's overall carbon intensity to be reduced so that it is at least in-line with the rest of the industry.
Today's announcement in our opinion increases the EMH's project's credibility and has indicated that the Cinovec Lithium Project could become an example of best-environmental practices for all future hard rock deposit developments globally.
The results showed us that the de-carbonised Cinovec project could have almost half of the carbon footprint, compared to the next best project (from an environmental perspective) for the production of hydroxide products.
Again, we think the >70% reduction in the mine's Carbon footprint is a great result for EMH.

Another major issue with large-scale mine developments like this is around water-use.
Water is becoming an increasingly scarce resource and any industrial use often leads to ecological harm in the area around the mines.
Yesterday's announcement demonstrated that EMH's Lithium project could potentially have one of the lowest water usages of any lithium project in the world.
The Life Cycle Assessment study highlighted that EMH's water usage is below all of its benchmarked competitors and would use <5% of the water used in Chilean Brine Projects even after the water evaporated from the brine is not included in the water use calculation.
It may sound like a modest result for EMH but water use is often the deal-breaker for large-scale mine developments and can sometimes leave deposits stranded.
Recommendations from EMH's Life Cycle Assessment
The main areas of focus in the Life Cycle Assessment were the overall:
Global Warming Potential (GWP - Measuring the overall Carbon intensity of the project),
Acidification Potential (AP - Measuring the acid levels of the rainwater & fog in the area),
Water Use (due to waters scarcity this needs to be carefully managed/reviewed), and;
Land Use.
The assessment was based on the already completed PFS, and considered things like:
Full electrification of the mine and mining vehicle fleet,
Sourcing all electrical power for both the mine and lithium processing plant from a Solar-PV power plant adjacent to the Cinovec processing plant, and;
Green hydrogen as replacement for conventional gas in the ore roasting process.
In the case of EMH's project, in particular, the assessment looked at:
Solar Power Plant - The build-out of a solar power plant by EMH's project Partner ČEZ Energy could mean the bulk of the operation is run by Renewable Solar PV power.
Electric Mining Fleet - Replacement of the entire diesel fuel based mining fleet to a fully electric mining fleet.
Hypex 50 Explosives - Using Hypex 50 explosives to break down the hard-rock deposit.
Use of Hydrogen - Use of hydrogen to generate thermal energy power for the processing plant + underground mining fleet.
When combined, the 4 different optimisation initiatives reduce the carbon-footprint for the mine in the production of Lithium Carbonate from 15.7 to 2.8 kg CO 2 eq. for every 1 kg of Lithium carbonate produced.
As for Lithium Hydroxide it reduces the carbon footprint from 16.6 to 3.3 kg CO 2 eq. per kg LiOH. That is a massive 82 & 80% reduction respectively.

So why does the Lifecycle Assessment matter to us?
EU regulators, carmakers, project financers, investors and ultimately customers, are now all on the same page when it comes to carbon emissions.
We extensively wrote on the Volkswagen Battery Day event where the CEO said that the Volkswagen Group would be looking to go direct to suppliers for lithium products.
We think with the EU's ambition to decrease carbon emissions by 55% by 2030, the cleanest sources of lithium supply will be best positioned to succeed.
With the recommendations from EMH's Life Cycle Assessment being put into the upcoming Definitive Feasibility Study, we expect the project to be of higher value with end-users who are placing preference on minerals supplied from projects like EMH's where the carbon footprint is low.
EMH Fully Funded through to Final Investment Decision
EMH's last quarterly cash-flow report showed $7.45M in cash, which doesn't include cash held by Geomet s.r.o (who holds the asset), which EMH has a 49% holding and CEZ has 51%.
It looks to us like after the JV was formed at the project level, EMH had to stop consolidating that particular entity's financials.
Basically, whatever cash is in the bank at the project level gets taken off EMH's balance sheet, and EMH have to recognise their ownership as an "Investment Accounted for using the Equity Method" .
We are not accountants by trade but think that this was probably because EMH's 49% ownership forced this change.
In the grand scheme of things this does not change anything, it just means that all of the cash on hand at the project level isn't shown in EMH's accounts.
In February this year EMH released an update on funding at the project level and showed that they still had EUR€26.7M & that the Project was fully funded through to a final investment decision .
With EMH only spending ~$537k/quarter, to us it looks like there is enough cash at both corporate & project level all the way through to a final investment decision being made.
This to us is a big positive and will mean when EMH needs to raise capital to develop the project they will be able to pitch to investors the final product instead of having to raise at discounts to what the project is truly worth.
EMH is reporting ESG disclosures and progress
Best in class ESG companies attract more capital, better customers and top talent – this leads to better shareholder returns over time – EMH discloses its ESG progress and improvements on a quarterly basis.
Click to view EMH's latest ESG report: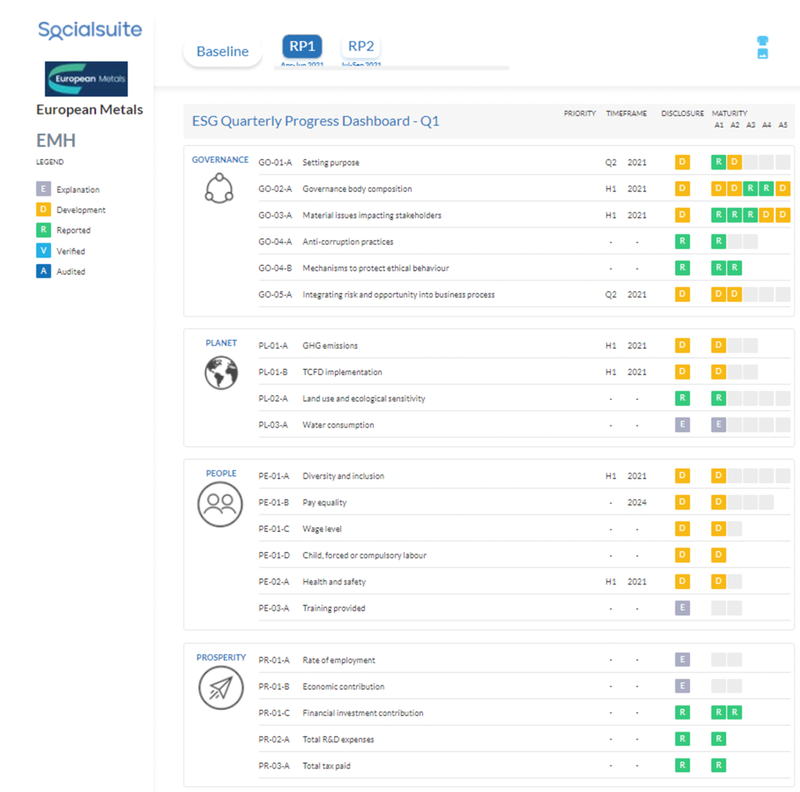 What's next for EMH?
With the Life Cycle Assessment done we will now be waiting on the revised PFS to be released to market before the end of the year.
The revised PFS should shed some light on the improvements to the project's economics from all of the optimisation works done to date.
With the mining DFS and "Front-End Engineering Design" on track to be completed by the second half of next year, we will be watching to see if EMH can sign any offtake partners in the meantime.
We think that EMH armed with a lower carbon footprint mine will be of strong interest to end-users who are looking for a cleaner supply of lithium.
After these are ticked off, it will just be about getting permitting and financing sorted for development to commence.
Cinovec Lithium Project
✅ Environmental Impact Assessment Approved
✅ Confirmation of Refining process
✅ Rumoured VW gigafactory near project
✅ Key Hire: Operational Manager
✅ CEZ supports electric car gigafactory
✅ Resource Upgrade
✅ Life Cycle Assessment (LCA) to reduce carbon foot-print.
🔄 Updated Pre-Feasibility Study (Complete end of 2021)
🔄 Definitive Feasibility Study (Second half 2022)
🔄 Front-End Engineering Design (Second half 2022)
🔲 Offtake 1
🔲 Offtake 2
🔲 Financing for Production
🔲 Further development in Cech Republic gigafactory
EMH Corporate Milestones
✅ $7.1M Capital Raise @ $1.1 / CDI
✅ Green Energy Fund Takes Position in EMH
✅ Wise-Owl Portfolio Initiation
✅ OTC NASDAQ Listing
Wise-Owl Investment Milestones
✅ Initial Investment: @$1.10
🔲 Increase Investment
🔲 Price increases 250% from initial entry
🔲 Price increases 500% from initial entry
🔲 Price increase 1000% from initial entry
🔲 12 Month Capital Gain Discount
🔲 Free Carry
🔲 Take Profit
🔲 Hold remaining Position for next 2+ years
---