The Hon. Jeff Kennett joins FOD as its New Chairman
Disclosure: S3 Consortium Pty Ltd (the Company) and Associated Entities own 7,857,143 FOD shares and the Company's staff own 306,722 FOD shares at the time of publication. The Company has been engaged by FOD to share our commentary on the progress of our Investment in FOD over time.
Victorian State Premier from 1992 to 1999.
Hawthorn Football Club President from 2005 to 2011 and again from 2017 to 2022.
And now, Chairman of our FMCG small cap Investment The Food Revolution Group (ASX: FOD).
FOD has taken another big step towards executing its turnaround strategy with the appointment of the Hon. Jeff Kennett AC, as its new chairman.
Kennett can be a polarising figure given his political career - however we are mainly interested in his business and commercial nous and relationships when it comes to our Investment in FOD.
As President of the Hawthorn Football Club in the AFL, he helped grow the club's membership, corporate profile and on-field success.
As the former Premier of Victoria in the mid-1990s he helped turn around the debt crisis by privatising government assets and growing the state's infrastructure.
Kennett has also served as chairman of Seven West Media and was the visionary founder of mental health non-profit Beyond Blue.
No stranger to turnarounds at the highest level, Kennett also has a strong commercial experience in the food and logistics space, which is especially important for FOD.
He is the chairman of the advisory board of PFD Foods, Australia's largest, family-owned food services distributor to restaurants and food services businesses.
Kennett will step down as the Hawthorn President at the end of the year, and after chairing multiple billion $ businesses, he could have gone anywhere for his next endeavour.
So we think that it is a very strong vote of confidence that Kennett chose FOD, a small cap Australian-based juice business, for this next chapter in his life.
Kennett will join FOD for a term of three years as chairman in exchange for 20,000,000 FOD shares that vest annually (over three years) based on continued employment.
Kennett already owns 4,000,000 FOD shares, and we think that this remuneration package aligns Kennett's interests with us as shareholders.
With Kennett's connections in business, media, supply chain and government, we think that many doors will open to FOD to help progress its company turnaround.
FOD is a beverage manufacturing business that earns revenue by selling its well known juice products into the major supermarkets.
The company is on a Fix → Reset → Grow trajectory for its business.
The "growth" phase of development is where we expect the highest share price re-rate for FOD as improved business economics underpin a higher valuation.
We think that someone of Kennett's pedigree and commercial experience at a board level over many years will help empower FOD's leadership team and accelerate its "growth" phase.
We have been Invested in FOD since March 2021 and have not sold a single share.
This is how we see today's news fit into FOD's strategy: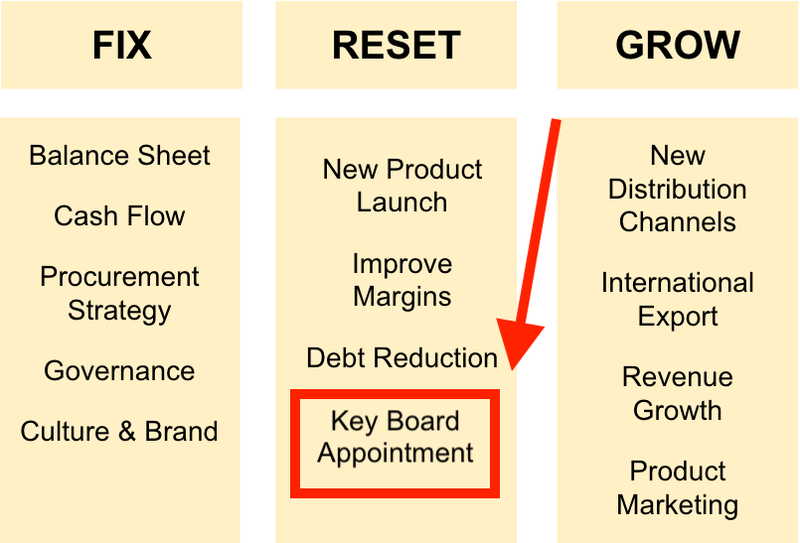 This brings us to our Big Bet for FOD:
Our Big Bet
FOD executes on a growth strategy (international export) that sees the company grow to $300M valuation and $100M+ annual revenue.
NOTE: our "Big Bet" is what we HOPE the ultimate success scenario looks like for this particular Investment over the long term (3+ years). There is a lot of work to be done, many risks involved, and it will require a significant amount of luck. There is no guarantee that it will ever come true.
To visualise what FOD has done since we Invested, check out our Progress Tracker for FOD: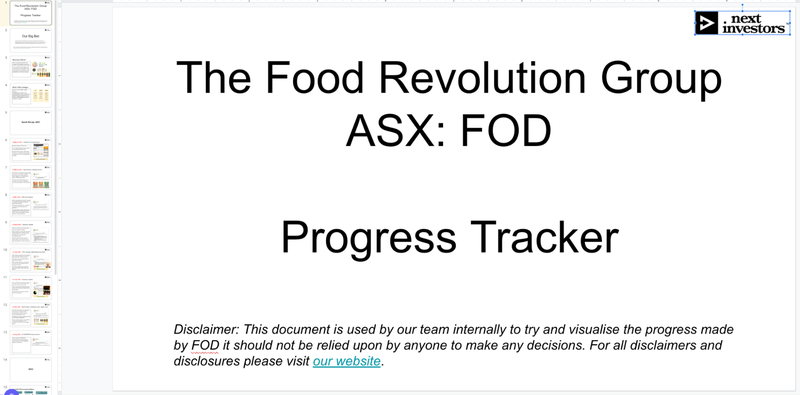 A look at FOD's new chairman, Jeff Kennett
Jeff Kennett was the Premier of Victoria from 1992-1999, he was the founder and chairman of one of the largest Australian non-profits, Beyond Blue, and helped set up the Hawthorn Football Club as a modern powerhouse in the AFL.
In 2005 Kennett was awarded the Companion of the Order of Australia and has extensive commercial experience as the director of Seven West Media, and the chair of the advisory board of PFD Foods.
PFD Foods is Australia's largest, family-owned food services distributor.
With 3,000 staff and 850 trucks, PFD Foods operates a massive food distribution network within Australia, delivering fresh and frozen food to food services business like restaurants, cafes, hotels and schools.
We think that a person of Kennett's pedigree will open many doors for FOD.
This may include bringing institutional investor interest, access to finance, negotiating key deals and supporting the broader leadership team.
Kennett is no stranger to a turnaround story either.
As Premier of Victoria in the 1990s Kennett navigated the state through a major debt crisis by privatising state-owned assets.
He also helped to turn the fortunes of the Hawthorn Football Club in 2005 by unifying the message and developing key relationships, particularly in Tasmania, to grow the Hawthorn brand.
Throughout his career, Kennett has built his platform on helping Australian businesses and investing in growth locally.
According to an interview with the Australian Institute of Company Directors, each of the organisations that Kennett joins share a common trend (read the full article here).
They all have a social and community interest, are founded on strong values, "have a good heart" and are "based on the same rocks of good governance".
We think that what attracted FOD to Kennett the most was the opportunity to work closely with an Australian based brand that sources materials from Australian farmers, and sells healthy natural products to Australian consumers.
FOD recently launched a new website for its Original Black Label brand, highlighting the Australian stories behind its product (if you have time, watch some of the high-production videos).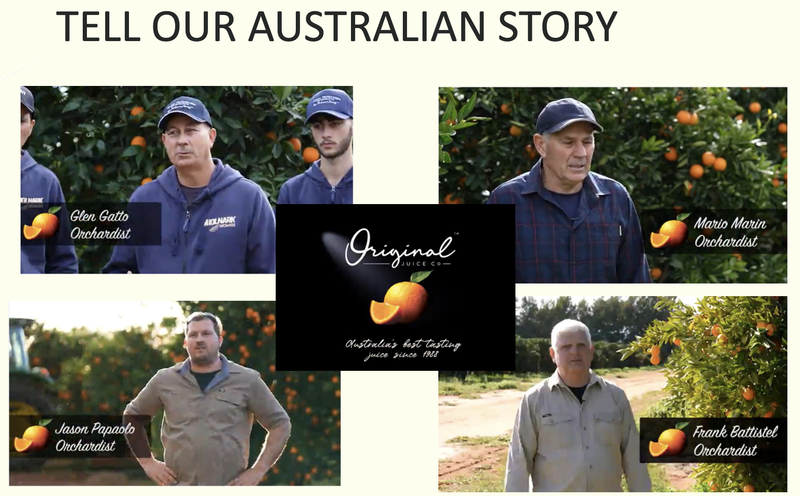 In that same interview, Kennett says there are four dominant reasons that he joins an organisation, in particular as a director:
"The first is the quality of the people I can put around me or that are around me. The second is their commitment... to the highest levels of governance. The third is the quality... of the CEO. Finally, you have to enjoy what you're doing and if you don't, don't join!"
We think that this is a big vote of confidence for our FMCG turnaround Investment, that Kennett sees these things in FOD.
Kennett also joins FOD at a time when the company is progressing its turnaround, and in need of independent direction at a board level.
Retail investors often overlook the importance of a strong independent board of directors and corporate governance.
It is often the new acquisition, new project or major deal that captures retail investor's imagination - however it is through a strong unified board that long term business success is built.
As a revenue generating company, FOD needs strong leadership and governance to ensure that shareholder value is grown through sustainable business development.
A lack of board independence can often mean that non-core agendas are prioritised, and decisions are made that are not always in the best interest of shareholders.
This can slow the turnaround progress, or worse, throw it off-track completely.
On the Herald Sun's "Sacked" Podcast, Kennett talks about the importance of building a 'collegial' board and its importance to the turnaround of the Hawthorn Football Club in 2005 (listen from 11:53).
"At the end of the day you've got to have a collegial board, and it wasn't a collegial board when I took over [at Hawthorn] but it became very, very quickly"
With yesterday's appointment, along with the other appointments over the past 12 months, including independent directors David Merchant and Jacqueline Phillips, we think FOD has made significant inroads in this department.
Now, with a refreshed, independent board, we think that FOD is primed for the growth stage of development in 2023.
What does growth look like for FOD in 2023?
Early in October FOD put out its annual report to shareholders.
There was one slide in particular that stood out to us where FOD talks about its plans for growth in 2023 through "distribution channel expansion":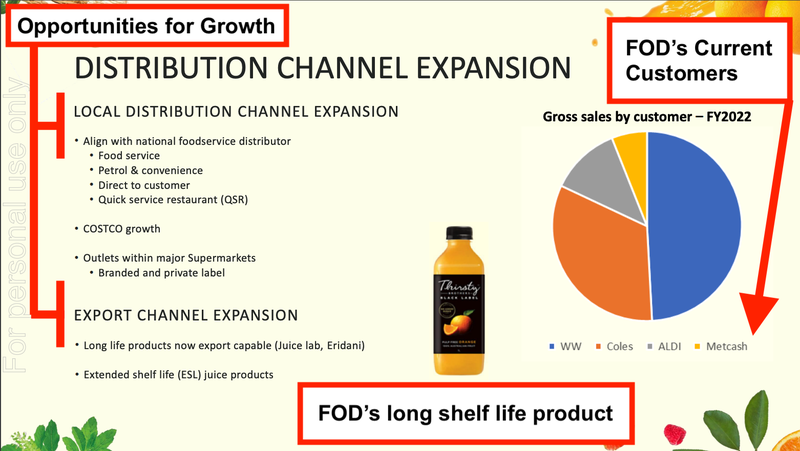 In his time at PFD Foods, Kennett brings a wealth of experience on national food distribution.
PFD's Foods turns over billions of $ a year, and supplies restaurants, businesses, schools and supermarkets with fresh and frozen foods.
We think that Kennett will have invaluable connections, cultivated over the years, from supply chain and logistics experts to distribution partners that FOD can now tap into to accelerate its distribution ambition.
Distribution channel expansion has always been a part of FOD's turnaround strategy - however we think FOD is now closer than ever with its long shelf life products that are "export capable".
Creating a product that is export capable is a big deal.
FOD has always had trouble penetrating the export market, mainly because its fresh juice product has a short shelf life.
Products with a short shelf life, like fresh juice, can struggle in an export market as overseas vendors have limited time to turnover stock before the product expires.
Therefore, if FOD can create a long shelf life product without compromising on quality, it can open up international export markets for business.
Long shelf life products can open up other distribution channels like food services, petrol stations and local coffee shops.
These vendors often have much slower stock turnover compared to the major supermarkets - so it is important for FOD to create a juice product that can meet the long shelf life requirements from the distributors.
Right now the entirety of FOD's customers buy its products in the major supermarkets.
However, FOD has been growing its suite of long shelf life products through the Juice Labs brand, preparing the company for export channel expansion.

We think that if FOD can unlock more distribution channels domestically as well as tap into the international export markets, FOD's revenues could ramp up exponentially.
With China changing its COVID Zero policy in recent weeks, we think it may be the perfect time for FOD to take advantage.
In particular, we want to see FOD secure some key distribution deals domestically and internationally.
A look at FOD's quarterly
At the end of October FOD announced its quarterly activities report for the first quarter of the new financial year.
Key highlights include:
Gross revenue up 8%
Original Black Label Juice continues to grow 2.4%
Product extensions:

Multidose Super Shots
Green Oat Smoothie
1.5L Clear Apple
With gross revenue growing (mainly driven by the new Juice Labs products) and orange juice business growing steadily, it was an okay quarter for FOD.
The fact that the overall revenue for the company grew, and new products were launched was good, however the company was operating cash flow negative, due to the cyclical nature of the business.
The four new products FOD announced were:

We managed to pick one of the multidose super shots at Woolies yesterday: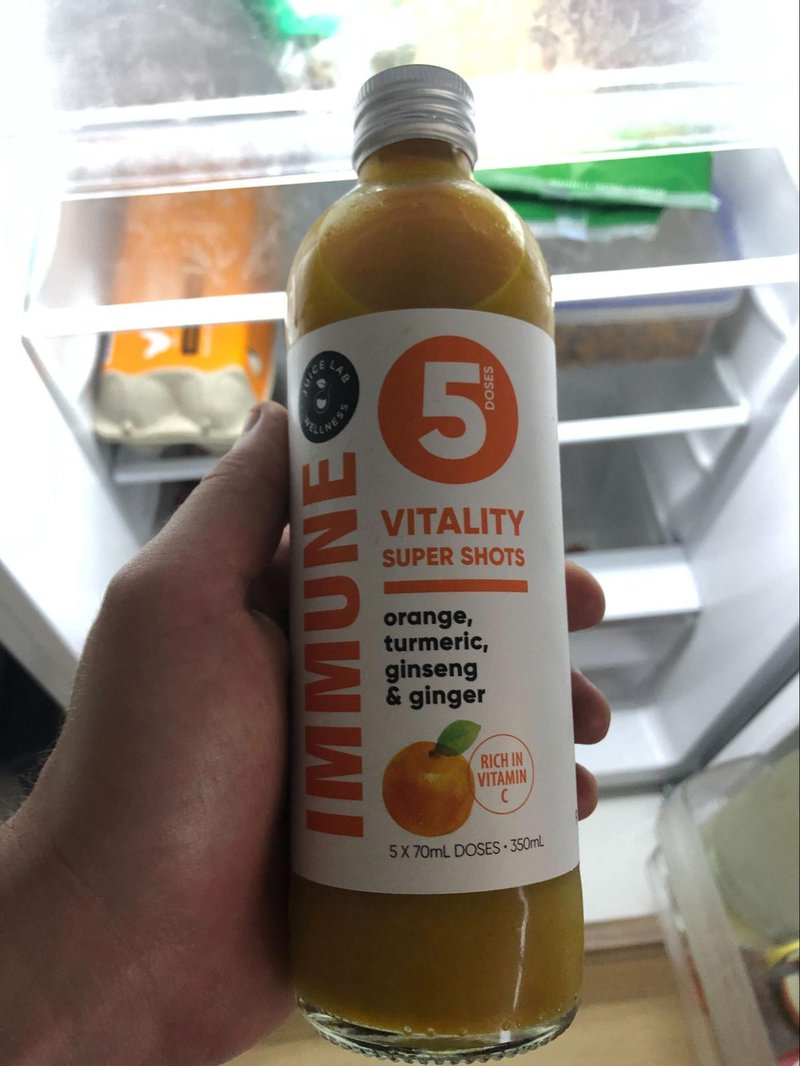 The cyclical nature of the juice business meant that this was always going to be a tight quarter for cash flow purposes, with FOD tapping its trade invoice facility (essentially a loan).
During the winter months sales slow, and only pick up again in the summer as the weather warms and more people buy juice.
Procurement also tends to be done in the winter months when oranges grow best, meaning costs are higher as well.
That said, FOD is now stocked with raw materials for its juice products and we hope that FOD will be operating cash flow positive in the next two quarters in the higher-sales summer months.
In macro news that affects FOD's bottom line, the Australian government also recently announced a price cap on natural gas to offset increasing energy prices for manufacturing businesses.
As FOD is a juice manufacturing company, we think that the price cap relief could see FOD's margins improve as energy costs go down.
We think this could be a small windfall that adds to the overall picture of FOD's turnaround, and provides some cost relief as the company navigates the inflationary environment.
What is next for FOD?
Now with Kennett at the helm, we want to see how he settles into the role and what actions FOD will take with regards to executing on its turnaround strategy.
In particular, we want to see if FOD can take advantage of any of his connections from PFD Foods to secure domestic distribution partnerships.
We are also on the lookout for any announcements of international export partnerships for FOD's products.
With regards to financial performance, we hope to see FOD back in black, with operating cash flow positive quarters for the summer.
Our 2022 FOD Investment Memo:
Below is our 2022 Investment Memo for FOD, where you can find a short, high level summary of our reasons for investing.
The memo's ultimate purpose is to track our portfolio companies' progress using our Investment Memo as a benchmark throughout 2022.
In our FOD Investment Memo, you'll find:
Key objectives for FOD in 2022
Why we continue to hold FOD
What the key risks to our investment thesis are
Our investment plan
Disclosure: S3 Consortium Pty Ltd (the Company) and Associated Entities own 7,857,143 FOD shares and the Company's staff own 306,722 FOD shares at the time of publication. The Company has been engaged by FOD to share our commentary on the progress of our Investment in FOD over time.
---