Rumours of New Battery Factory 64km away from ASX: EMH
European Metals Holdings Ltd (ASX:EMH; AIM: EMH; NASDAQ: ERPNF) is our third European battery metals investment.
We think we have found out why the EMH share price has been running the last couple of days.
EMH is developing the largest hard rock lithium resource in the EU at its Cínovec project in the Czech Republic.
We have come across some Czech news articles that look very promising for EMH investors.
KEY TAKEAWAY - According to local media, VW and EMH's project partner CEZ are talking about building an electric vehicle battery factory in the Czech Republic - just 64km away from EMH's lithium project.
Does this mean EMH is getting closer to a coveted offtake agreement?
An offtake agreement would be huge news for EMH, and would likely re-rate the stock.
We don't know if this will happen, but if your local project partner is planning a battery factory down the road, we think it's pretty likely they might seek to use their own lithium.
Europe is leading the global charge to switch to EVs with mandates for localised supply chains - we are investing in this thematic via companies that are developing large scale battery metal projects inside Europe.
Our first two investments in this thematic have performed very well:
Euro Manganese at 6.5c currently up 746% (Manganese in Czech Republic).

Vulcan Energy Resources at 20c currently up 3,725% (Lithium in Germany).
EMH is our most recent investment in this theme.
Europe has ZERO local lithium supply and the EU is desperate to change this, which is why we like European battery metals investments.
VW has recently outlined its ambition to enter the battery raw material market - and wants to build SIX gigafactories in Europe by 2030.
Czech automaker Skoda is owned by VW and is seeking a local gigafactory in Czechia - negotiations appear very advanced on this news.
This is good news for all EU battery metals stocks - and even better for EMH, as Czech automaker Skoda is owned by VW and is pushing for a local battery gigafactory supplied by local lithium sources.
So is all this news the reason why the EMH share price started running yesterday?
We think it might be.
Here is the news article in a Czech newspaper: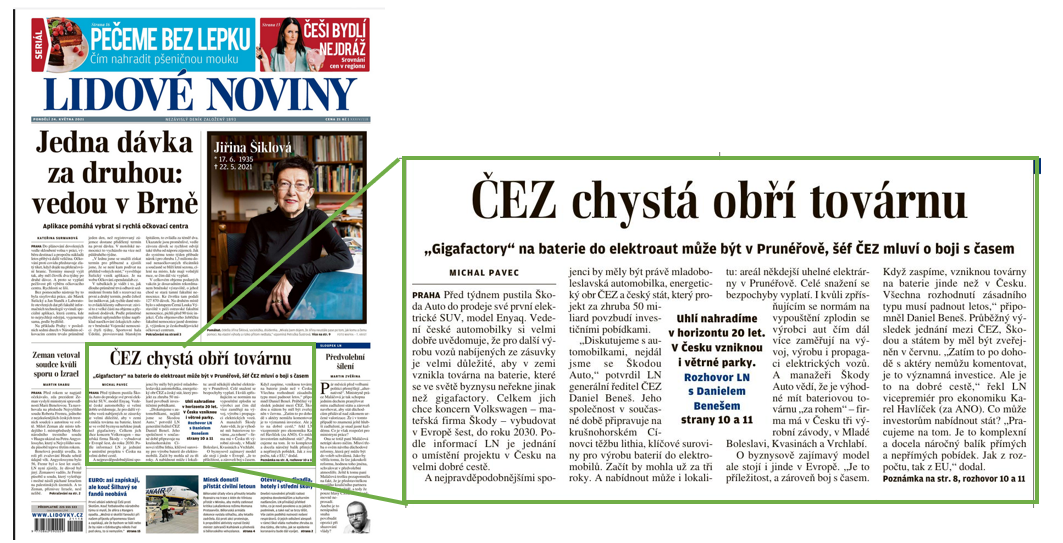 A cut and paste into Google Translate reveals that:
EMH's project partner CEZ and Volkswagen are talking about building an electric vehicle battery factory in the Czech Republic just 64km away from EMH's lithium project.
This is huge news for EMH (full article translation is at the end of this email)
EMH's lithium project is less than an hour drive from the proposed site of VolksWagen's new battery factory:
This is also great news for our Czech manganese investment EuroManganese (ASX:EMN) who are also very close by.
This is how close EMH and EMN are to the proposed new battery factory site - all within a 3 hour drive.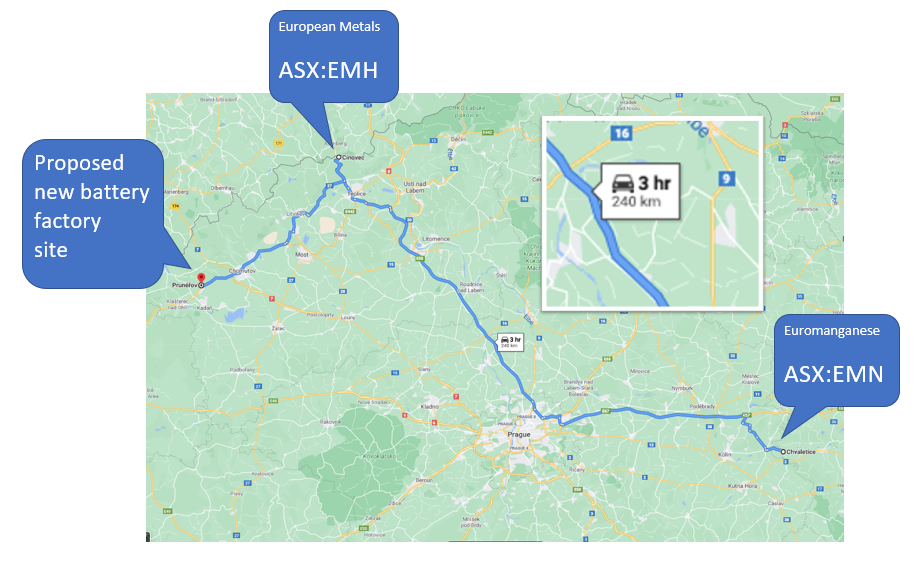 EMH's Cínovec project is located in the northern Czech Republic - the epicentre of over a dozen new and planned lithium-ion battery factories, on the doorstep of dozens of potential customers.
EMH is racing to become the first local EU battery grade lithium producer to deliver to this emerging local industry.
EMH shares its Cínovec project with a majority government owned local partner, the energy conglomerate ČEZ - a €10BN energy giant in eastern Europe.
ČEZ is planning to build a 'gigafactory' for batteries for cars in Czechia.
Here's an older article that spells out the connection between ČEZ, EMH and what ČEZ is trying to achieve: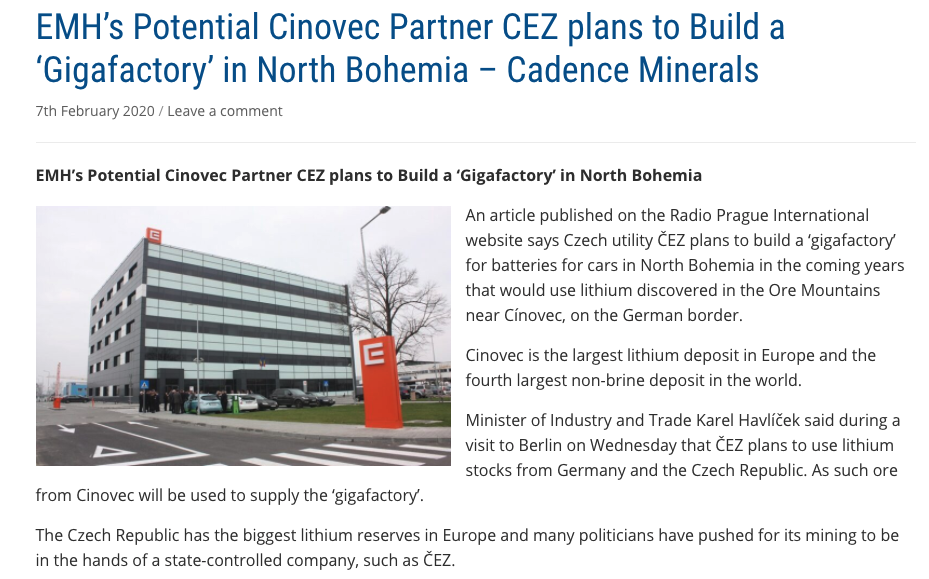 Volkswagen is a parent company of Skoda Auto, which plans to build six battery factories in Europe by 2030 - one of them most likely to be built in Czechia.
Skoda intends to invest around €2.5BN in new technology, with half going to electric vehicle investment. If built, Škoda's factory could be just 50km away from EMH's project.
The ČEZ plant will produce batteries for electric vehicles using lithium from Czech and German mines.
ČEZ is already in discussions with Skoda to supply it with lithium.
"We are discussing with car manufacturers, we are furthest with Škoda Auto," confirmed CEZ CEO Daniel Beneš."
We're not saying this will definitely lead to an offtake agreement for EMH, but if EMH's project partner CEZ is a participant in a battery factory 50km from the Cínovec project, it seems a logical next step.
You can see CEZ's full strategy here, and 'lithium mining in Cinovec' plays a role here (marked in yellow):
What's next for EMH?
EMH outlined a timeline in its
March 2021 presentation which you can see here
.
If the image above is hard to read, here are the key points of what to expect in the coming quarters:
Lithium Hydroxide Offtake Agreements

- expected Q2/Q3 2021

Commercial samples sent to potential customers

- expected Q4 2021

Definitive Feasibility Study

- expected Q1 2022

Construction

- expected Q2/Q3 2023

Production start

- expected Q1 2024
Why we have invested in EMH
The EU is very advanced in the electric vehicle market with a commitment to Net Zero emissions.

The EU is aiming for 80% local lithium production by 2025, and beyond that, complete self-sufficiency - However the local lithium supply chain does not exist yet.

We have done well in our EU battery metals investments so far.

EMH's Project located locally in the heart of Europe in Czech Republic – very close proximity to Major Automakers who are all switching to Electric vehicle production.

EMH looks very close to getting into production as it is at an advanced stage.

EMH looks like it is getting closer to getting an offtake agreement signed - this would be a major catalyst for the stok.

[NEW]

- VW is planning a gigafactory near EMH's project.
Our Past Commentary on EMH
---