MNB Seals Key Deal with Angolan Government - Fiscal Regime Now Clear
Disclosure: S3 Consortium Pty Ltd (the Company) and Associated Entities own 8,645,000 MNB shares and 1,562,500 options at the time of publishing this article. The Company has been engaged by MNB to share our commentary on the progress of our Investment in MNB over time.
After months of negotiations, we finally have a deal.
This week our 2022 Wise-Owl Pick of the Year Minbos Resources (ASX:MNB) executed a private investment contract with the Angolan government that will accelerate construction of its phosphate plant.
MNB is in the construction phase of a phosphate project with first production expected this year.
Phosphate is a key ingredient in fertiliser for food security AND in the phosphate-iron batteries favoured in Chinese electric vehicles.
MNB is yet to deliver the share price re-rate commonly associated with resource companies that move from study phase to production.
MNB's recent Definitive Feasibility Study (DFS) showed that spending a further $48.5M could deliver a phosphate mine with a Net Present Value of between ~$200M and ~$400M depending on the phosphate price.
To arrive at these numbers, the DFS made some assumptions about favourable tax concessions being granted by the Angolan government.
This week MNB announced that these concessions have now been fully granted, removing any uncertainty around the fiscal regime under which the project will be built.
This deal has effectively sounded the siren for MNB to go full steam ahead on construction, specifically on importing the higher cost items and now deploying capital faster onto the project.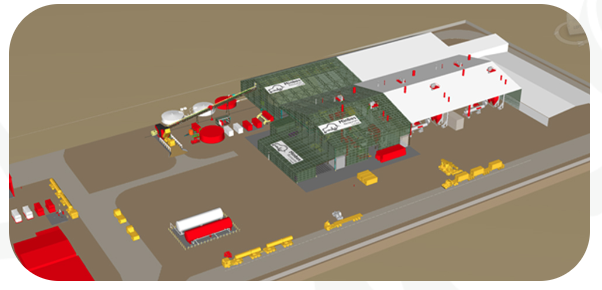 MNB Phosphate project design model; source: Minbos website
The contract with the Angolan government sets out MNB's planned level of investment in the country, the tax incentives it's going to get, and how many new jobs MNB can offer locals.
Key terms of the contract are:
MNB has committed to a minimum investment of US$21.36M (via loans and capital).
For the first 12 years of operation - a 90% reduction in Corporation Tax, and a 90% reduction in withholding tax on the disbursement of dividends aboard.
Other tax incentives, for example - a Tax Credit for 6 years, equivalent to 30% of the investment, and a deferral period on the payment of taxes.
One of the key risks in investing in Africa is the sovereign risk, and getting clarity on the tax regime now helps MNB's investment case significantly.
As long term MNB Investors, we would love to see a photo this year of Managing Director Lindsay Reed holding the first bag of phosphate produced from the newly built mine.
Since MNB released its DFS back in October it has made further towards plant construction MNB, delivering on a number of fronts, namely:
Fertiliser plant site selected - Secured a site for the plant's construction (that should result in significant operating expense savings and production advantages),
Product trials completed - Completed crop field trials that delivered a phosphate fertiliser product that is fit for purpose for the local agricultural market, and
As announced yesterday, the signing of a Private Investment Contract with the Angolan government — the final step for companies seeking to invest in Angola that provides generous tax incentives and concessions.
MNB's progress — even before these latest developments — saw us name the company as our 2022 Wise-Owl Pick of the Year in December.
MNB had been ticking along nicely towards first phosphate production, but it was news regarding its blue sky venture, its green hydrogen/ammonia project (also in Angola), that tipped MNB into the Pick of the Year category — reserved for only our highest conviction Investments across our Portfolios.
The final piece of news that prompted the Pick of the Year title was that MNB had secured some of the world's cheapest energy supply, which also happens to be carbon-free, from the Angolan government for its planned green hydrogen/ammonia project. You can read more on that decision in our last note, here.
Today's focus, however, is on developments at MNB's phosphate project where first production is targeted for later this year.
MNB has reported that most of the major parts and components of the phosphate plant are either ready to be shipped or are currently on the water, meaning first revenues could be in the door within 12 months.
In our view, the timing couldn't be better as the two investment thematics that MNB provides exposure to — food security (phosphate project) and de-carbonisation (green hydrogen/ammonia project) — are set for a big year in 2023.
Fertiliser prices reached record highs in 2022 and food security is an increasingly important regional and global issue. We expect that the geopolitical fallout from the Ukraine/Russia conflict will support high prices and increased demand in the long run.
This was backed by a recent Goldman Sachs report, Goldman Sachs 2023 Commodity Outlook, which outlined two things that are highly pertinent to MNB:
The world remains one bad crop away from new food price highs
Agricultural supply is being impacted by higher energy and fertiliser prices
Additionally, Goldman expects that investment dollars (capex) will be forced into the pipeline of commodities development projects: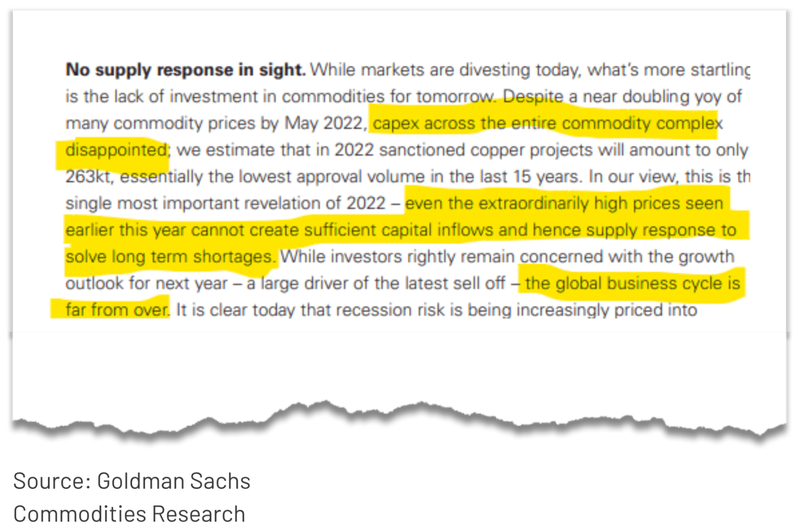 That means that companies with construction ready projects, particularly those at the DFS stage, are positioned to see a wave of investment in the coming year.
This is part of an ongoing trend of large investors chasing an internal rate of return (IRR) that used to be delivered by large tech stocks prior to the tech wreck of 2022 and now switching out of tech and turning their attention to companies building mines, where the IRR is now more attractive.
A resource stock's move into the construction phase signifies further de-risking of the project. It also marks a move from the traditionally "boring" studies phase as an operational mine moves closer to becoming a reality.
The chart below shows the general share price activity of a junior resource stock as it moves over the project lifecycle phases from exploration to production: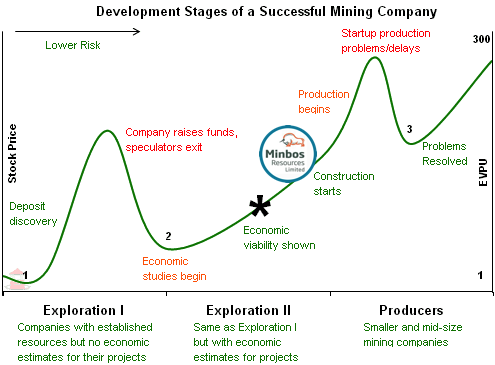 As construction progresses and the creation of an actual mine looks likely to be achieved, the share price generally trends upwards to reflect the progress. Obviously this is a general observation across many projects, but each individual project comes with its own risks that can materialise and ding the share price.
And with that, here's our Big Bet for MNB:
Our 'Big Bet'
"MNB delivers a 10x return by building a profitable phosphate project AND progressing its green ammonia project to construction phase."
NOTE: our "Big Bet" is what we HOPE the ultimate success scenario looks like for this particular Investment over the long term (3+ years). There is a lot of work to be done, many risks involved - just some of which we list in our MNB Investment Memo. Success will require a significant amount of luck. There is no guarantee that our Big Bet will ever come true.
To monitor the progress MNB has made since we first Invested and how the company is doing relative to our "Big Bet", we maintain the following MNB "Progress Tracker".
See our MNB Progress Tracker here: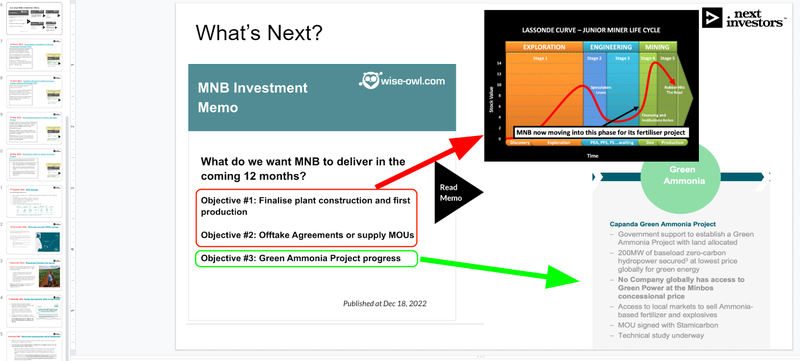 We recently published a revised Investment Memo for MNB that provides an overview of why we Invested, what we want to see the company achieve over the coming 12 months, the risks involved, and our Investment plan going forward.
To see our full Investment Memo click here OR on the image below: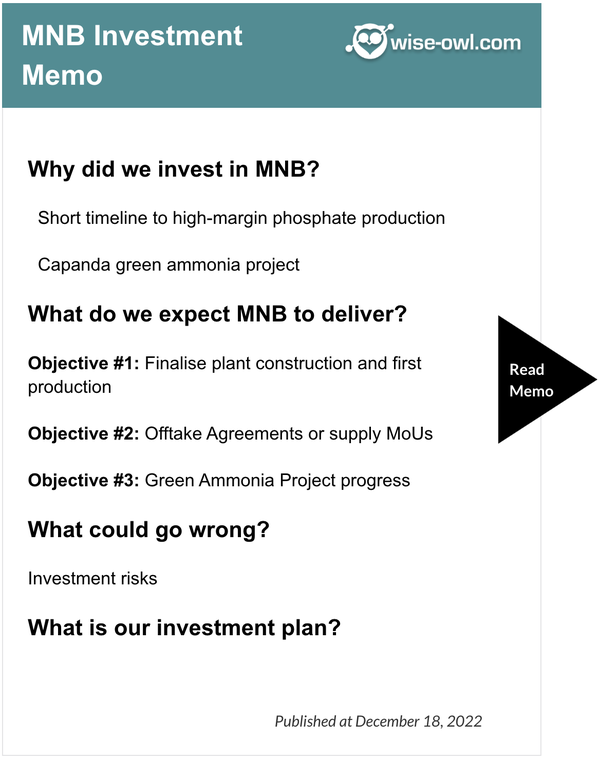 We've been Invested in MNB for over two years, first taking a position in August 2020 at 3 cents per share (price adjusted for a 20-1 share consolidation).
We invested again at 8 cents, Top Sliced 35% of the position last year (in line with our Investment Plan) and Invested again at 11 cents in the most recent placement around six months ago.
Our average entry price in MNB is now 6.37 cents per share.
While the share price is currently off its peak, we are holding for further re-rates as mine construction is completed, offtakes are signed, phosphate production begins, and progress is made on the green hydrogen/ammonia side of the business.
We intend to hold a significant position into first production, if the share price nears our 1,000% gain target we will likely sell another ~25% of our position to take some profit and achieve Free Carry.
Successful Phosphate trials
In December, MNB reported successful trials of its phosphate rock product. This was important validation of the product and contributes to the overall economic case for the project.
Results from three years of field trials in Angola and five years of greenhouse trials at the International Fertilizer Development Center (IFDC) delivered a phosphate fertiliser product that is fit for purpose for the local agricultural market — MNB's primary target market.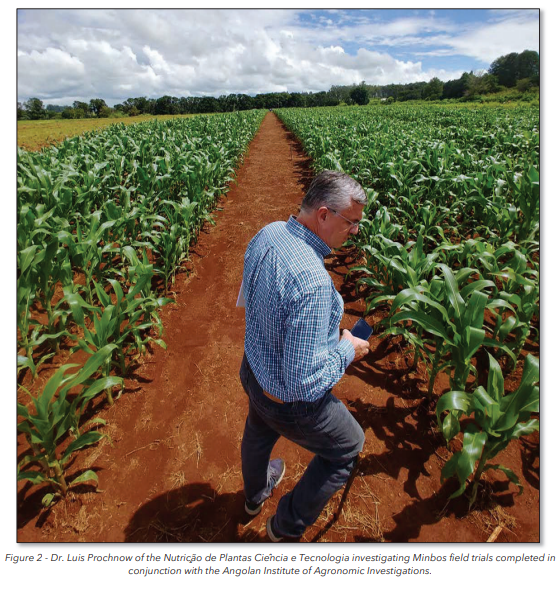 The field trials completed across more than ten locations in Angola trialling maize, wheat and potatoes, delivered large yield increases.
The product was shown to be suitable for use as a phosphate nutrient in Angola's acidic soils and high rainfall environment, and at an attractive price point.
In the IFDC greenhouse trials in Alabama on wheat, maize, soy, sorghum, it was demonstrated that a single application of MNB's phosphate fertiliser before the first crop can improve yields in two successive crops.
The trials confirmed that MNB's phosphate rock is suitable as a direct application fertiliser product in soils with acidity of pH <5.5.
Importantly, this includes much of the area of interest of the Angola Fertilizer and Farm Productivity Program (AFFPP) which has lodged an MOU for 120,000tpa of MNB's phosphate fertiliser.
The findings of these trials are an important development that underpin the DFS.
The results confirm the simplicity of MNB's production flowsheet required to create the phosphate product.
Importantly, MNB is conducting a review on a simplified flowsheet that it expects to deliver "significant CAPEX savings".
Lower capital costs is always good news, but this is significant for MNB because the CAPEX estimate that was used in the DFS was notably higher than the figure used in the earlier PFS, due to the exceptionally high rate of global inflation at that time.
Therefore, we hope for an improvement from the DFS estimates with CAPEX being lower than anticipated.
Plant site secured
Earlier, in November, MNB executed the land acquisition contract for its fertiliser plant in Angola.
This development gives added certainty to the project and evidences MNB's extensive work on stakeholder relations in-country.
The selected site (Subantando) is located in an ideal spot, close to both the port at Cabinda and the mine at Cácata:
This Subantando site is different to Futila — the previous site that MNB was looking at, and which the DFS was based on — providing significant OPEX and production advantages.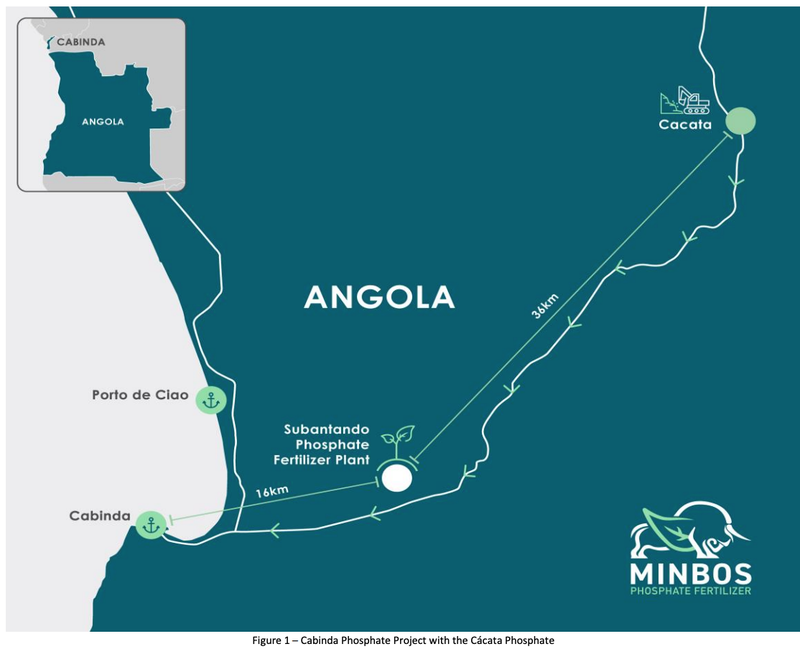 The Cabinda Phosphate Project (Subantando Phosphate Fertilizer Plant), Cacata Phosphate Mine, and Cabina Port
Power and water currently run along the main road, less than a kilometre to the site, which MNB will investigate as a supply for the processing plant as part of the final design. The studies required to obtain the environmental and construction licence are currently being expedited.
Investment contract signed
Angola is a potential agricultural powerhouse and MNB is positioning itself as one of the very few local fertiliser product producers in the region.
The Angolan government has been extremely supportive of MNB ambitions, further evidenced by MNB signing of a Private Investment Contract with Angola's Agency for Private Investment and Promotion of Angolan Exports (AIPEX), as announced yesterday.
This is the final step for foreign entities intending to invest in Angola and paves the way for construction of the Cabinda Phosphate Fertilizer Project and provides some very attractive tax breaks and incentives.
The key points of the contract are as follows:
MNB has committed to a minimum investment of US$21.36M in the form of loans and capital.
Part of that investment commitment is fulfilled by the importation of at least US$7 million of equipment for construction of the phosphate fertiliser plant. Importantly, this equipment will be exempt from all importation taxes and customs duties.
The Project will receive a 90% reduction in Corporation Tax for the first 12 years of operations and, for the same period, have a 90% reduction in withholding tax on disbursement of dividends abroad.
Other tax incentives include a Tax Credit for six years, equivalent to 30% of the investment, and a deferral period on the payment of taxes.
While these developments were assumed when MNB compiled its DFS so don't change the project NPV, they further confirm the strong government support that MNB has in Angola.
What's next?
First production from fertiliser project 🔄
Armed with a robust DFS, and with plant construction underway, we look ahead to first production at MNB's phosphate project later this year.
The project is leveraged to fertiliser prices, so the forecast high fertiliser prices and supportive supply-demand dynamics will work to benefit the project.
Ahead of initial production we want to see offtake agreements and MoUs signed.
A great result would be having an offtake agreement signed/underwritten by the Angolan government. As the project is considered of "National Importance to Angola", we think this is a possibility.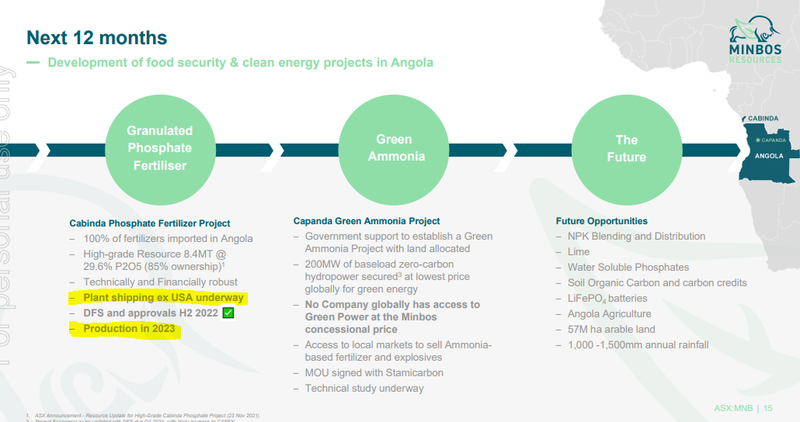 Technical study for green hydrogen/ammonia project 🔄
MNB is currently working on delivering a technical study for its green hydrogen/ammonia project.
The study will include preliminary plant designs, CAPEX numbers, OPEX numbers including the required hydroelectricity assumptions.
Ultimately, MNB will use the technical study as the basis for a scoping study that will lay out the financial metrics for MNB's project.
The scoping study is expected to start as soon as the technical study is completed.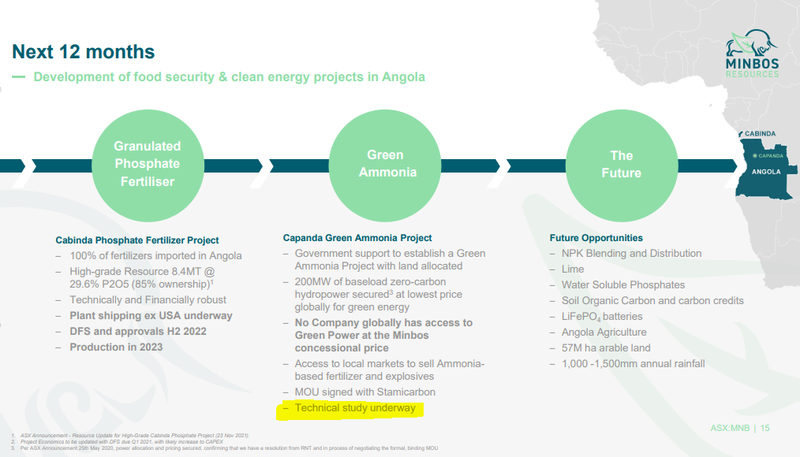 Our MNB Investment Memo
Click here for our new MNB Investment Memo, where you can find the following:
Key objectives we want to see MNB achieve
Why we are Invested in MNB
What the key risks to our Investment thesis are
Our Investment plan
---