First on the ASX - BOD announces successful outcome for insomnia clinical trial
Disclosure: S3 Consortium Pty Ltd (the Company) and Associated Entities own 3,535,112 BOD shares at the time of publishing this article. The Company has been engaged by BOD to share our commentary on the progress of our Investment in BOD over time.
Insomnia clinical trial success.
We don't think the market saw this coming.
This is what our small cap biotech company Bod Science (ASX:BOD) was able to announce today, with the results from its CBD (cannabis) trial on insomnia.
BOD's Phase IIb study was able to demonstrate statistical significance in efficacy between the 100mg CBD product versus a placebo at treating insomnia.
This means that BOD is now on the cusp of becoming the first company in Australia to register a CBD product for over-the-counter use (i.e. without a doctor's prescription).
The history of over-the-counter CBD products in Australia is littered with mis-steps and failures.
Two other ASX-listed companies have tried, and all have failed.
But not BOD, not after today.
It was back in 2020 that the Therapeutic Goods Administration (TGA) changed the laws to allow companies to sell registered medical cannabis products without a doctor's prescription in sub-150mg doses.
This means that CBD products are able to be sold over-the-counter, if a company can prove in a clinical setting that it is safe AND effective.
This proof in a clinical setting had never been achieved - until today with BOD's results.
Consequently, and although the TGA scheme has been around since 2020, there are still no over-the-counter CBD products sold in Australia.
This is because there are a few narrow targets for conditions that are mild enough not to need medical supervision, but not so mild that it doesn't need treatment.
That's where insomnia comes in.
Insomnia is the perfect condition for emerging medical cannabis products to target, to become the first over-the-counter cannabis product in Australia.
There were four companies in the race to be the first product to market. So far, the first two companies that tried, have failed - Cann Group and Ecofibre:

We believe that these clinical trials failed because the design of the trial did not account for the dynamic range of sleep conditions in order to be able see insomnia improvement.
Aware of the failure of its peers, BOD entered into an agreement with Australia's leading sleep institute the Woolcock Institute of Medical Research to help run its clinical trial.
Using a mixture of patient questionnaires and smartwatch technology to evaluate sleep conditions, BOD was able to prove over a 194 patient cohort, and with a level of statistical significance, that its cannabis product is effective at treating insomnia.
For biotech companies, statistical significance is the level needed to consider the trial a success.
The next step for BOD is to register its product with the TGA for over-the-counter use in Australia.
It's important to note that although these results are extremely promising, anything can happen with the TGA decision - and although we expect the TGA to approve BOD's product (based on today's trial result), nothing is guaranteed.
BOD has a commercial partner already lined up
BOD already has a commercial partner for its insomnia treatment - Arrotex Pharmaceuticals.
Arrotex is the largest generic pharmaceutical and private label company in Australia, specialising in over-the-counter products.
You might recognise the brands Arrotex owns from your local pharmacy:

With over 400 staff supplying nearly 5,700 pharmacies, Arrotex has the distribution networks, sales force, reputation and means to promote and sell BOD's product in as many pharmacies as possible.
The arrangement is a supply agreement, where BOD will sell its product to Arrotex, and then Arrotex will add a margin on top and sell to consumers in pharmacies.
While both BOD prepares for a TGA approval submission, BOD can start to immediately sell its insomnia product under the old rules (which require a doctor's prescription).
However, we think that the bigger sales catalyst will be the ability to reach consumers directly in pharmacies, as barriers to access medicinal CBD products are significantly reduced.
BOD will be the first company in Australia to sell over-the-counter CBD products and own 100% of the market until another company validates its products in a clinical trial (where to date the others have failed).
This gives BOD a massive headstart on the competition and is a significant milestone towards our BOD big bet:
Our BOD Big Bet
"BOD will deliver a minimum 10x return on successfully commercialising at least one application of its new technology that optimises the human body's absorption of cannabinoids."
NOTE: our "Big Bet" is what we HOPE the ultimate success scenario looks like for this particular Investment over the long term (3+ years). There is a lot of work to be done, many risks involved - just some of which we list in our BOD Investment Memo. Success will require a significant amount of luck. There is no guarantee that our Big Bet will ever come true.
Today's BOD announcement is an important step towards achieving our big bet.
BOD Science
More details on the trial results
Efficacy: Did the product do what it is meant to do?
Yes, BOD showed that 100mg dose of its CAN-REST product produced statistically significant results versus a placebo.
In this trial BOD showed proof that its CBD is effective at treating insomnia.
In order for the trial to be successful, the company will need to prove with a level of 'statistical significance' that the results were effective.
BOD achieved a p-value of 0.04, where 0.05 is the conventional level of significance required to be considered statistically significant.
In layman's terms, this means that if the clinical trial were to run again, there is a 96% chance that the same results would occur.
And a significance level of 0.05 would mean that there is a 5% risk that the results occurred by chance.
It's important to note that the p-value target set for the study was 0.025, and although BOD did not meet this level of significance, it still met the conventional standard of significance at 0.05.
While today's announcement did note that the "ITT population" showed no statistical significance, this was in reference to the ITT population which just means all of the patients initially enrolled in the trial.
We note that not all patients actually completed the trial - that number was only 180.
In that group of 180 patients, BOD's trial showed statistical significance as mentioned above.
What does this mean for the TGA approval?
Ultimately, we think that even though BOD reached conventional standards of statistical significance and not the stricter targets set pre-trial, it still provides the company with enough data for TGA approval.
However, it will be up to the TGA whether this standard meets the requirements for approval (which we think it does), but it is a risk factor nonetheless.
When it comes to TGA approvals the process isn't black or white, applications are assessed based on all of the data available from the clinical trials.
While it's hard to predict how the TGA will view BOD's trial data, today's preliminary results are a positive first step for the company especially when compared with the results that have come from other companies trying to tackle insomnia with CBD.
Safety: is the product safe?
Yes, it is safe.
BOD tested both safety and tolerability of its products.
Overall the trial data showed that "adverse event incidence was similar between both CBD groups and placebo".
That basically means there was no difference in safety between the group taking placebo and the group taking BOD's CBD product.
Our take on the results
These results are a huge win for BOD and BOD investors.
Given the failures by other companies running similar trials in the past, we were coming into these trials with moderate to low expectations of a good result, and we think that BOD has delivered in a strong way.
The next step of the process is to register the product with the TGA for over-the-counter use, which, if successful, will make BOD the first company in Australia to sell CBD over-the-counter.
We do note that there are a number of results pending on secondary and tertiary endpoints for stress and anxiety which, if met, add additional upside to BOD's product.
These results are not the main goal of the trial, but add to a body of data that supports the efficacy of the drug for potential use in other treatments.
If the data is promising, this could encourage BOD to develop an over-the-counter solution for anxiety - opening up new markets and opportunities.
These results are due in about 5 weeks.
More on the BOD - Arrotex commercial tie up
In December last year BOD secured an agreement with Arrotex Pharmaceuticals to supply its CBD treatment for over-the-counter use.
The deal specifically focuses on a Schedule 3 CBD product.
Schedule 3 medicines are available through pharmacies, over the counter BUT don't require a prescription.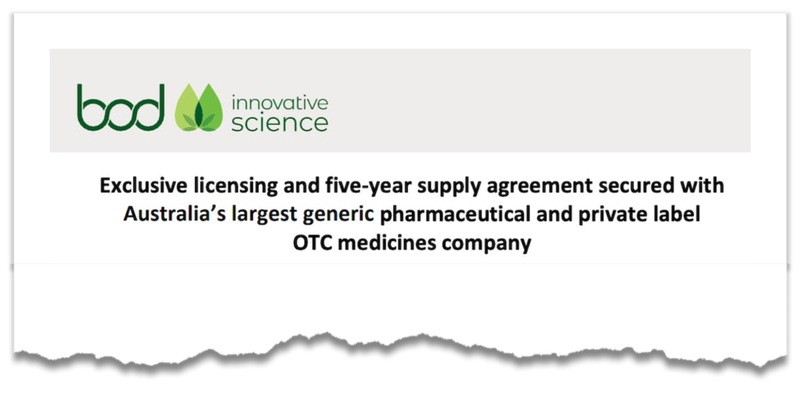 (Source)
Arrotex is the largest generic pharmaceutical and private label medicine company in Australia, specialising in over-the-counter products.
What this means is that Arrotex has all of the distribution in place and is the right type of partner for a company like BOD to get its product into as many pharmacy shelves as quickly as possible.
The deal between BOD and Arrotex is a licensing/supply arrangement meaning:
BOD gets an upfront payment of $500K (already paid)
BOD sells its product to Arrotex.
Arrotex sells the product to pharmacies adding a cost plus margin.
Pharmacies sell BOD's product to consumers adding a cost plus margin.
The deal with Arrotex runs for an initial five year period starting in Dec-2022.

BOD's revenue is directly tied to the demand for over-the-counter cannabis products, of which it will be the first.
The current market for medical cannabis in Australia is $244M, but is expected to grow at 42% over the next two years: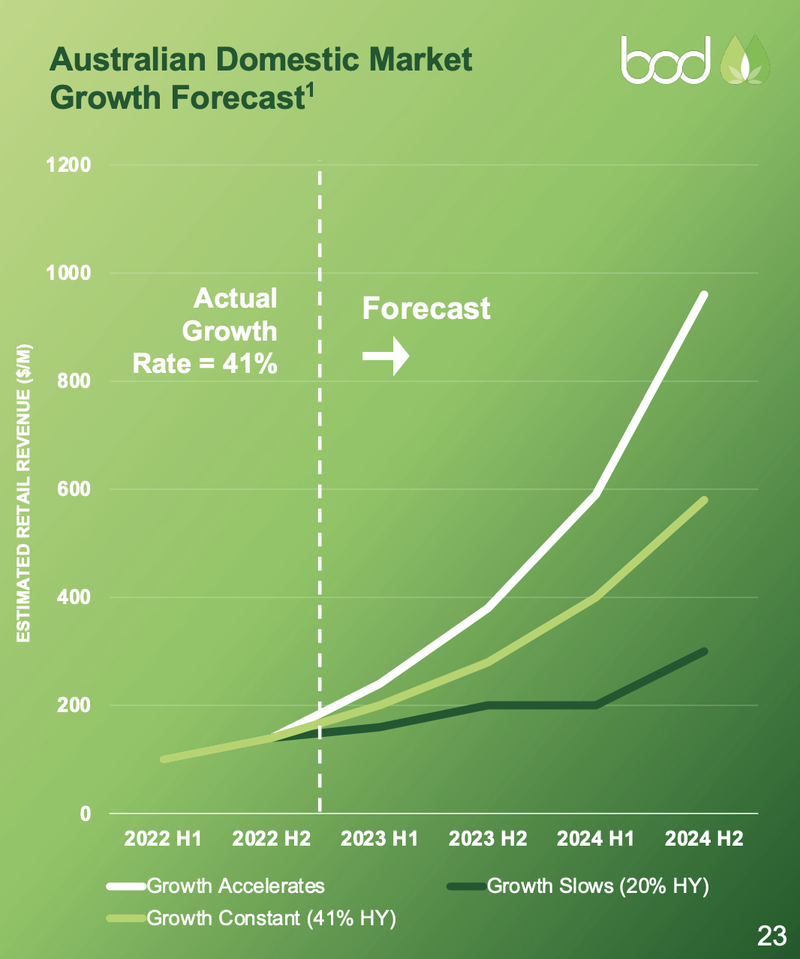 We think that reduction in barriers to entry through over-the-counter use will drastically grow the market for medical cannabis in Australia.
BOD is well positioned to take advantage of this growing market, and its product - proven effective in a clinical trial - will make it a market leader in this field.
While the BOD makes its submission to the TGA and awaits approval, the company will be able to immediately sell its products with a doctor's prescription under the Special Access B scheme.
However, the big catalyst for sales is the over-the-counter approval.
We think that any cash flows from this deal will underpin BOD's market value as well as support further R&D research, in particular with its blue sky product 'Aqua Phase'.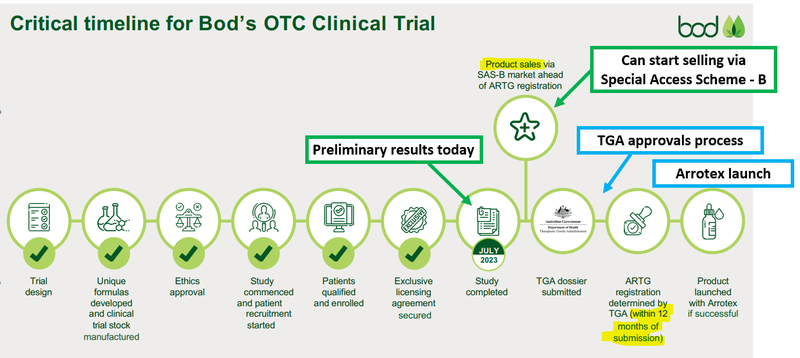 (Source)
BOD is also working on an innovative way to deliver cannabis treatment - Aqua Phase
In September last year BOD announced the acquisition of Aqua Phase - a cannabis process technology that can turn cannabis products into a form that is soluble in liquids.
The benefits of the processed form is that it allows for a more rapid onset, better efficacy and lower dosage rates of cannabidiol (CBD) products.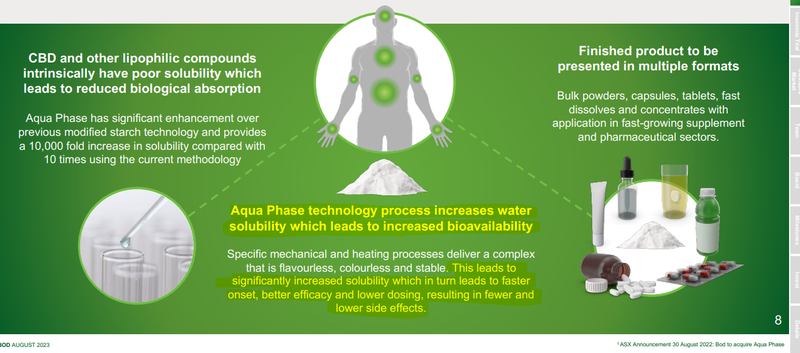 (Source)
Basically a product that makes cannabis derived treatments "more easily absorbed by the human body".
The mechanism behind the technology is that lets the human body absorb CBD more effectively, leading to less product being needed to achieve the desired effect.
The current problem with many CBD formulations is that the body struggles to absorb the CBD because it doesn't get broken down properly in the stomach.
CBD users and patients need to take large amounts to get the desired therapeutic impact - and even then, results can be dubious depending on the quality of the product.
Aqua Phase is BOD's attempt at fixing that problem by increasing "bioavailability".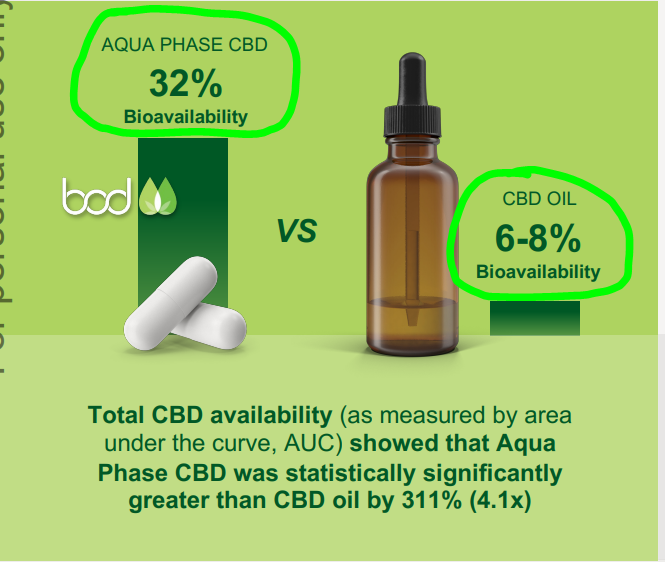 (Source)
There are a range of opportunities for BOD to deliver value back to shareholders with this acqua phase acquisition including:
Improve current product suite
Unlock Epidiolix like 'moonshot'
New products, new markets
Other opportunities including licence the tech
BOD is yet to outline its full strategy with the product, but we hope that there are one or two key areas of focus that BOD highlights soon: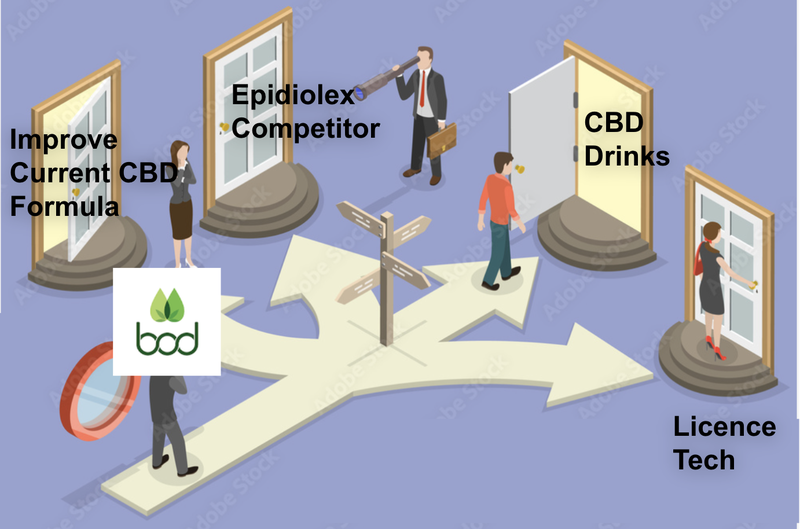 🦉To read more about our take on the Aqua Phase acquisition ready: Microcap Cannabis Stock BOD has two major near term catalysts...
What could go wrong?
Approval Risk
With an extremely promising clinical trial BOD will look to get approval for its drug by the TGA for over-the-counter use in Australia.
There is a chance that the TGA requires more data, or that it knocks back the submission. Although we think this is a small risk, it is important to highlight.
Sales Risk
When BOD takes its new product to market, a new risk manifests - sales risk.
BOD has not had the best track record when it comes to selling its nutraceutical products and will be reliant on Arrotex to do the heavy lifting when it comes to sales.
If Arrotex fails to deliver on distribution and marketing goals, it could affect sales of the product.
Funding Risk
Like all small cap companies, cash is always pretty tight for BOD.
BOD recently raised $1.9M at 8c to largely cover the costs of the Aqua Phase acquisition completion (the £1M payment for Aquaphase was made on the 10th of August).
Aside from that, BOD held ~$2M at June 30.
Of note is that BOD has a $963k debt to pay by Dec 31st in relation to an R&D grant advance payment loan.
BOD spent $3.4M on R&D in FY23 and typically biotech companies get ~43.5% of that back through R&D incentive programs.
Last year BOD received $1.5M in R&D rebates in December so BOD could receive this year's payment in Q3/4 which would reduce short term funding risks for the company.
Nevertheless If the "BOD / Arrowtex sales machine" is delayed, and BOD is burning too much cash, BOD may need to raise additional capital over the coming months to continue funding its operations.
What's Next?
Insomnia Trial
🔄 Secondary and Tertiary Endpoints
In the coming weeks BOD will announce the secondary and tertiary endpoints, any positive news here will be further upside for BOD.
🔲 TGA Registration
We want to see BOD package up all of its data and register for TGA approval for over-the-counter use
🔲 TGA approves drug
The TGA will make a decision whether or not to approve BOD's drug.
🔲 First sales of over-the-counter CBD product
First sales and revenue shown from over-the-counter CBD products
Aqua Phase
🔲 Aqua Phase strategy
There are lots of paths that BOD could take with the Aqua Phase technology.
We want to see the company outline a strategy and identify some key markets or products to target (with the potential for clinical studies).
BOD Investment Memo:
Below is our Investment Memo for BOD where you can find a short, high level summary of our reasons for Investing.
In our BOD Investment Memo, you'll find:
Key Objectives for BOD for the coming year
Why we are Invested in BOD
The key risks to our Investment Thesis
Our Investment plan
---