EV1 signs Framework Agreement for graphite mine in Tanzania
Disclosure: S3 Consortium Pty Ltd (the Company) and Associated Entities own 3,353,000 EV1 shares at the time of publishing this article. The Company has been engaged by EV1 to share our commentary on the progress of our Investment in EV1 over time.
It is now officially signed.
Our 2021 Wise-Owl Pick of the Year Evolution Energy Minerals (ASX:EV1) just signed a Framework Agreement with the Tanzanian government for its advanced graphite project.
Graphite is one of our favourite battery materials for 2023.
Below is a photo from the signing ceremony where Managing Director Phil Hoskins and Executive director Michael Bourguignon are before the President of Tanzania, Her Excellency Samia Suluhu Hassan: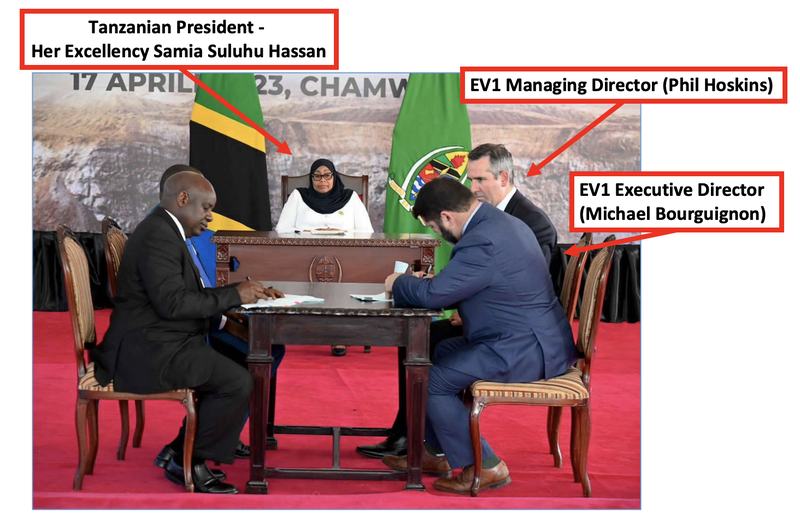 There is a video of the full signing ceremony on youtube - here a couple of our favourite screenshots: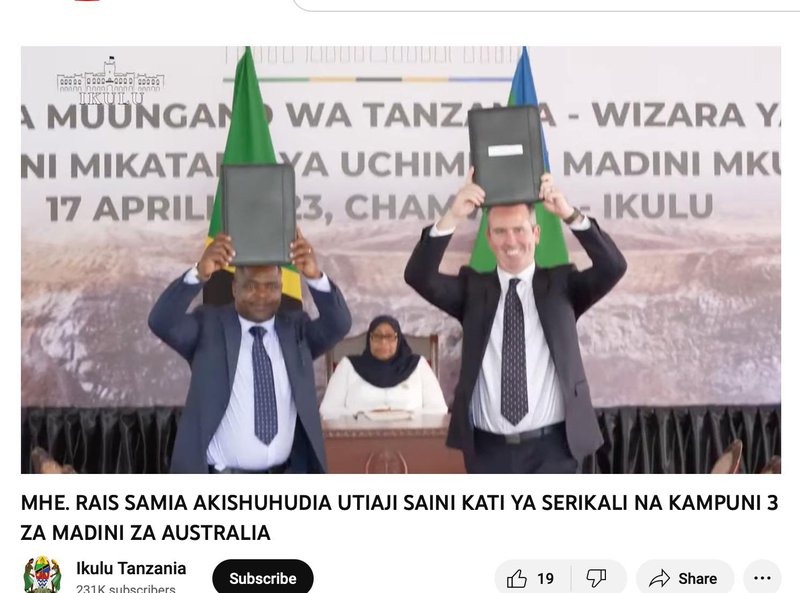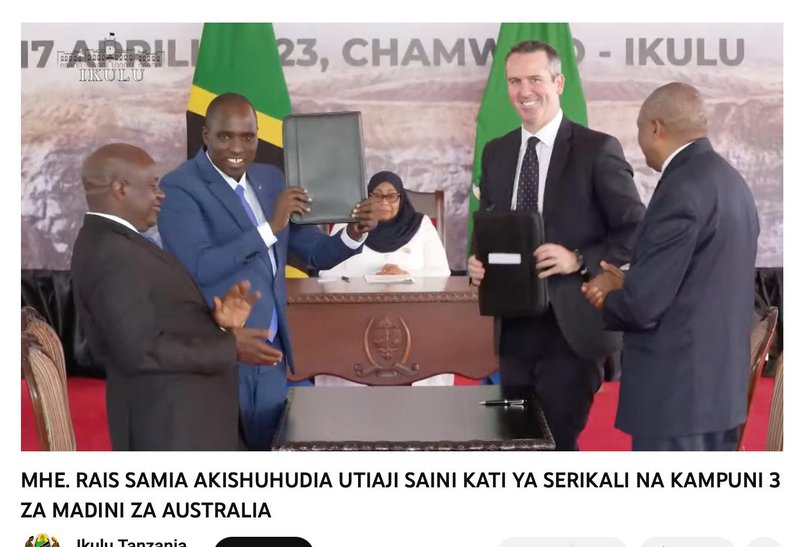 At a very high level, EV1's Framework Agreement is a government sanctioned document that provides certainty of tenure and outlines all rights/responsibilities for project owners inside Tanzania.
Think of it as like a mining permit - it gives EV1 the all-clear to develop its graphite mine and sets out the terms and rules for making decisions about the mine.

Most importantly, it provides EV1 (and potential project financiers) the certainty of tenure from the Tanzanian government.
Typically for mining projects outside of Western jurisdictions the final milestone needed to unlock a wave of institutional capital is official government sign-off for the development of the project.
As of today, EV1 has secured that government backing through the signed framework agreement.
This was a major event for the country, and now signals to the rest of the world that Tanzania is open for business.
Managing director of EV1 Phil Hoskins opened the address to the Tanzanian assembly last night, and spoke about the opportunities for the country.
We were up late last night to watch the ceremony, which has been recorded here (Phil speaks for the first 7 minutes in the video):
EV1 signing the document with the President of Tanzania is at the 50 minute mark.
With a newly updated Definitive Feasibility Study we are hoping today's news unlocks access to financiers that can help with project financing and ultimately allow for EV1 to make a Final Investment Decision (FID) on its project.
EV1's updated DFS metrics are as follows:
Net Present Value (NPV) = US$338M.
Payback Period = 3.3 years.
Internal Rate of Return = 32%
CAPEX = US$120M.
EV1 now has the all important certainty of tenure which we think will allow it to go and finance the US$120M needed to develop its project. This could be a mixture of debt or equity.
What has happened to other companies that have signed a Framework Agreement in Tanzania
For some context, we have seen other ASX listed companies like Strandline Resources, OreCorp, and Black Rock Mining all sign similar agreements as EV1 with the Tanzanian government.
Strandline Resources
Strandline Resources, for example, signed its Framework Agreement on 14 December 2021.
This saw Strandline's share price rise from ~25c per share (before getting a signed Framework Agreement) to all time highs of 51.5c. After that Strandline secured a $50M capital raise.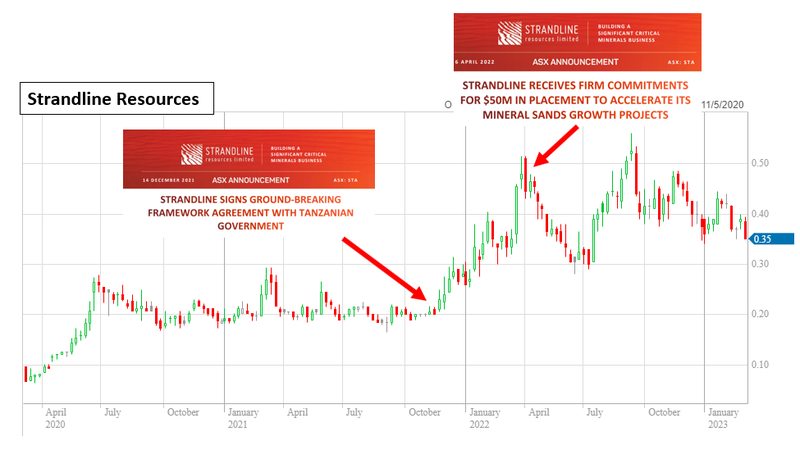 Black Rock Mining
Another example is Black Rock Mining which also signed a Framework Agreement for its project back in December 2021.
Only a few months after the agreement was signed, Black Rock managed to raise ~$25M at 24c per share - near its all time high share price of ~33c per share.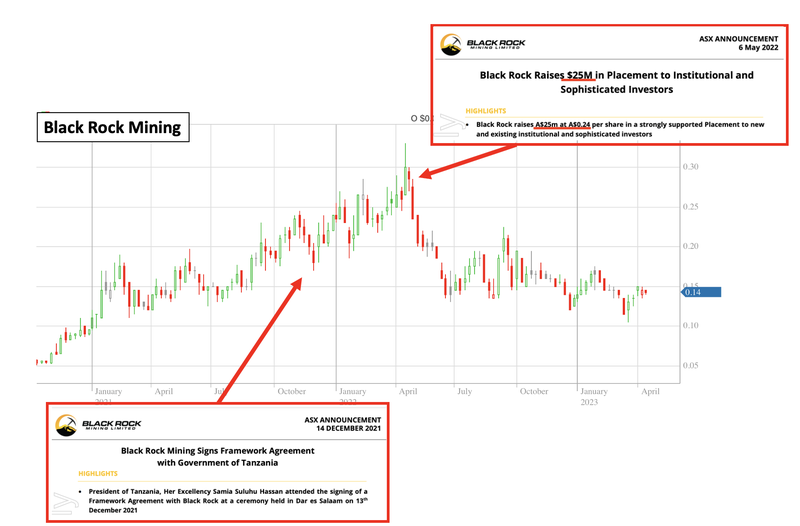 EV1 is now capped at ~$51M and had $6.8M in cash at 30 March 2023, giving it an enterprise value of $44.2M.
We are hoping that the signed Framework Agreement unlocks a similar slow and steady re-rate for EV1 which can unlock potential to secure project financing.
Right time to be developing a graphite project:
Graphite is one of our favourite investment themes for 2023.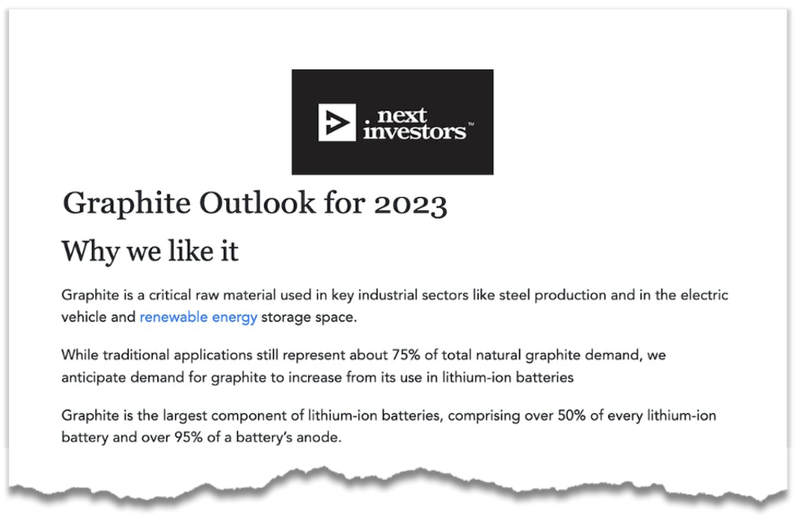 While the electric vehicle battery thematic is typically associated with lithium, the reality is that over 50% of every battery and over 95% of a battery's anode is made of graphite.
Given the coming demand for batteries, 2024 is predicted to be the year the graphite market enters a long term supply shortage.
Benchmark Minerals predicts 97 new graphite mines are needed just to keep up with demand.
But mines don't appear overnight. It takes years of work and capital to get a mine up and running.
A looming supply shortage of graphite — the other key commodity required for batteries — could deliver big returns for graphite companies, especially those with development ready, high quality projects.
EV1 with its updated DFS locked away and its Framework Agreement signed is in a position where it can start developing its project, in anticipation of the coming demand for graphite.
This timing could prove perfect given the imminent graphite shortage.
For EV1, putting its project into production is central to our EV1 Big Bet which is as follows:
Our EV1 Big Bet
"EV1 will achieve first production of the world's most sustainably produced graphite by early 2024 (including value adding processing) coinciding with the onset of a long-term supply shortage in the graphite market."
NOTE: our "Big Bet" is what we HOPE the ultimate success scenario looks like for this particular Investment over the long term (3+ years). There is a lot of work to be done, many risks involved - just some of which we list in our EV1 Investment memo. Success will require a significant amount of luck. There is no guarantee that our Big Bet will ever come true.
To monitor EV1's progress since we first Invested and track how the company is performing relative to our "Big Bet", we maintain the following EV1 "Progress Tracker".
What we want to see next:
Here's EV1's project development schedule, which was included in the company's updated Definitive Feasibility Study (DFS).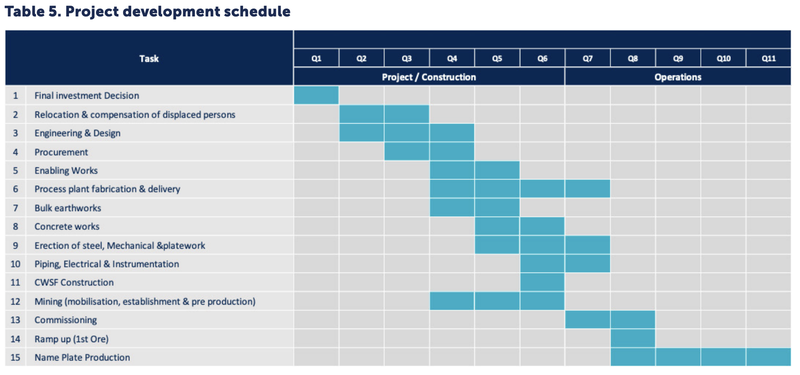 Final Investment Decision (FID) 🔄
Just a few weeks ago EV1 put out its updated Definitive Feasibility Study (DFS).
In the DFS, the company announced a project timeline, outlining the next steps of the project.
The next stage for EV1 is a Final Investment Decision (FID).
An FID is a firm commitment from a company to proceed with developing a project.
Sometimes it is declared after all the project financing is worked out, and sometimes it is done well in advance of financing.
In EV1's case we expect the company to press on with other development items until a FID is officially declared - especially given the project CAPEX is relatively low at US$120M.
Drilling results 🔄
EV1 just last year completed ~5,440 metres of RC drilling over 44 drillholes.
Assay results from that program are currently outstanding.
This drilling program is a little bit different to that of other explorers in our Portfolio given that EV1 is trying to improve what is already a fundamentally strong project.
EV1 isn't chasing an entirely new greenfields discovery, instead it is looking to see if the highest priority drill targets produce anything that is material enough to favourably change its project economics.
This being considered, we haven't set any expectations going into this drilling program.
If drilling doesn't find anything material, nothing will change with respect to why we continue to hold EV1 in our Portfolio.
The upside would be if EV1 can add more near-surface material to the mine-plan, potentially reducing costs in early years, adding to the mine life, or justifying a larger build.
We will watch and see what happens with the drill results.
BONUS: Feasibility study on a downstream plant 🔄
EV1 has previously flagged it is completing a feasibility study on a potential downstream processing plant in an EV-friendly jurisdiction — a possible location in Europe or the Middle East had been mentioned by EV1.
In recent announcements, EV1 has specifically said it would look to commence a Scoping Study followed by a DFS on a downstream graphite processing plant.
At this stage, we don't know when this will be delivered and so if the news did drop it would be a pleasant surprise for us.
Our EV1 Investment Memo
Below is our EV1 Investment Memo where you can find a short, high level summary of our reasons for Investing.
In our EV1 Investment Memo you'll find:
Key objectives for EV1
Why do we continue to hold EV1
What the key risks to our Investment thesis are
Our Investment plan
---