EV1 settles landmark agreements with the government of Tanzania
Disclosure: S3 Consortium Pty Ltd (The Company) and Associated Entities own 3,453,125 EV1 shares at the time of publishing this article. The Company has been engaged by EV1 to share our commentary on the progress of our Investment in EV1 over time.
We first announced Evolution Energy Minerals (ASX:EV1) as our 2021 Wise-Owl Pick of the Year because of its advanced, shovel-ready graphite project in Tanzania.
Today, EV1 announced a Framework Agreement and Shareholders Agreement that give certainty around the rights and obligations of all stakeholders in EV1's graphite project have been settled in a form agreed by the Tanzanian government.
These agreements will provide the level of certainty required by potential financiers of the mine construction.
Graphite is one of our favourite investment themes for 2023.
While the electric vehicle battery thematic is typically associated with lithium, the reality is that over 50% of every battery and over 95% of a battery's anode is made of graphite.
Another of our favourite investment themes for 2023 are small cap companies with advanced stage critical materials projects that can move into production in the next couple of years (during the commodities boom).
EV1 is at Definitive Feasibility Study stage - the 2020 DFS showed the project has a Net Present Value of $323M, CAPEX of $87M and a payback period of 3.4 years.
An updated DFS is due in "early 2023" which will reflect all the work and optimisation EV1 has carried out over recent years that will impact the project's economics.
We've always liked that EV1 is a small, fast, relatively low cost mine build that can see first production at a time when graphite prices are forecast to be rising,
EV1 has an offtake agreement in place and a joint venture agreement signed to build a downstream graphite processing plant.
Now all they need is financing to build their mine.
To get that financing, it's now armed with an agreement with the Tanzanian government confirming the project's ownership structure.
This agreement is essential for financiers for the construction phase.
The President of Tanzania, Her Excellency Samia Suluhu Hassan is expected to sign the agreement at a public signing ceremony this month.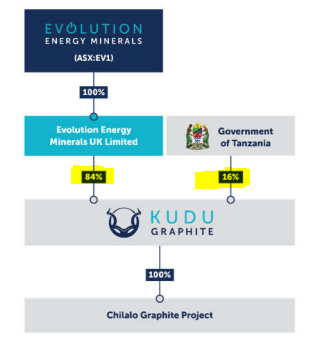 The agreement is in the form of a Framework Agreement with the Tanzanian government.
At a high level, this Framework Agreement outlines the rights and obligations between EV1 and the Tanzanian government over the ownership, development, and management of the graphite project.
It provides certainty of tenure and ownership - which mitigates regulatory risk for large-scale financing partners and institutional investors.
The agreement gives EV1 a clear line of site towards the Final Investment Decision.
The terms were agreed upon following a meeting between the company and the Special Presidential Government Negotiating Team and a review by the Tanzanian Attorney General.
Once formally signed, the agreement will see EV1 hold 84% of the project and the Tanzanian Government hold the remaining 16%.
We look forward to the public signing ceremony for the agreement with the Tanzanian President later this month.
Why is a Framework Agreement important?
The agreement lays out the ownership structure of EV1's project, re-issues a mining licence for 10 years and, most importantly, provides investors with the certainty of tenure over the project.
Once the agreement is signed, we expect EV1's project to be viewed as being more suitable for investment by institutional capital who would be wanting to see such regulatory risks to the project addressed.
According to the latest DFS, the CAPEX for EV1's project is $87M - this is what EV1 will need to secure to progress its project through to construction. We will get an updated look at the project economics in the updated DFS due in 'early 2023'.
With the framework agreement signed, a major checkbox has been ticked for potential financiers as EV1 has established security of tenure over the project.
For some context, we have seen other ASX listed companies like Strandline Resources, OreCorp, and Black Rock Mining sign these agreements with the Tanzanian government.
Strandline Resources, for example, signed its framework agreement on 14 December 2021 — similarly to EV1's agreement, it also agreed to a 84%-16% split.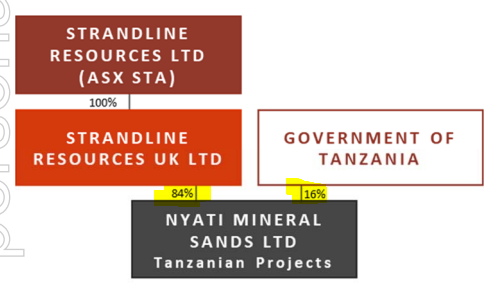 This saw Strandline's share price rise from ~25c per share (pre-framework agreement) to all time highs of 51.5c, after which the company secured a $50M capital raise.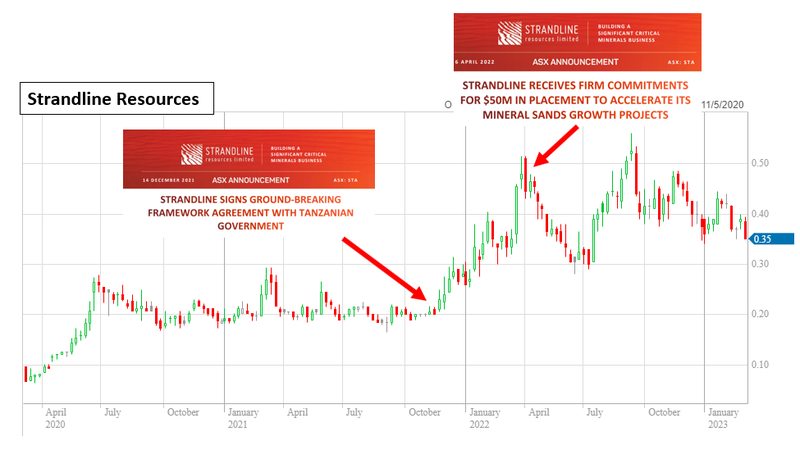 In comparison, EV1 is now capped at $55M and had $10.2M in cash at 31 Dec 2022, giving it an enterprise value of just $44.8M.
After today's news, we are looking forward to the following catalysts from EV1 over the coming weeks/months:
🔄 Updated Definitive Feasibility Study (DFS). EV1 will be looking to improve on the project's already very strong $323M net present value from its 2020 DFS. EV1 expects this to be released in early 2023, so this could arrive in the coming weeks.
🔄 Framework Agreement. A key milestone that provides regulatory certainty to EV1 from the Tanzanian government. UPDATE: This is now in a form that has been agreed with the Tanzanian government. EV1 expects the official signing ceremony this month.
🔄 Drill results. EV1 is looking to find shallow high-grade graphite to add to its already strong resource estimate. This news is not a key catalyst but comes as positive news if high grade/shallow graphite is found.
So by the end of this month EV1 could have both a framework agreement signed and an updated DFS in place.
Our view is that after these two catalysts materialise, EV1 will be in a position where it can push to secure the required project financing (CAPEX).
Financiers will like that EV1 has established security of tenure, has a mining licence in place, and updated financial metrics around EV1's project - information needed for financing.
EV1 is now trading at a market cap of $54M at last close, with the market valuing the company well below the net present value of its graphite project.
However EV1 is not just focused on mining graphite - it's rapidly advancing a downstream processing business.
EV1 already has a binding term sheet with its existing offtake partner YXGC to pursue a downstream processing facility - potentially in Europe or the Middle East.
That facility would be capable of producing high value products that can fetch up to US$30,000/tonne, which is many multiples of the flake graphite prices that are usually quoted.
Given the progress being made in both parts of EV1's business (downstream and upstream), we still think the company could develop its projects before a supply shortage hits the graphite market.
This is central to our EV1 Big Bet which is as follows:
Our EV1 Big Bet
"EV1 will achieve first production of the world's most sustainably produced graphite by early 2024 (including value adding processing) coinciding with the onset of a long-term supply shortage in the graphite market."
NOTE: our "Big Bet" is what we HOPE the ultimate success scenario looks like for this particular Investment over the long term (3+ years). There is a lot of work to be done, many risks involved - just some of which we list in our EV1 Investment memo. Success will require a significant amount of luck. There is no guarantee that our Big Bet will ever come true.
To monitor EV1's progress since we first Invested and track how the company is performing relative to our "Big Bet", we maintain the following EV1 "Progress Tracker".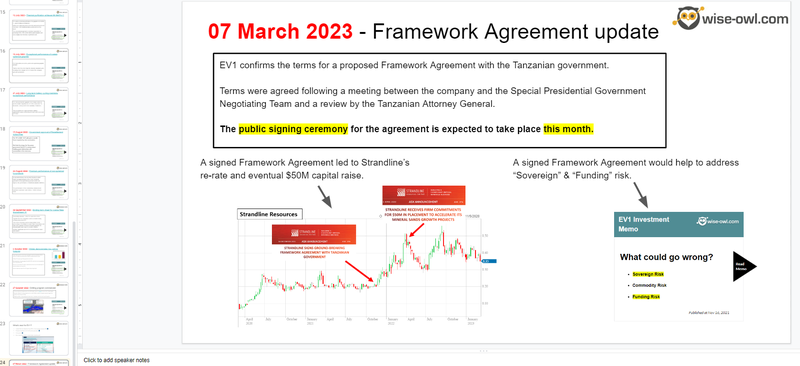 More on the proposed Framework Agreement
Here are our key takeaways from the proposed Framework Agreement:
1) EV1 to confirm its 84% ownership of the project; the remaining 16% to be owned by the Government of Tanzania.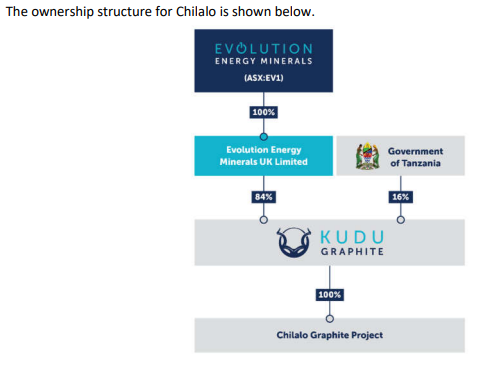 The main takeaway was the confirmation of EV1's ownership of the project at 84% with the Tanzanian government taking a 16% ownership stake.
This is not unexpected, as the 16% non-dilutable shareholding to the Tanzanian government is actually required under law (Section 10 of the Tanzania Mining Act).
The 16% free carried interest for the Tanzanian government is the same percentage as in other Framework Agreements with ASX listed companies.
$445M capped Strandline Resources agreement: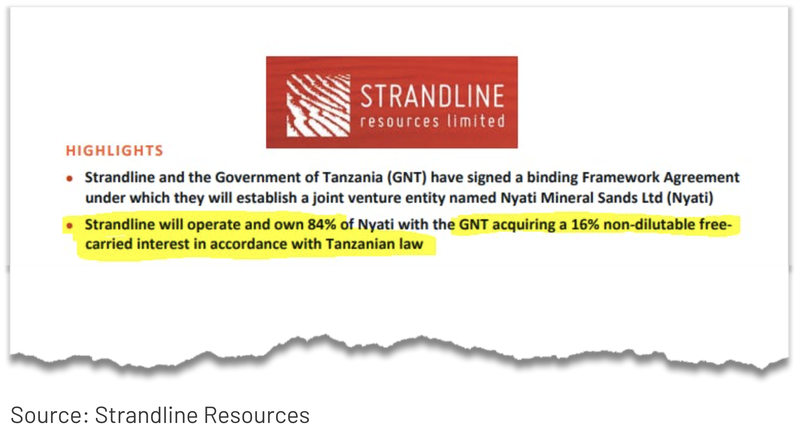 $138M capped Black Rock Mining's agreement: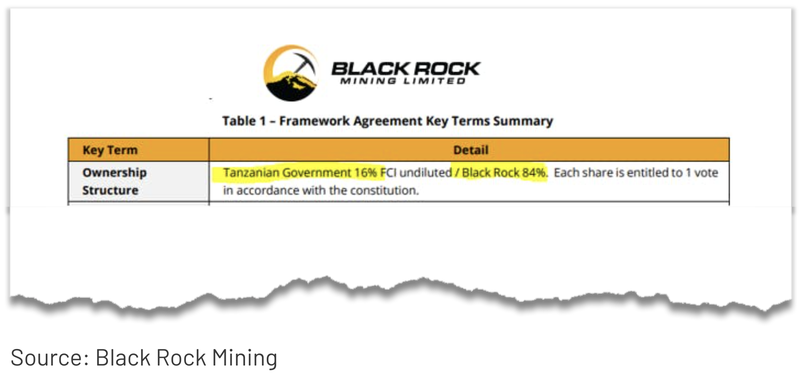 $144M capped Orecorp's agreement: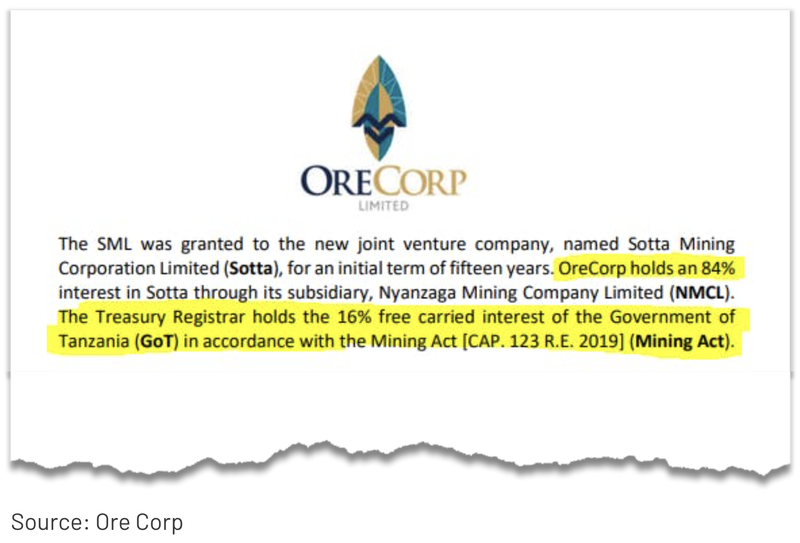 The government of Tanzania's free carried direct equity interest means the government is incentivised to see the project do well.
Effectively, the ownership structure aligns the parties' interests and means that what is good for EV1, is good for the Tanzanian government and vice versa.
2) Mining licence extended for 10 years and prospecting licences for nine years.
EV1 is effectively securing its tenure for an initial 10 year period, covered by Tanzanian Law and subject to international arbitration (in the event dispute resolution needs to happen).
We think this will provide comfort to investors and debt financiers that may have previously been on the fence with respect to providing project financing.

3) EV1 positioned to secure debt financing
As part of the agreement, EV1 will be in a position to pledge its shareholding in the project to secure debt financing.
This means EV1 can provide lenders with a greater level of security to make attracting debt financing easier than it would have otherwise been.
EV1 will also have a majority on the board with it selecting three out of five board members.

What's next for EV1?
Updated Definitive Feasibility Study (DFS) + Final Investment Decision (FID) 🔄
EV1's initial 2020 DFS shows an NPV of US$323M with a 3.4 year post-tax payback period, based on total capital expenditures of ~US$87M to get the mine into development.
EV1 is currently updating its DFS and expects the report to be ready in "early 2023".
In late 2022 EV1 announced changes to its project design, removing a tailings storage facility to not only improve the ESG credentials of EV1's project, but also reduce overall capital expenditure costs.
Note* We covered the changes to EV1's project design in a Quick Take which you can view here: DFS due in early 2023 - EV1 pursuing improved project economics.
We hope the updates to the project design, along with improvements in the graphite price, lead to an overall improvement in the Net Present Value (NPV) figure in the updated DFS, or at the very least, help counter the likely higher capital expenses caused by recent global inflation.
Framework Agreement with the Tanzanian government 🔄
We think the Framework Agreement with the government is a big catalyst for EV1 as it provides a clear regulatory pathway to production - the ultimate goal for EV1.
EV1 expects official signing of this agreement later this month - March 2023.
Drilling results 🔄
Back in October, EV1 kicked off a 7,500m drill program.
Normally, for a project as advanced as EV1's, we wouldn't emphasise exploration drilling programs.
But EV1's drilling isn't pure play exploration, so we think it is worth some attention.
EV1 doesn't need any more drilling or new discoveries to move into production, yet more high-grade near-surface graphite could improve project economics.
High-grade shallow graphite could give EV1 the option to add new resources to the back end of its project (by increasing the mine life) and/or to the front end (mining the highest grade and most profitable first).
EV1's drilling is focused on high priority EM targets that are around 15 times the size of the single EM conductor that contains EV1's 20Mt JORC resource, which grades 9.9% Total Graphitic Carbon (TGC).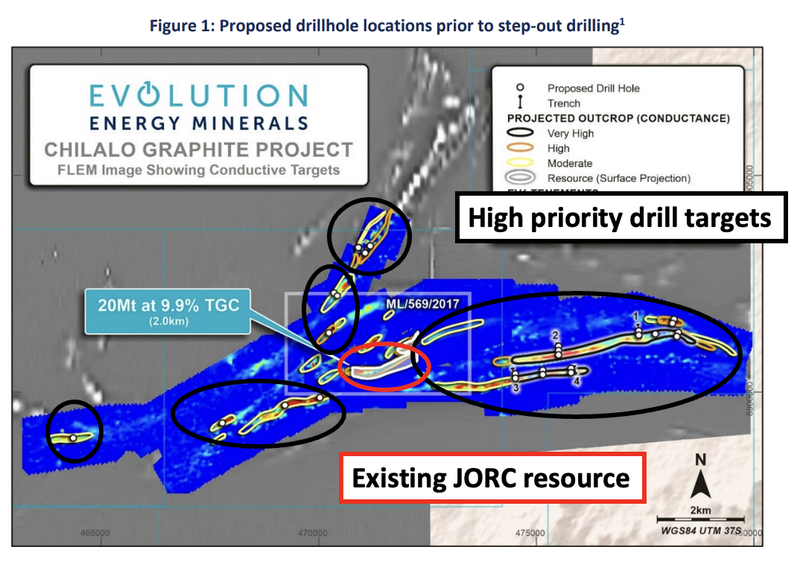 Any results at or above the 9.9% TGC grade of EV1's existing JORC resource will be positive news to us.
Any new higher grade, shallower graphite resources could be included in the mine plan in the revised DFS to improve the project's net present value (NPV).
If drilling doesn't find anything material, nothing will change with respect to why we continue to hold EV1 in our Portfolio.
Feasibility study on a downstream plant (bonus) 🔄
Feasibility studies on a downstream processing plant in an EV-friendly jurisdiction - in the past EV1 has mentioned Europe & the Middle East.
In recent announcements, EV1 has specifically said it would look to commence a Scoping Study followed by a DFS on a downstream graphite processing plant.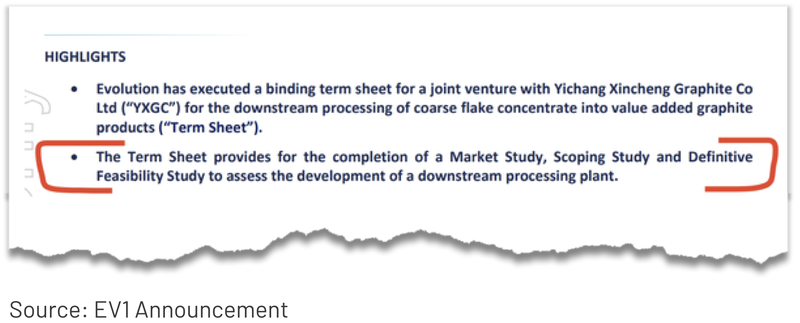 What are the risks?
Today's news is a step in the right direction to mitigate a key risk listed in our EV1 Investment Memo.
EV1 expects to have the Framework Agreement signed this month, after which we think the company reduces "Sovereign Risk" materially.
The agreement also indirectly relates to project financing and the "Funding Risk".
To see all of the key risks to our EV1 Investment Thesis, click on the image below to check out our full Memo: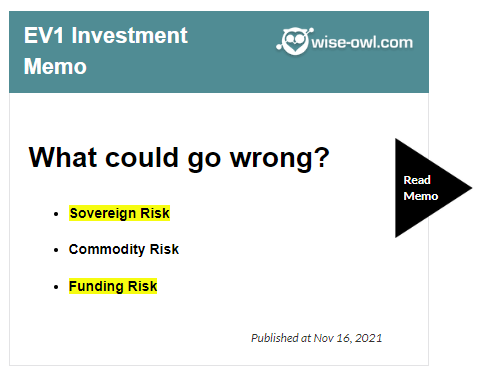 Our EV1 Investment Memo
Below is our November 2021 Investment Memo for EV1 where you can find a short, high level summary of our reasons for Investing.
The ultimate purpose of the memo is to track the progress of our Portfolio companies using our Investment Memo as a benchmark.
In our EV1 Investment Memo you'll find:
Key objectives for EV1
Why do we continue to hold EV1
What the key risks to our Investment thesis are
Our Investment plan
---