A look at ARCH, the ESG Fund is backing EV1
Disclosure: The authors of this article and owners of Wise-owl, S3 Consortium Pty Ltd, and associated entities, own 3,125,000 EV1 shares at the time of publication. S3 Consortium Pty Ltd has been engaged by EV1 to share our commentary on the progress of our investment in EV1 over time.
It's no secret to anyone that we closely track the Environmental, Social and Governance (ESG) credentials of all of our portfolio companies.
With ESG becoming the most talked about topic in board-rooms, the capital markets are very quickly setting it as a filter for which companies need to pass to attract investment.
ESG is an important aspect of why we chose to invest in Evolution Energy Minerals (ASX:EV1) and called it our Wise-Owl Pick of the Year.
We mentioned in our last note that EV1 had committed to pursuing best-in-class ESG credentials by detailing and committing to an ESG roadmap.
This commitment attracted an $8M cornerstone investment from London-based ARCH Sustainable Resources Fund.
ARCH owns 25% of EV1 and has their managing director Amanda Van Dyke appointed as an EV1 board member.
In the video below, Amanda speaks to the importance of ESG considerations helpful in bringing together how ESG relates to investment strategy.
ARCH has a mandate to invest in development-stage companies with a line of sight to production in 5-years.
The core of ARCH's investment thesis is that companies with advanced stage projects ready for construction will re-rate once they are producing and selling resources.
For EV1 to attract a serious, long-term investment from a fund like ARCH is a major tick of approval for us.
Project financing is always the biggest issue for any battery metals development assets - especially true for the graphite space where the market dynamics and demand profile is changing almost every day.
It is easy for a financier to fund a copper project because there is an established demand for the commodity, whereas for battery metals like graphite, the market is more opaque and volatile.
Despite this, EV1 already has financing support.
ARCH has conditionally committed to providing up to US$25M to EV1 in additional investment in various tranches.
ARCH will also make introductions to additional new ESG focussed investors as the company delivers on key milestones.
This aligns perfectly with our long term investment strategy and helps to de-risk any potential funding issues EV1 may experience in the future.
We believe EV1's relationship with ARCH combined with its commitment to ESG means it already has one foot over the financing hurdle.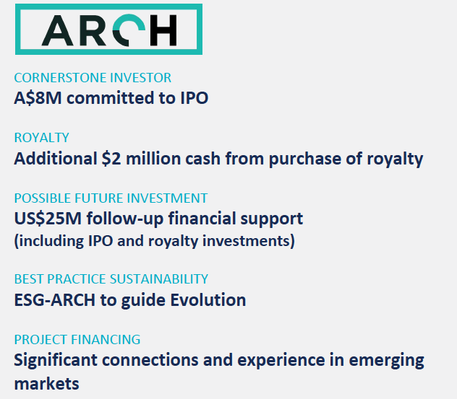 TWO major topics stood-out to us in the video above and we think these deserve a deeper dive.
Who is ARCH? - What do they look for in an investment and what they bring to EV1.
Why is ESG so important? - From a financial perspective .
Who is ARCH?
The ARCH Sustainable Resources Fund is an offshoot fund setup by ARCH Emerging Markets Partners.
ARCH runs several investment funds with differing mandates - the Sustainable Resources fund is their first move to a specific ESG focussed vehicle.
In the video, Amanda outlines that ARCH is looking for "near-production ESG focussed" opportunities for its Sustainable Resources Fund. Essentially ARCH is looking for investments that can transition from exploration to production within a 5-year period.
She also mentions that "the real re-rate to a resources company's valuation comes when they get an asset into production", with the market valuing them as a producer and no longer as an explorer.
EV1 meets both of these criteria, the project already has a DFS completed and the company is hoping to have its Tanzanian graphite project in production within this 5-year timeframe.
This aligns perfectly with Wise-Owl's 5-7 years investment time-frame - and like ARCH we are also seeking this production stage re-rate.
What does ARCH bring to the table?
We mentioned in our initiation note on EV1 that ARCH brought 4 key elements to the EV1 story:
An initial cornerstone investment of $8M.
ESG expertise through consulting and board member Amanda van Dyke.
A hands-on approach to helping EV1 be top class in ESG.
Future funding opportunities via US$25M set aside for follow-on investment, co-investment from some of its investors, as well as introductions to project financiers.
We touched on the ESG expertise and board influence in our last note , so today we will focus on the financial elements of the partnership.
Below we have detailed how these come together to pave the way for EV1 to get their graphite project into production: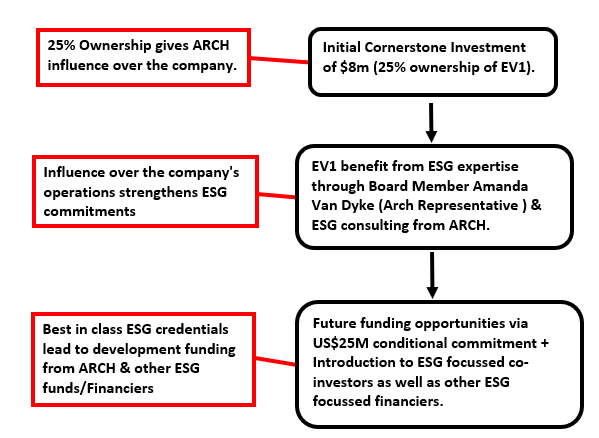 From day one, ARCH's investment sets up EV1 on a de-risked pathway to production, and combats the biggest issue most graphite explorers face with respect to funding and attracting investment capital.
Why we care about ESG and why you should too
As investors we can often get caught up in the immediate financial impacts of the decisions our companies make, ESG initiatives often get shunned due to a short-term quantitative focus.
Quantitative focus usually has investors looking at returns on investments and pay-back periods, which is harder to quantify when a company is making serious investments into its ESG credentials.
Sometimes, in the short term, ESG can be seen as an unnecessary cost by investors.
We think this is where our edge is as investors and where the traditional investor is underappreciating the benefits of ESG leadership.
At Wise-Owl we believe that investment in ESG credentials can pay off handsomely in the long-run.
As the world becomes more climate conscious and sustainability focused, companies with the highest ESG focus will be the industry leaders.
A long-term pay-out from ESG leadership can be a reduction in the cost of capital for a company.
There are large pools of ESG capital seeking verified ESG deals and there are very few places for these investments to go.
The investment community has already started moving towards setting the ESG credentials of a company as a hard-pass criteria on whether or not an investment is made.
You can see this with the reduced amount of capital flowing into coal exploration and mining.
Surveys done this year showed that "responsible investing" had doubled in-terms of its importance for financial advisors versus a year ago and we expect this trend to continue to grow exponentially.
According to the US SIF Foundation, in 2020 1⁄3 of all funds under management in the US (US$17.1 trillion) was managed in accordance with sustainability metrics. Up 42% on the previous year. We expect this trend to continue.
Clearly investors are demanding these changes from companies.
An MSCI study conducted over a 4-year period found that companies with high-ESG scores experienced lower costs of capital, lower equity costs and lower debt costs compared to companies with lower ESG scores.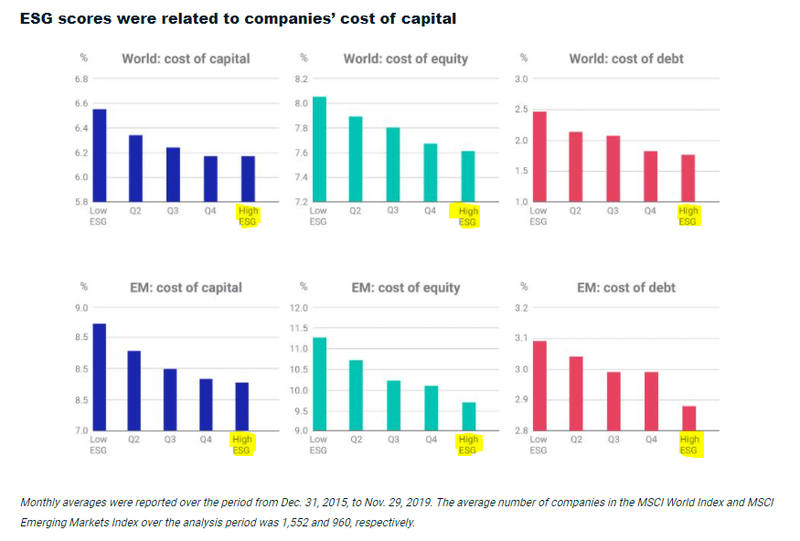 Another example can be seen from this extract summarising the findings of a McKinsey study:

We can conceive of a world where a company is considered uninvestable by institutions because it lacks the appropriate ESG credentials.
That is why we make it a top priority when making investments and why we are backing EV1 to be a leader in the graphite markets.
A high ESG score could mean a premium price for EV1's Graphite
Taken from Amanda's interview the following quote resonated with us:
"Sustainable production is the only type of production the world wants right now".
It is no myth that consumers are increasingly demanding more environmentally friendly products, in turn this is forcing manufacturers to try and source raw materials from ESG friendly producers.
This is becoming most obvious in the lithium-ion battery market where graphite is the dominant material across all battery technologies – comprising over 50% of every lithium-ion battery (and over 95% of every battery anode).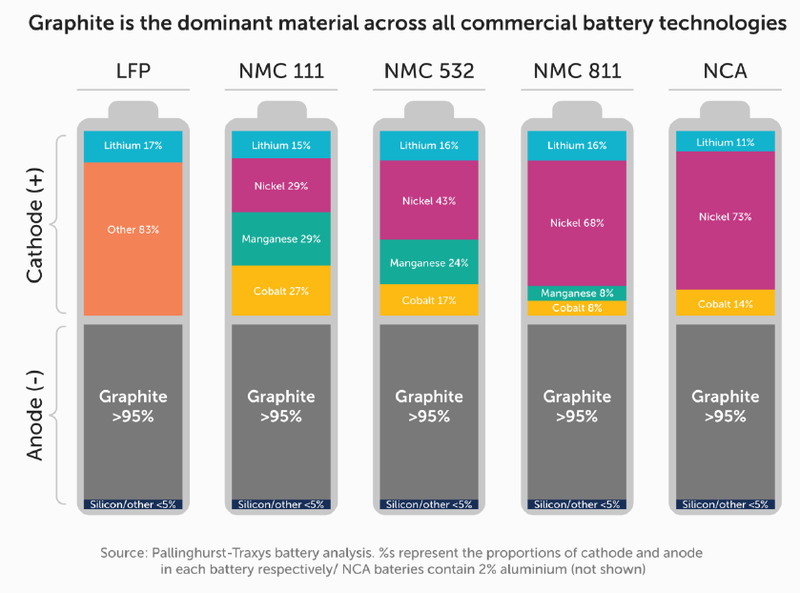 With automakers committing to electrifying car fleets by 2030 and end-users' demand to ensure a sustainable supply chain, we think that the market is just catching onto how important ESG credentials are for the end-users of commodities.
As Amanda highlighted in her interview, the market wants sustainable metals for the energy transition.
Materials that don't meet sustainability standards won't get to market or won't get the premium prices that the ESG leading competitors will benefit from.
We think it is very clear, a high ESG focus means more demand for EV1's graphite and the increased demand will mean a higher price.
For all of the reasons why we invested in EV1, read our full investment memo here
Progress on Key Objective 1: Final Construction Decision & Project Funding
The name of the game for EV1 is to reach a final construction decision and secure the ~US$87M required in capital costs to bring the project into production. DFS upgrades and optimisations will form a part of this process, but more importantly, EV1 needs to deliver all of the ESG requirements set out by ARCH (the cornerstone ESG shareholder), so that ARCH can help EV1 secure funding from other ESG funds in its network that only invest in top class, proven ESG opportunities.
🔲 DFS Optimisation
🔲 Front end engineering design (FEED) – Appointment of Engineer
🔲 Front end engineering design (FEED) – Progress update
🔲 Front end engineering design (FEED) – Final report
🔄 ESG – Initial assessment or report
🔲 ESG – Sustainability report
🔲 ESG – Quarterly progress reporting
🔲 ESG – Life cycle assessment report
🔲 ESG – Progress towards zero carbon operation
🔲 ESG – ESG investment readiness announced
🔲 ESG – Independently assessed ESG score
🔲 ARCH Provides further project funding
🔲 ARCH introduces other ESG funds
🔲 Strategic Board appointment
---