EMN's North American manganese ambitions - crucial on spec product to come
Disclosure: S3 Consortium Pty Ltd (The Company) and Associated Entities own 1,490,000 EMN shares at the time of publishing this article. The Company has been engaged by EMN to share our commentary on the progress of our Investment in EMN over time.
Suddenly...
A small riverside town in Canada has billions of dollars flowing into it.
Some of the biggest companies in the world are descending on it, intent on building out a major battery hub.
We're betting that one of our Investments can get in on the ground floor of this North American battery boom by providing secure supply of a high purity manganese.
Manganese stabilises nickel, improves the safety of EV batteries, and also increases energy density in LMFP batteries (a new generation of battery chemistry) leading to better driving ranges.
High purity manganese is facing a supply deficit as early as next year.
Currently 97% of high purity manganese comes from China.
With the prospect of a US-EU battery materials pact taking shape to secure supply of critical minerals, our high purity manganese Investment, Euro Manganese (ASX:EMN) has an advanced stage project in the EU and is also establishing a footprint in Canada.
EMN's North American operations will source its manganese from the company's project in the Czech Republic which is the largest manganese resource in Europe, and one of only two high purity manganese projects outside of China that is at the Feasibility stage.
What's more, EMN has the processing tech to turn that resource into much needed high purity manganese and soon, we hope, the ability to not only feed up to 25% of the EU's demand but also establish a foothold in Canada's battery boom town.
In today's note, we detail EMN's growth prospects in Canada, provide an update on its EU development stage project and share the link to this afternoon's web conference with EMN MD Matt James.
Here's the link to the EMN web conference:
Click here to register for EMN Conference Call - TODAY at 4PM AEST
First lets run through what EMN is actually doing in Canada.
The tiny Canadian town where EMN will set up a base is called Becancour and this previously sleepy part of Quebec is now positively teeming with the top end of the EV world: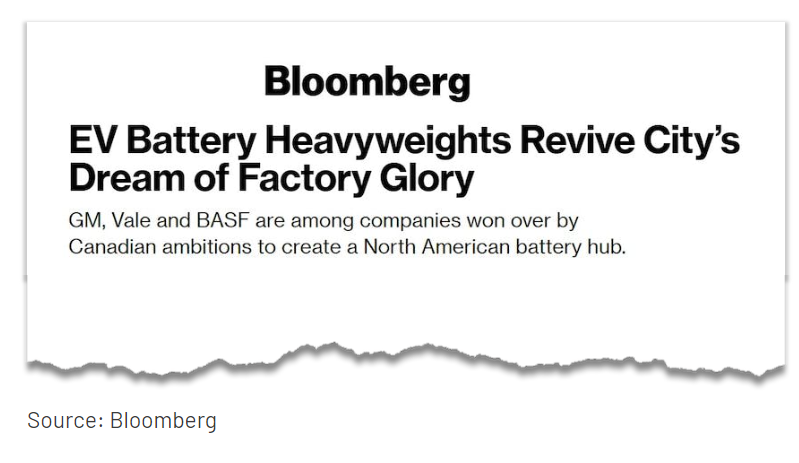 BASF SE, the world's largest chemical maker, POSCO the Korean steel giant (now moving quickly on batteries), General Motors, Ford and Brazilian mining titan Vale SA are busy pouring more than $4BN into the area.
Nestled in between them, will be our Investment, EMN: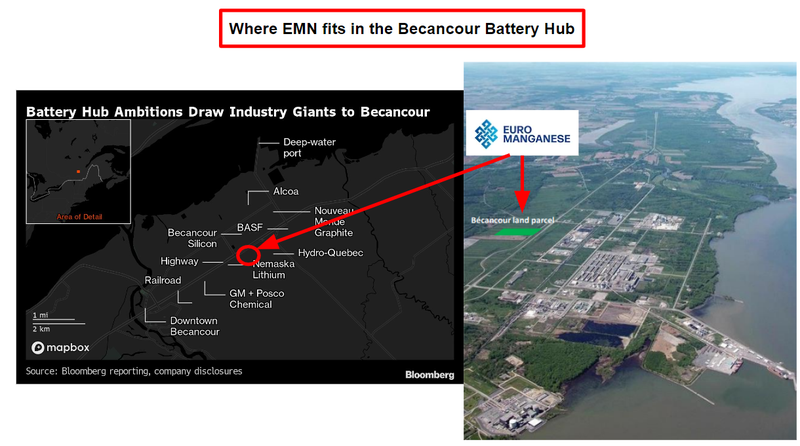 Sources: EMN, Mining.com
EMN has accelerated its plans for its North American project in the wake of the Inflation Reduction Act (IRA), as the EU presses forward with its own version, the Critical Raw Materials Act.
The company has delivered a positive scoping study on the North American project, with a feasibility study for the Bécancour dissolution plant in the works.
Dissolution is a process where EMN will turn a high purity manganese metal into a powder or solution suitable for EV batteries (more on this later in today's note).
And while the two EV hungry western jurisdictions hash out the finer points of how they can work together - EMN is laying the groundwork to get its manganese from the Czech Republic into the next epicentre of North American car manufacturing.
If recent developments in battery chemistry are anything to go by - high purity manganese is shaping up as a crucial cog in the Western EV machine.
So much so that, again, a supply deficit could come as early as next year, with geopolitical friction a key factor.
Here's how EMN fits in...
⛏️ 1) Largest manganese resource in Europe
🧪 2) Processing tech to produce high purity manganese
📊 3) DFS complete
🔄 4) Feasibility study on North American project
✅ 5) 1x Offtake term sheet already secured
To get into full scale production and supply Europe and North America with high purity manganese at scale - EMN needs financing.
And that financing, whether it be from major European banks, battery manufacturers or automakers, needs to have certainty of supply.
EMN likewise, needs certainty of demand - which comes in the form of financing enabling offtakes.
The demand is real.
In fact, EMN's President & CEO Matt James said in EMN's latest quarterly that the demand has been so strong that it has:
"resulted in more than 100% of our annual Chvaletice [Czech Republic] production being under discussion as part of our offtake tender process. That is significant as we are targeting 80% of production capacity under contract to support project finance."
We think this means EMN can afford to be selective with its offtake partners.
And we take James' words seriously - his previous experience at Lynas Rare Earths (now capped at ~$6.9BN) as Vice President, Strategy & Corporate Communications means he knows the intricacies of sealing major commercial agreements like offtakes.
Here's EMN's offtake funnel of opportunities as of today: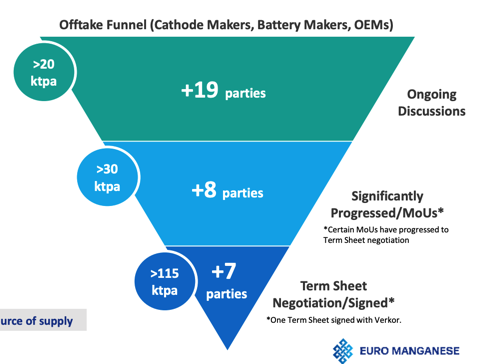 Given this dramatically ramped up demand, we want to hear what Matt James has to say about the latest from EMN which is why we'll be attending the EMN Q2 Conference call later today at 4pm.
Click here to register for EMN Conference Call - TODAY at 4PM AEST
The call should provide further insights on EMN's progress over the past few months and hopefully, a few nuggets on timelines for future progress.
We can't stress how important it is to take every chance to listen to company management present when investing in the smaller end of the market.
EMN is diligently working through the financing of its project which hinges on potential customers' confidence that the company has the supply of high purity manganese they are looking for.
EMN has already produced on spec samples for the metal version of high purity manganese with on spec high purity manganese for the main product (sulphate, the product that goes directly in EV batteries) to come soon: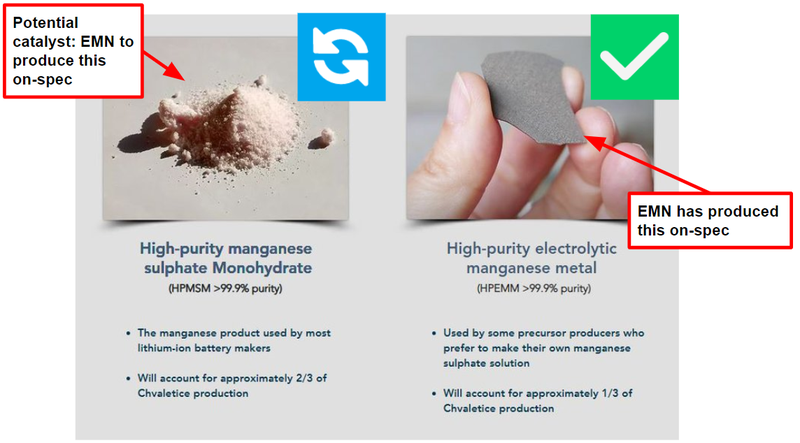 "On spec" means the product has reached a purity level suitable for end users/potential EMN customers.
EMN's Demonstration Plant has been producing this metal for at least a month after the modules to make that plant arrived in December of last year.
And shortly after the arrival of the EMN Demonstration Plant, EMN signed an offtake term sheet with French battery manufacturer Verkor.
It was a long road to securing this first offtake term sheet. We have been invested in EMN since September 2020 so we're glad to see the progress pick up pace over the last ~16 months since the new CEO, Matt James took the helm.
James appears to have a laser-like focus on offtake and financing, and the Demonstration Plant looks to be providing him the tools he needs to drive these discussions.
However, there is a technical aspect to EMN's current operations which could really unlock these discussions for EMN...
Namely, the production of the high purity manganese metal is a key prerequisite for production of the more desirable sulphate product as per the EMN flowsheet seen below:

This product will form ~66% of EMN's future production as per EMN's DFS which established an after-tax Net Present Value (NPV) sits at US$1.34B ($2BN) - more than 24 times EMN's current market cap ($82M).
With cash of CAD$13.8M ($15.3M) at 31 March against that market cap, and an expected CAPEX to bring EMN's full scale production online US$757.3M (~$1.1BN) we see the looming supply deficit and the pressing need for ex-China production of high purity manganese as providing the necessary "on ramp" for an upside scenario for EMN.
I.e a scenario where the economics of EMN's project improve significantly as opposed to what could be conservative figures in the snapshot that the company's DFS provided.
The Demonstration Plant makes it all possible.
So we are watching developments out of the Demonstration Plant closely - as this enables:
A. More product qualification activity with on spec sulphate product
B. Which increases competitive tension around EMN's products
C. Which we hope, leads to more favourable offtake terms and;
D. EMN in turn securing financing via a mix of debt and equity
E. Allowing for a Final Investment Decision (FID) and project construction
F. Eventually leading to EMN becoming the go to supplier of high purity manganese for the EU and North America
We are long term Investors in EMN so we see these as the key pillars of any potential sustained EMN re-rate: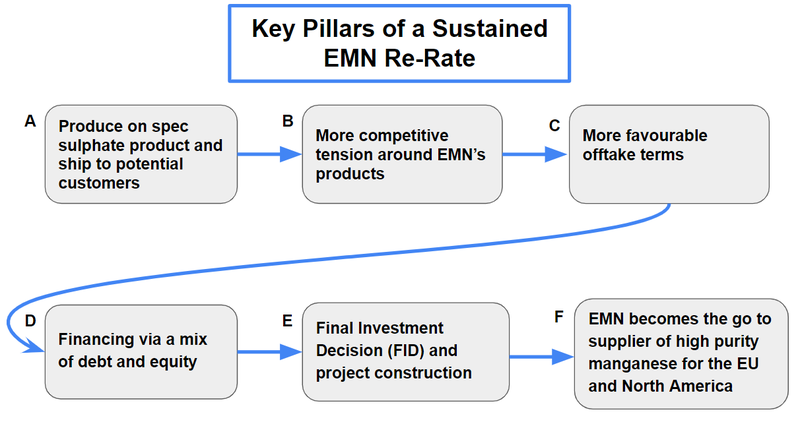 Ultimately, we want to see EMN become a large scale high purity manganese producer, which forms the basis of our EMN Big Bet:
Our EMN Big Bet:
"EMN significantly re-rates to a $1BN+ market cap on becoming a High Purity Manganese producer."
NOTE: our "Big Bet" is what we HOPE the ultimate success scenario looks like for this particular Investment over the long term (3+ years). There is a lot of work to be done, many risks involved, and it will require a significant amount of luck. There is no guarantee that it will ever come true. Some of these risks we list in our EMN Investment Memo.
To visualise what EMN has done since we Invested, check out our Progress Tracker: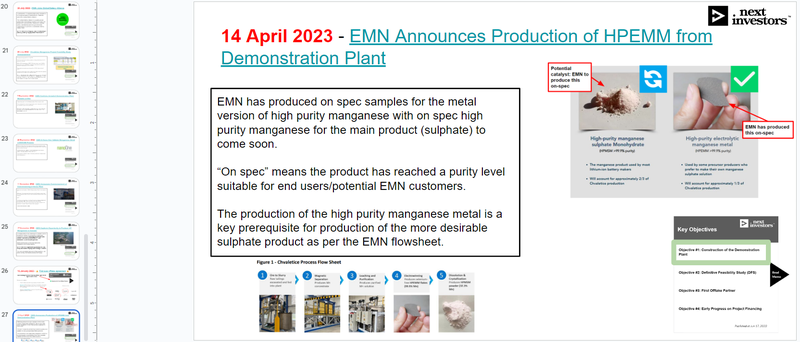 What's next for EMN?
Here is what we will be watching for from EMN over the next 12 months (drawn from latest presentation):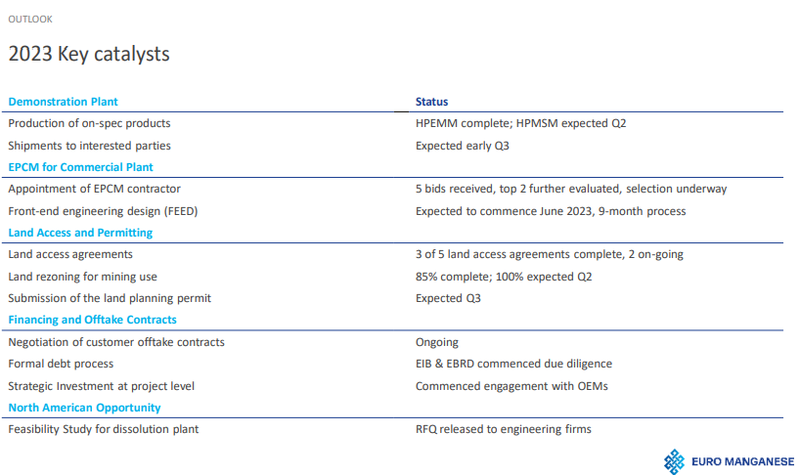 Shipment of on spec products to potential customers 🔄
This would mark a big step for EMN, showing the Demonstration Plant is capable of delivering products (particularly the sulphate product) to end users.
These end users would then be able to further test EMN's products and their suitability for EV batteries among other use cases. This leads into offtakes and financing discussions.
Progress on offtake front 🔄
EMN signed an offtake term sheet with Verkor in January - hopefully the first of many.
We're comfortable with EMN maximising value by extending offtake negotiations given demand for over 100% of EMN's annual production capacity.
While the market may be impatient with EMN's progress on offtakes, we're Invested in EMN for the long haul and aware that rushing into offtakes in the current demand environment could detract from the future economics of the EMN's project.
As we highlighted above, EMN is at the "Term Sheet Negotiation" stage with at least six other parties, so we hope the company can close out these deals soon: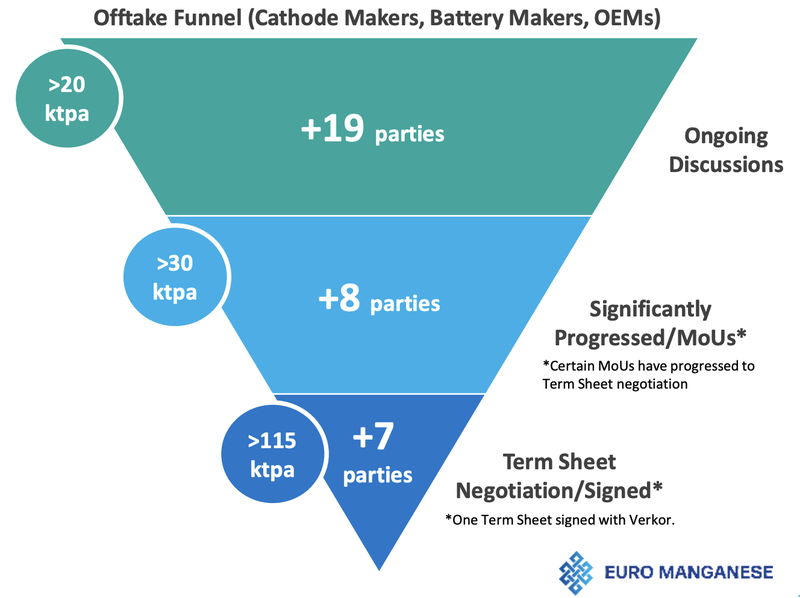 Progress with project financing and Final Investment Decision (FID) 🔄
To reach a Final Investment Decision (FID) EMN needs to convert offtakes into financing - the two depend on each other.
So to get to a FID, EMN will need to lock in project financing - we expect EMN to lean on:
Its finance advisor, US financial services company Stifel (market cap ~US$6BN).
EMN's existing large shareholder - the European Bank for Reconstruction and Development (EBRD)
European debt provider - European Investment Bank (EIB) which is mandated to support energy transition projects to help build out a local European battery metals supply chain.
This is the key slide from the latest EMN presentation: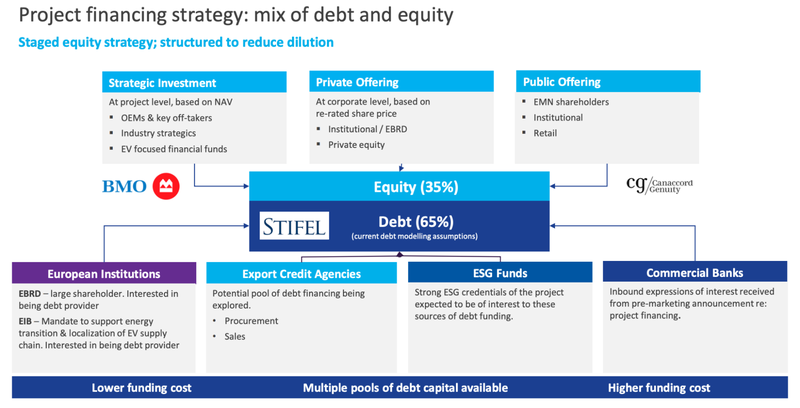 We've seen major battery makers and EV manufacturers take equity stakes in projects to secure offtakes with other battery materials companies (some in our Portfolio) and we're hoping a similar thing happens with EMN.
Project level financing would be an ideal scenario, it would demonstrate that EMN's demand is real and justifies direct investment from an OEM (Original Equipment Manufacturer).
Delivery of North American Feasibility Study 🔄
Having completed a scoping study on the Becancour project - EMN is busy looking for a company to complete a feasibility study on the Canadian battery metals hub opportunity.
In addition to the expected demand from a quickly growing US EV market, the US recently passed the Inflation Reduction Act (IRA) which builds in specific incentives for localisation of the battery supply chain.
Reform to the EV tax credit in the IRA requires 40% battery raw materials to be sourced from the US or a country with a US FTA (Free Trade Agreement) in 2024 and this rises 10%/year to 80% by 2027.
By 2031, North America is expected to require over 250kt of High Purity Manganese annually.
So it makes sense that EMN is pursuing opportunities in North America (more specifically Quebec).
The US and EU sealing a battery materials pact would be a boon for EMN's North American plans as hinted at in this particular article from February which caught our attention: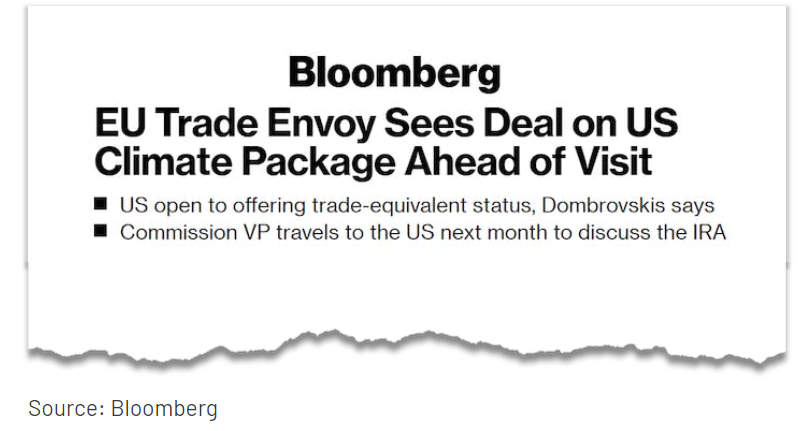 Permitting 🔄
We're looking for EMN to secure a "Final Mining Permit" the last bit of the puzzle for EMN to conduct any commercial extraction and processing activities at the Project.
We expect this to be largely a formality given EMN is rehabilitating an old mining deposit and cleaning it up is desirable - but European regulatory bodies can move slowly and this is an important step, especially for financiers.
We note that during the last quarter, EMN hosted a site tour for the Canadian Ambassador to the Czech Republic, and the Canadian Ambassador to the Czech Republic, Ayesha Rekhi, visited the Chvaletice project site in March.
We take these events as evidence of EMN's stakeholder engagement efforts are working and that the pending permit grant is likely to proceed with the blessing of the relevant Czech authorities.
Risks
Here are the two risks we are most focussed on at this stage for EMN: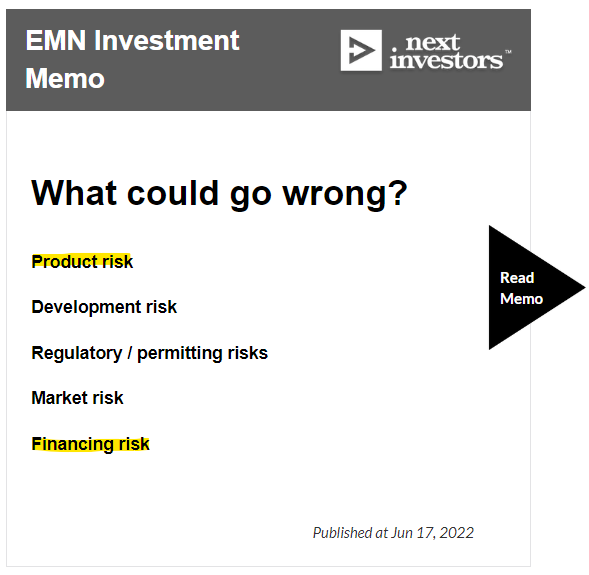 There is the possibility that EMN struggles to produce on spec sulphate products from the Demonstration Plant, which would hamper the rest of EMN's efforts.
Additionally, as EMN is in the financing stage of its project - financing risk could manifest itself. This could come in the form of difficulty sealing offtake agreements and lead to potential financiers becoming skittish about funding the project. Alternatively, the market gets even worse and projects, no matter how important to securing critical minerals supply, struggle to get funding as a recession takes hold and the appetite for new investment dries up.
Always remember that small cap investing is risky. Expected AND unexpected things can go wrong, which will negatively impact the share price.
Our EMN Investment Memo
Click here for our EMN Investment Memo which includes:
Key objectives for EMN
Why we Invested in EMN
What the key risks to our Investment thesis for EMN
Our Investment plan
---