Cashed up VUL Expands its Zero Carbon Lithium Ambitions
Vulcan Energy Resources (ASX:VUL) has continued its stellar share price run since we last updated you on the stock in early August.
VUL is developing the world's first and only Zero Carbon Lithium Project in Germany — the world's fastest growing lithium market. This is well timed as the electric vehicle market accelerates causing lithium demand to soar, while a supply crunch is looming.
With Europe's largest lithium JORC Resource on the doorstep of Europe's EV market, VUL plans to produce battery-grade lithium hydroxide from geothermal brines pumped from wells with a renewable geothermal energy by-product.
VUL was added to the Wise-Owl portfolio in June 2020 when it was trading at 36 ¢ per share. The stock is up an incredible 4,000% since then.
And a new analyst report by AlsterResearch, published this week, has a price target of $22 — that's 50% above yesterday's closing share price of $14.62.
Earlier this week, the stock hit a new all-time high of $16.65 after hitting more milestones, including:
Its upcoming addition to the S&P/ASX 300 index,
Securing the help of BNP Paribas to complete its DFS, and
Announcing its intention to list on the regulated market of the Frankfurt Stock Exchange — which would make it the first Australian company to do so.
That was followed by this week's news that VUL has raised $200M in a Placement led by Goldman Sachs and Canaccord at $13.50/share.
VUL plans to use the funds to accelerate and expand its dual renewable energy and lithium development strategy, including expanding its operations by acquiring existing brownfield energy and brine infrastructure.
The key takeaway for us here is that VUL doesn't intend to be limited to just its Upper Rhine Valley project.
VUL can take its geothermal lithium expertise to grow the business in other parts of the world that have the right conditions for geothermal lithium production.
We are very happy with the $220M raise at $13.50 which will underpin VUL's current valuation and share price, especially given that they still have $111M remaining in the bank from their last cap raise in April.
VUL has the cash to fast track its progress and hopefully deliver even more Zero Carbon Lithium into a rapidly growing market.
The $13.50 shares are expected to hit the market on 22 September. We often see the share price track back to the placement price, but this is just an observation and the VUL share price looks to be holding up pretty well near $15.
Also helping to support VUL is the current strength in the lithium market.
Lithium hydroxide is now priced at ~ US$20,000/tonne and looks like it wants to continue its upward trajectory.
That's well above the US$14,925/t assumed price that was in the PFS in January. At that price, a project valuation of €2.25 billion (that's A$3.55BN) was calculated. So at the current price of ~US$20,000/tonne, that valuation rises substantially. Plus, that doesn't account for any premium to be paid for a Zero Carbon product.
The value of VUL's recent offtake agreements — confirmed with Renault and LG Chem — were calculated at a $15,000/t lithium hydroxide price.
The 5-year Renault deal would bring in US$90M to US$255M each year at that price, while the LG Chem offtake for 10,000 tonnes would be worth ~US$150M per year to VUL. At current pricing, we can increase those revenue figures by a third. Plus there's the suspected MoU with auto giant Stellantis still to consider.
$200M raised to accelerate exploration
After entering a trading halt on Tuesday, VUL yesterday reported that it has completed an institutional Placement, raising $200M via the issue of 14.8m shares at $13.50 each. The shares will be issued on 22 September.
The Placement, led by Canaccord Genuity and Goldman Sachs, saw participation from existing shareholders, including Hancock Prospecting, as well as new ESG-focused institutional shareholders.
And not to ignore retail investors, VUL will now seek to raise a further $20M via a share purchase plan to existing Australian and NZ shareholders. The SPP will also be priced at $13.50 per share - the same price as the institutional raise - with each shareholder having the opportunity to subscribe for up to A$30,000 worth of new shares.
The additional funds will give VUL scope to expand its current projects to meet offtake demand, and execute a targeted acquisition of existing brownfield energy, brine infrastructure, and exploration equipment.
Here's how VUL plans to use the funds: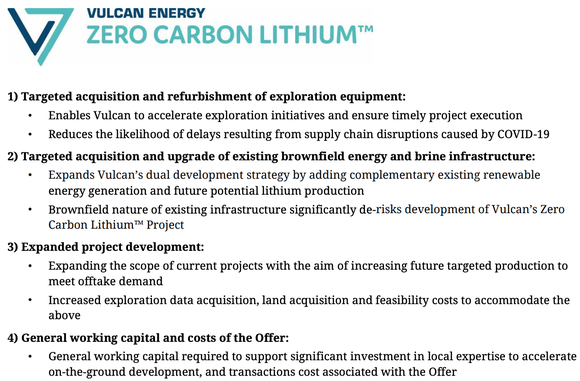 New AlsterResearch report: $22 price target on VUL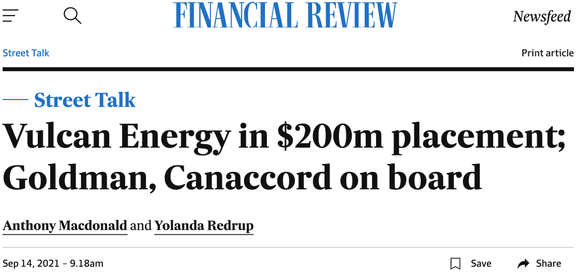 After digesting the details of the company's cap raise and planned use of the funds, AlsterResearch again upgraded its price target on VUL.
The German research house's new $22 price target is 38% higher than VUL's closing price on Monday (before it entered a trading halt then announced the raise on Tuesday morning) and more than 50% above yesterday's closing price.
After emerging from its trading halt yesterday, the share price pulled back in response to the raise — as is to be expected given the additional shares to be issued and as investors sell down their positions to free up cash to particulate in the lower priced SPP.
So now that the market has absorbed the news, that $22 target price represents a >50% uplift above the current $14.60 price.
The details can be found in its latest report here: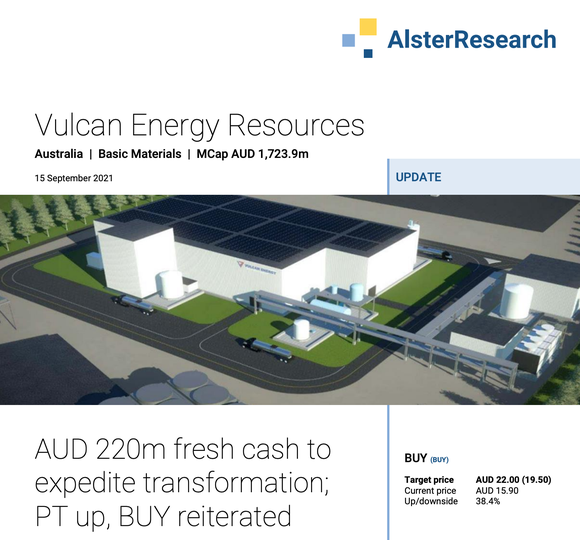 In summary, Alster says:
"Vulcan Energy provides a rare opportunity to benefit from the strongly growing lithium growth trajectory and, by the same token, to participate in a project directly located in Germany, a heartland of automotive industry."
Such is the pace that VUL is moving at, this latest research report (and uplift in price target) comes less than a month after Alster's previous report.
We have been following VUL since early 2020 as it smashes through Alster's price targets (although it has pulled back this week after the raise):
March 2020: $2.45 ✅
January 2021: $12.95 ✅
February 2021: $13.30 ✅
May 2021: $16.00 ✅
June 2021: $16.50 ✅
August 2021: $19.50
Current Alster target price: $22.00
Rising lithium price boosts project economics
As there is no formal market for lithium, pricing can lack transparency but this week we got a glimpse of what kind of pricing is ahead as demand continues to rise.
We've known for some time that the long term fundamentals supporting a higher lithium price are not going away. But still, the prices received by Pilbara Minerals at its lithium auction this week were far above what the market expected.
Pilbara received US$2500 for each of the 8000 tonnes of spodumene it sold in the auction.
That's a massive leap from the US$400 per tonne paid when lithium prices languished a year ago. It was also well above the spot price of ~US$990.
There's rising anxiety about where lithium supply is going to come from in the near future, so it's long-term contract prices that are seeing big rises as producers look to renegotiate to more favourable terms for the years ahead.
And we expect that this type of pricing will become the norm when supply struggles to meet demand as economies seek to cut carbon emission under pressure from free markets and government mandates.
It certainly bodes well for VUL which already has buyers lined up for its premium priced battery-grade lithium hydroxide product.
VUL's latest offtake agreement is with leading European car maker Renault in a 5-year deal, adding to its existing offtake agreement with battery maker LG Chem, and a rumoured offtake MoU with auto-giant Stellantis.
The lithium market is quite opaque and the lithium hydroxide price tends to fluctuate, especially over multi-year horizons. But assuming a conservative price of US$15,000 per tonne LiOH, the Renault deal would be worth up to US$255M per year if it takes the maximum of 17,000 tonnes. That's in addition to the LG Chem offtake for 10,000 tonnes that we calculate to be worth US ~$150M per year to VUL.
But now with lithium hydroxide priced at ~$20,000/mt (according to independent commodity price assessor, S&P Global Platts on Sept 8), we can increase those revenue figures by a third.
We also note that the PFS, completed back in January, used a lithium hydroxide price of just US$14,925/t to come up with a project valuation of €2.25 billion (that's A$3.55BN). At current prices of around ~US$20,000/t (which doesn't account for any premium Zero Carbon pricing) that would vastly improve the project economics and lift its valuation.
For anyone new to the VUL story and those wanting a better understanding of the moves to cut carbon emission in Europe, the following corporate presentation is worth a watch:
The F1 buffs might notice that the video is narrated by former Formula One World Champion and German national hero, Nico Rosberg.
To help raise global awareness for its Zero Carbon Lithium business, VUL recently partnered with Rosberg and the Rosberg X Racing (RXR) electric racing team in the Extreme-E competition, a competition created to highlight the impact of climate change and promote sustainability and the adoption of electric vehicles.
Because VUL's project is located in Germany AND it is planning to list on the main German stock exchange soon, we think his endorsement will bring huge community support and investor attention to VUL in Germany.
The company has also released a comprehensive investor presentation . Note that rumoured (but yet unconfirmed) offtake MoU partner Stellantis is featured on page 4, alongside confirmed offtake partners LG Chem and Renault Group.
Other VUL updates...
✅ VUL to join S&P/ASX 300 Index
VUL's stellar performance over the past year will see it added to the S&P/ASX 300 Index from September 20 as part of the S&P Dow Jones Indices quarterly rebalance. Being added to an index is a major milestone for listed companies as it makes them attractive to large institutional index investors.
✅ VUL applies for main German bourse listing
VUL has applied to dual list on the regulated market of the Frankfurt Stock Exchange, making it the first Australian company to do so. VUL is already listed as "6KO" on one of the minor, unregulated German boards for retail investors, but this proposed listing is on the fully regulated main German stock exchange — the playground of global managed funds, major retirement funds, sovereign wealth funds and other enormous pools of capital.
VUL expects the listing to take around 6-9 months and CEO Francis Wedin says that given the company's German base and role in the EU energy transition of the Zero Carbon Lithium Project, the dual listing will help increase its European investor base and international exposure.
✅ Annual Report - great insights from the board and management
VUL also released its annual report a couple of weeks ago. We found the CEO and Chairman's letters to shareholders to be particularly insightful.
Chair Gavin Rezos summarised the year saying VUL "has made great strides in the past 12-months towards bringing our valuable Zero Carbon Lithium Project in the Upper Rhine Valley, Germany, closer to fruition.
"Following upon the release of the Pre-Feasibility Study in January, we secured significant equity capital through Goldman Sachs and Canaccord Genuity, acquired additional permits as well as acquiring leading businesses in Germany in both below ground geothermal wells and above ground geothermal plant engineering.
"We have also successfully operated our pilot plant for lithium chloride extraction from live brines with over 90% initial recovery and secured valuable binding offtake agreements with LG Energy Solutions and Renault, post the end of the 2021 Financial Year."
While that is all already known, the following forward looking statement was quite interesting:
"In the next 12 months, as we progress our Definitive Feasibility Study and commence the financing stage for the Zero Carbon Lithium Project, we will also use the expertise we have developed in geothermal lithium to grow our business in other parts of the world where the right geological conditions occur for geothermal lithium production. Such opportunities must represent similar environmental benefits and low operating costs as demonstrated in the Upper Rhine Valley."
Already, VUL seems to be making good on that plan. VUL has earmarked the funds raised in the Placement for targeted acquisitions, upgrades of existing brownfield energy and brine infrastructure, to de-risk and grow development plans, and increase its production pipeline from the existing license areas.
And back in July, VUL was granted a new 108km2 exploration license that is "prospective for geothermal brines". We expect further land acquisitions further afield, in what could prove to be somewhat of a "geothermal lithium brine land grab" in the years ahead — a plan to be supported by the Placement funds.
---