Carbonated Wellness Cans Launched as FOD Expands into Apple Juice
Beverage manufacturing company, The Food Revolution Group (ASX:FOD) specialises in premium fruit juices and probiotic wellness shots. FOD owns established beverage brands, its products are now available in supermarkets, and it is generating revenue.
We invested in FOD in March 2020 at 3.5¢, believing it to be an emerging growth story on the cusp of a major business turnaround.
In its annual report released last month, FOD showed the first signs of their financial turnaround, reporting a $7.3M increase in 2021 operating earnings (EBITDA).
Today, FOD released a market update. Three key points grabbed our attention as evidence that its turnaround journey is progressing in the right direction:
A new product launch - Carbonated Wellness Cans launched in Coles and Woolworths
Existing product expansion - Apple juice now sold in Coles and Woolworths under the Original Black Label brand
Expanded product distribution - Coles increase Wellness Shots distribution from 477 stores to over 1000 stores nationally
We don't always time our entries right in the market — FOD ended last week at an all time low of 2.4 ¢ , which is well down on our 3.5 ¢ entry point.
However, from a company perspective, we think that the business is in the best shape it has been in the last two years. We are hoping that the market will soon start to catch up on this.
A lot of new subscribers have joined Wise-Owl over the last month so may be unfamiliar with the FOD story, so here is a quick summary of the FOD business strategy and the key reasons we think it has plenty of scope to grow.
FOD is a food processing and manufacturing company that sells traditional juices, probiotic wellness shots and now carbonated juices in major supermarkets — Woolworths, Coles, and IGA.
You may have seen their products at your local:

Those in the fast moving consumer goods space (FMCG) know that the supermarket game has evolved over the last five years — it's all about getting your foot in the door and keeping it there.
In 2019 FOD purchased the Original Black Label (OBL) brand from FMCG supermajor Heinz — a proverbial "foot" to engage the major supermarkets.
Since the acquisition, FOD has expanded the OBL range to include cold press and low sugar options, and now apple juice - a favourite of Australian consumers.
The juice market is relatively mature, which means that the products that are on the shelves generally stay there.
Okay, so where is growth for FOD?
FOD's growth strategy is to leverage the well known Original Black Label brand as a halo for domestic growth for new products and brands whilst improving operational efficiencies to drive down costs.
Key growth opportunities for FOD include:
New brands and product innovations
New product lines for existing brands
Improving operational efficiencies
New distribution partners (think service stations, convenience stores)
New markets geographically (think international export)
We see the FOD turnaround strategy playing out with the successful launch of the Juice Labs wellness shots in March 2021 and the strong operational improvements reflected in the significant EBITDA growth of $7.3M in FY 2021.
CEO Steven Cail says that FOD is on a Fix → Reset → Growth trajectory, and with FY21 marking the end of the "Fix" phase, we look forward to seeing how FOD can "Reset" and "Grow" in FY22.
New Product: Carbonated Wellness Cans
Today FOD announced the launch of Carbonated Wellness Cans into Coles and Woolworths, its second new product launch this year under the Juice Labs brand.
Long time investors will know that FOD has been teasing the launch of the Carbonated Wellness Cans since March this year , so as investors, it is great to see that they have now delivered on their promise to bring these products to shelves.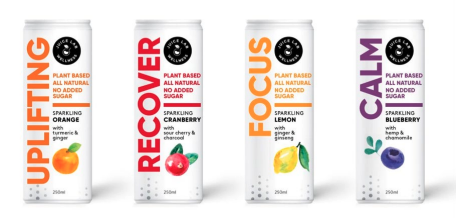 Sparkling juices are an emerging market in Australia. Consumers like them because they are made with natural ingredients with low sugar content.
According to this analysis by Play Market Research, FMCG trends and the future of soft drinks , there are four key drivers influencing the soft drink market segment towards a more healthy and natural product.
Finding Nourishment: 61% of survey respondents care less about counting calories and more about the nutrient content of food and drink products.
The War on Sugar: Australian consumers are looking for sugar-free (or low sugar) drink options.
Natural and Healthy: Consumers are turning to more natural products to boost their health over 'fake-tasting' conventional options.
Focus on Sustainability: 61% of respondents are paying attention to local brands and small manufacturers.
The Carbonated Wellness Cans directly address each of these key drivers of consumer preference.
So, where to next for the product?
Unlike the probiotic wellness shots, these carbonated beverages are up against some big players.
But the bigger the players, the bigger the game.
Competing with other sparkling juices for consumer dollars, and other substitute goods like traditional soft drinks (think Coke and Pepsi), can be difficult. However, we think that as consumer preferences shift towards natural and low-sugar options, FOD will be well placed to capitalise.
We are excited to read more ASX announcements on the growth of the brand in the future. A big vote of confidence will be increased distribution through Coles and Woolworths, and / or new distribution channels like service stations and convenience stores.
We think that the timing of this launch fits perfectly with Melbourne and Sydney emerging from their COVID winter into a big summer of outdoor activities - where sparkling juices will be the perfect option for consumers looking for healthy, all natural refreshments.
Original Black Label expands into Apple
Another big milestone for FOD is the expansion of the OBL range to include Apple Juice and a low sugar option.
Did we try it? Damn right we did.
The verdict? Five stars, would buy again.
In fact, yesterday we picked up the last one on the shelf...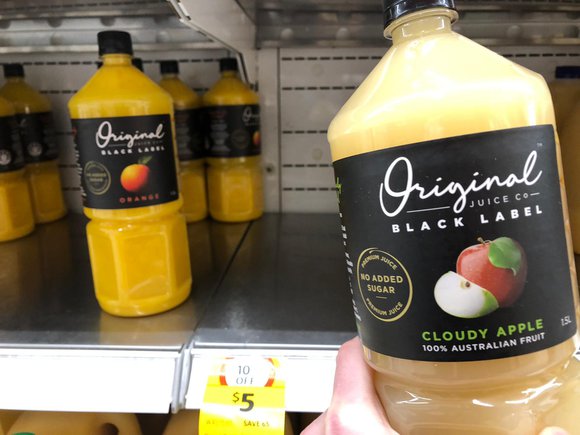 According to a comprehensive report by Williams and Marshall Strategy on the Australian apple juice market "people are drinking less, but better quality juices and are willing to pay more for the health benefits they associate with them".
And the category of juice that is gaining most popularity, those with 100% fruit content ...
FOD's OBL apple juice is made all natural from 100% Goulburn Valley apples, and its position in the market as a premium (but affordable) juice brand means that it is poised to take full advantage of this trend.
According to FOD's annual report, the OBL brand continues to grow strongly, growing 10% for the year — four times more than the average growth of its peers across the chilled juice and beverage market in that same time.
With the launch of Cloudy Apple range, we expect to see continued growth of the brand leading to strong revenues for FOD.
What we like about FOD is how it has treated its flagship brands, continuing to nurture and grow them. Remember, in the competitive landscape of the supermarket shelves, it is about getting your foot in the door and keeping it there .
FOD's Wellness Shots continues to grow
FOD's Wellness Shots now have a 70% market share of the 'functional shots' segment, and Coles has committed to increase the product distribution from 477 stores to over 1,000 stores nationally.
This is a massive vote of confidence by Coles and consumers in FOD's newly launched product.
Sales were expected to be around 2-3 units per week, but currently sit around 7-9 units per week which is three to four times above expectations.
If this trend continues across the 1,000 stores, FOD should be seeing about 8,000 units sold every week (in Coles) plus any other sales from Woolworths.
The Juice Labs Wellness shots were only launched in March last year and we are very pleased to see the growth continue.
FOD's New Board Appointment
On the corporate front, FOD last week announced the appointment of David Marchant as an independent director, replacing Matthew Bailey who has resigned after 5 years' service. We think that this changing of the guard is an important step as FOD moves towards greater independence and governance at a board level.
What are we watching out for next?
Even though new CEO Steven Cail has only been at the helm for a short amount of time, he continues to impress, ticking off some big milestones for the business.
All the milestones that we wanted to see from FOD have been achieved for this quarter:
✅ New Product Launch (Carbonated Wellness Cans)
✅ OBL Product Range Expanded (Apple Juice)
✅ OBL Product Growth (annual growth 4x more than industry)
✅ Juice Labs Product Growth (Coles increase distribution to 1000 stores)
Getting your foot in the door and keeping it there is the mantra that we want to see FOD deliver on. We want to see growth in the new Carbonated Wellness Cans and consumer support for OBL Apple Juice product and Juice Labs Wellness Shots.
We are also eagerly anticipating the quarterly results. We expect earnings to remain steady in the next quarter given the initial capital expenditure on new product launches, with revenue growth to accelerate in the final quarter of 2021.
FOD Company Milestones
✅ Wise-Owl Portfolio Launch
📅 🟩 Revenue Growth (Jan-Mar 2021)
✅ Capital Raise $3M @ 3.5c per share
✅ Refinance Greensill Loan
i️ New CEO Appointed
📅 🟧 Revenue Growth (Apr-Jun 2021)
📅 🔲 Revenue Steady (Jul-Sep 2021)
📅 🔲 Accelerated Revenue Growth (Oct-Dec 2021)
📅 🔲 Cash Flow Positive (Oct-Dec 2021)
✅ New Product Launch 1 - Juice Labs
✅ New Product Launch 2 - Carbonated Wellness Cans
🔲 New Product Launch 3 (2022)
🔲 New CEO Delivers on Promised Timelines
✅ Key Board Appointment (David Marchant)
🔲 Unexpected Positive Announcement 1
🔲 Unexpected Positive Announcement 2
Original Black Label
✅ Product Growth 1
✅ Product Growth 2 (annual growth 4x more than industry)
🔲 Product Growth 3
🔲 Product Growth 4
✅ Apple Juice Range (Product Range Expanded)
🔲 Unexpected Positive Announcement 1
🔲 Unexpected Positive Announcement 2
🔲 First sales in China
Juice Labs
Wellness Shots
✅ Distribution Partnership (Coles, Woolworths)
✅ Product Launched
✅ Product Growth 1: Market Penetration
✅ Product Growth 2: Coles Expands to over 1,000 Stores
🔲 Product Growth 3
🔲 Product Range Expanded
🔲 Unexpected Positive Announcement 1
🔲 Unexpected Positive Announcement 2
🔲 New Distribution Partners
🔲 First Sales in China
✅ [NEW] Carbonated Wellness Cans
✅ [NEW] Distribution Partnership (Coles & Woolworths)
✅ [NEW] Product Launched
🔲 Product Growth 1
🔲 Product Growth 2
🔲 Product Growth 3
🔲 Product Growth 4
🔲 Product Range Expanded
🔲 New Distribution Partners
Wise-Owl Investment Milestones
✅ Initial Investment: 3.5c
🔲 Increase Position 1
🔲 Increase Position 2
🔲 Share Price Increase 250%
🔲 Share Price Increase 500%
🔲 Share Price Increase 1000%
🔲 12 Months Capital Gains Discount
🔲 Free Carry
🔲 Take Profit
🔲 Hold remaining position for 3+ years
---