PRL Secures Native Title Consent for HyEnergy Project Land Access
Disclosure: S3 Consortium Pty Ltd (the Company) and Associated Entities own 21,200,000 PRL shares and the Company's staff own 200,000 PRL shares at the time of publishing this article. The Company has been engaged by PRL to share our commentary on the progress of our Investment in PRL over time.
In Australia, Traditional Owner approval is a critical step for any mega project to get off the ground.
This needs to happen before ANY project gets funding - because you can't build it without land access.
Some of WA's biggest projects are energy projects and these are the relevant native title holders:
Ichthys LNG project (Inpex, cost: ~$45B) - Larrakia Nation, Uunguu people
Scarborough (Woodside, cost: ~$16B) - Murujuga people
Gorgon Stage 2 (Chevron, cost: ~$5B) Thalanyji People,Yaburara and Coastal Mardudhunera People, Kuruma Marthudunera People
North West Shelf Venture (Woodside + 5 other companies, overall project ~$34B) Murujuga people
But we think there's a new energy source on the horizon - one that could attract similar figures to bring projects to reality.
That's why we're pleased with the latest progress from our green hydrogen Investment Province Resources ( ASX:PRL ) .
PRL has secured land access consent from native title groups covering ~870 square kilometres of land.
To our knowledge, no other green hydrogen project in Australia has secured this yet - which we think means it is currently one of the most advanced hydrogen projects in Australia.
The area covered by yesterday's PRL announcement is big, the size of 43 MCGs to be exact.
This 870 square kilometres is part of PRL's total land holdings in the Gascoyne region, which totals ~2272 square kilometres.
Which means it needs the support of LOTS of stakeholders to secure licences to operate.
Yesterday, PRL got formal consent from the Nganhurra Thanardi Garrbu Aboriginal Corporation (NTGAC) and the Yinggarda Aboriginal Corporation (YAC) across its project area.
The consent forms the basis for further discussions on a Indigenous Land Use Agreement which would cover the construction and operation of the green hydrogen project.
Land rights and permitting isn't the 'sexiest' part of the project's life cycle, but we think it is one of the most critical de-risking factors - not only to investors, but to potential financing partners like Total Eren.
Land rights is like a big layer cake - and PRL will need to negotiate with all applicable stakeholders to secure the all important licences to construct and build its green hydrogen project.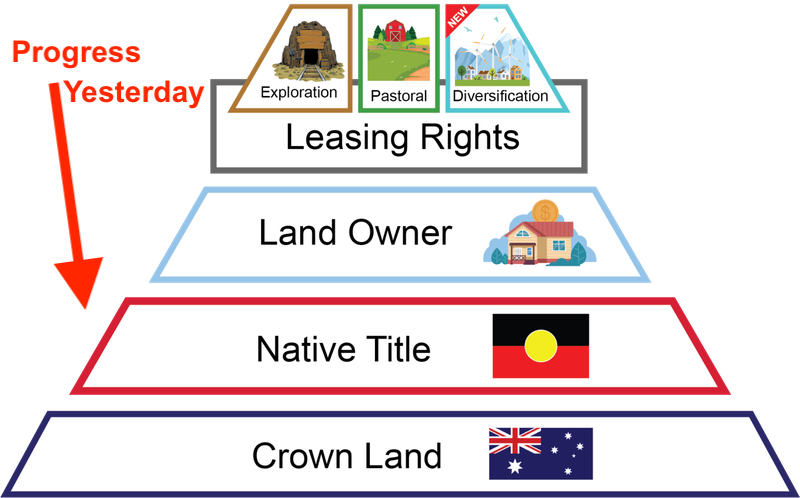 We think that without certainty over licensing and permitting, partner Total Eren could be reticent to provide major funding to the project.
So yesterday's news is a big step not only towards the project development, but also the major catalyst we are waiting for PRL to execute - Joint Development Agreement (JDA) with Total Eren.
PRL stated in an announcement on the 31st of May that the MoU had been extended to 31 July 2022, this is the new timeframe for PRL that we are watching out for.
More on PRL's announcement
One of the key objectives that we set for PRL at the start of the year was to secure stakeholder support to help provide an important social licence to operate.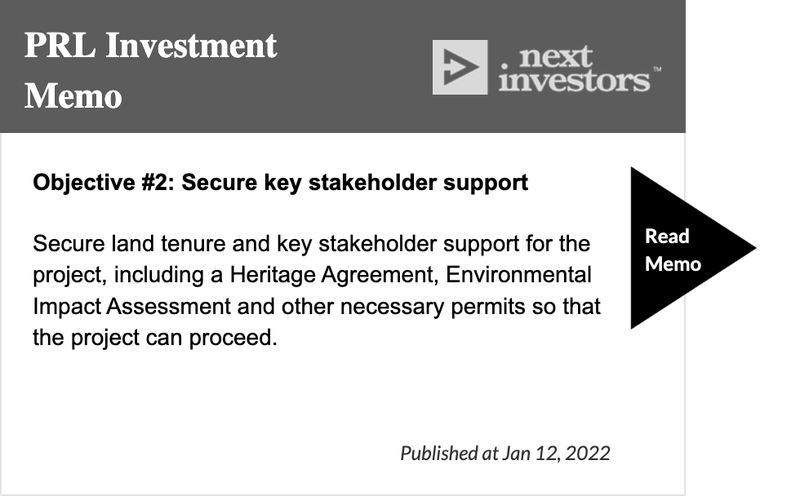 Yesterday, PRL announced that native title groups provided formal consent, allowing PRL to pursue Section 91 licences over the proposed 870 square kilometre project.
This is a key milestone for PRL and a prerequisite for the WA government to provide a Section 91 licence.
A Section 91 licence grants the holder the non-exclusive access to land that would otherwise be illegal trespassing.
In PRL's case, the Section 91 licence will be used to access the project area and collect important data for the project's Feasibility Studies.
Land rights in Australia is a complicated topic.
Each plot of land could have lots of parties with 'rights' over that land.
And with the size of PRL's project, the number of stakeholders involved is significant.
One of the most important parties are the native title groups. These groups have certain rights to allow, or not allow, access to land.
PRL has worked closely with the native title partners the Baiyungu and Yinggarda groups over the last 12 months to secure the necessary consent to access the land.
This consent paves the way for a Section 91 licence, and Indigenous Land Use Agreements to cover the construction and operation of PRL's project.
Last year we wrote about an important board appointment for PRL, Roger Martin, who was previously chief of staff to the WA treasurer and VP of corporate affairs at Woodside ( read full article here ).
As Chief of Staff from 2017 – 2021 to the WA Treasurer, Minister for Finance and Minister for Aboriginal Affairs and Lands, Martin played a key role in the government's management of its finances and the State's broader economic and policy settings.
Importantly, Martin developed an intimate knowledge of all aspects of Indigenous affairs, providing him with the experience to guide management in areas such as building relationships with Indigenous communities and achieving mutually beneficial outcomes.
It is clear from yesterday's announcement that Martin's experience is taking effect, with PRL one step closer to securing tenure for its project.
Tenure is a fancy way of saying 'access to and permission to use land'.
Land tenure is important, as it is necessary for any development for the project and it provides certainty to potential financing partners like Total Eren.
Remember, land rights are like a cake with lots of layers, and PRL will need support from all layers to secure tenure for the project.
PRL will soon be in discussions with pastoral land owners (people that own farms) and local governments to finalise the tenure.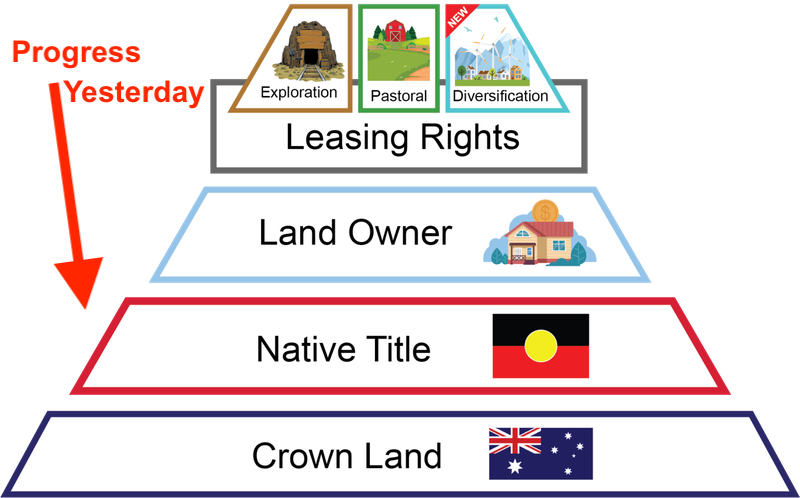 BP takes 40% stake in Australian hydrogen project
Over the last few months there have been major developments in the green hydrogen space with supermajor BP taking a 40% stake in the Asian Renewable Energy Hub.
It is our understanding that the Asian Renewable Energy Hub is currently negotiating an Indigenous Land Use Agreement, but has yet to get formal consent.

This development validates our investment theory for PRL that the energy supermajors, who secured their fortune off the back of oil and gas exports, will invest in green hydrogen as the energy of the future.
With BP now entrenched in the Australian hydrogen industry, there may be a heightened sense of urgency for Total Eren to solidify its relationship with PRL as Australia's best hydrogen projects get snapped up.
PRL's partnership with Total Eren is through a binding Memorandum of Understanding (MOU) for the already delivered Scoping Study, which we want to see solidified through the signing of a Joint Development Agreement.
With BP now selecting a horse in the race for green hydrogen in Australia, the pressure is now back on Total Eren to confirm its partnership with PRL.
We think that the tenure developments announced yesterday, and strong relationship with the native title holders, show that PRL has a strong point of difference that will make its project attractive for Total Eren to progress.
Energy in Australia a top priority - hydrogen for domestic market?
In the past weeks Australia has been faced with an 'Energy Identity Crisis'.
Rolling blackouts in Queensland and NSW, a spike in natural gas prices and unplanned outages in coal power stations caused a perfect storm for the Australian Energy Market Operator (AEMO) to shut down the Energy Market last month.
An unprecedented move that shook the Australian energy industry.

With significant underinvestment in coal power over the last 10 years it is evident that Australia needs a reliable solution - and decisions need to be made fast.
We think that hydrogen, especially green hydrogen, could play a big part in Australia's energy mix over the long term.
While the initial priority for PRL will be exporting hydrogen, there are moves afoot to develop a domestic hydrogen market.
Just last week Australia's new Climate Commissioner Chris Bowen highlighted his support for hydrogen:
"By 2030, our ambition is to be exporting clean energy, critical minerals, batteries and components, as well as clean steel and aluminium – commodities produced by a thriving Australian economy...
Hydrogen is a great example.
If we get this right, by 2030, Australia will be a major player in the global hydrogen industry.
We'll be using our natural resources, including solar, onshore and offshore wind, to generate export quantities of hydrogen, and providing for its use domestically.
We will use hydrogen to progressively decarbonise existing industries, heavy transport links and for chemical production."
Click here to read the full speech .
PRL's project has already been granted "Lead Agency Status" by the WA Government, indicating the importance of the project, and we see this Federal level support for hydrogen as an important aspect to the PRL story.
Where the Federal support for green hydrogen really shines through is in mitigating the "hydrogen market risk".
Because hydrogen is such a new technology, and has not been adopted on a large scale, governments around the world will need to manifest the infrastructure, and industry will need to create end-use cases for hydrogen in the next ten years - so that PRL can sell its hydrogen at a commercial scale.
As such, we are always on the lookout for downstream hydrogen technology developments that could support this industry as well as government support for hydrogen piping and infrastructure projects.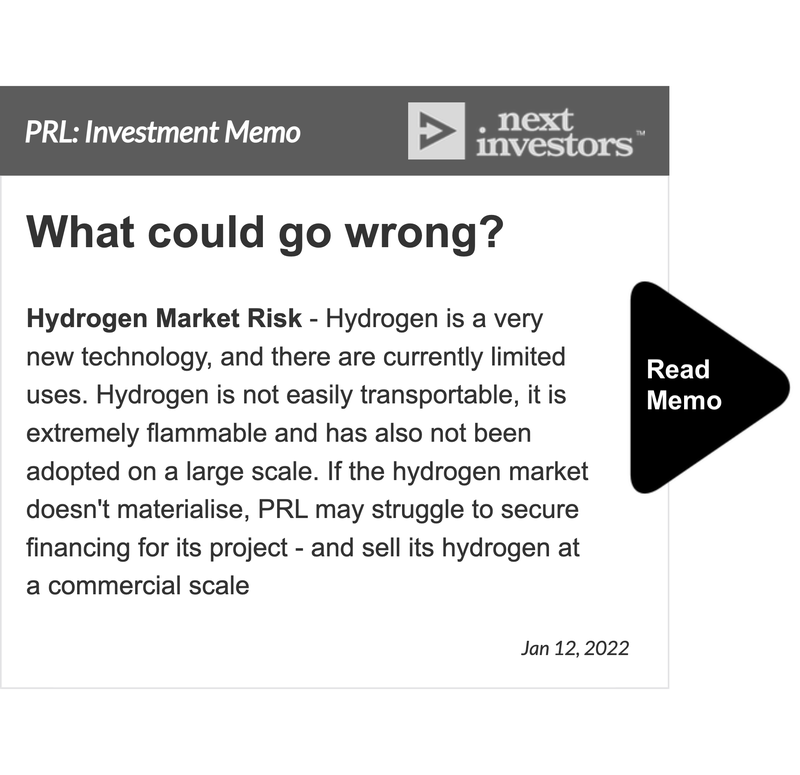 Earlier this year Energy Networks Australia released its Gas Vision 2050 Report , which featured green hydrogen as a major factor in decarbonising the domestic gas industry in Australia.
Energy Networks Australia is the industry body representing Australia's electricity transmission and distribution and gas distribution networks. It works with governments and policy-makers to address major energy network issues in Australia.
Importantly, Energy Networks Australia suggests that "repurposing existing pipelines and networks with the use of renewable hydrogen and methane is the best solution to reaching net-zero emissions."
This directly talks to the "hydrogen market risk" facing PRL and the broader hydrogen industry.
Hydrogen is volatile, which means that transporting it in gas form through pipelines is difficult, with anything above a 10-15% hydrogen/gas blend seen as potentially dangerous.
In order to mitigate this, governments will need to invest in pipeline infrastructure that can stabilise hydrogen transport in gas form, and it appears from the Gas 2050 Report that the government has created a pathway to address this issue.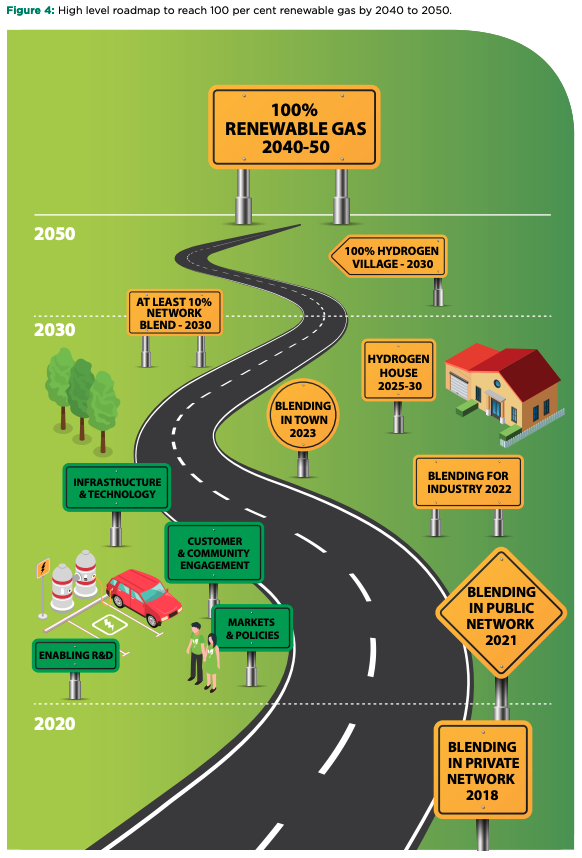 We see natural gas and hydrogen going hand in hand. With the Australian government utilising natural gas in its energy mix as a transition towards 100% renewable energy.
Again, we think that PRL's main game will be in hydrogen export, however with the hydrogen industry in the crosshairs of the Australian Federal Government, projects like PRL's will encounter less friction.
Hydrogen media review
Hydrogen has been in the media a lot in the past few months, so we decided to share our takes on these industry developments.

Key takeaways:
BP took a a 40.5% stake and would also become operator from July 1 2022
The Asian Renewable Energy Hub (AREH) in Western Australia's Pilbara is estimated to cost $52B
BP is aiming to capture 10% of hydrogen markets globally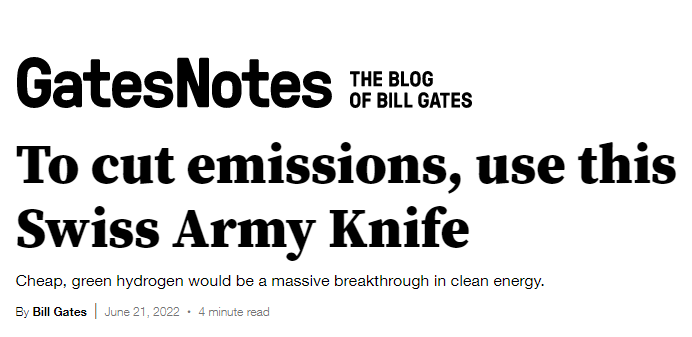 Key takeaways:
Bill Gates likes green hydrogen - "Russia's war in Ukraine, which has made hydrogen not just a climate change issue but also an energy security issue."
EU has announced its intention to produce and import 20 million tons of green hydrogen by 2030
The world already uses 70 million tons of hydrogen a year - particularly in fertiliser production. This is 1.6% of global emissions currently.

Key takeaways:
The Port of Rotterdam is the transfer point for 13% of Europe's fossil fuel imports - it wants to achieve commercial production and imports of hydrogen from 2025 so it can scale this up to 4.6 million tonnes each year from 2030
This would be around one fourth of the forecast for the EU green hydrogen market
The EU plan assumes half the hydrogen will come from imports and the Port of Rotterdam has early agreements with Queensland, Western Australia, Tasmania with a more advanced agreement with South Australia
What's next for PRL?
Joint Develoipment Agreement (JDA) with Total Eren 🔄
The next development for PRL is the signing of the JV agreement with Total Eren. We expect this to come at the end of this month, when the current binding MoU is set to expire.
After yesterday's news we will be on the lookout for PRL to secure Section 91 licences, now that consent has been granted from native title groups.
We are still awaiting confirmation from the WA state government regarding the "Diversification Leases" as a pathway to tenure for hydrogen projects in the state.
PRL is targeting completion of its Pre-Feasibility Study with Total Eren in the first half of 2023, the news from yesterday will support the PFS by allowing PRL access to the land to collect more data.
PRL Investment Memo 2022
Our "
Investment Memo
" is a short, high-level summary of why we continue to hold a position in PRL and what we expect the company to deliver in 2022.
We use these Investment Memos as a way to assess the company's progress and examine how our investment thesis plays out throughout the year.
In our PRL Investment Memo you'll find:
Our key objectives for PRL in 2022
Why do we continue to hold PRL
The key risks our investment thesis
Our investment plan
---