New sub-basin discovered
Disclosure: The authors of this article and owners of Wise-Owl, S3 Consortium Pty Ltd, and associated entities, own 3,500,000 EXR shares at the time of publication. S3 Consortium Pty Ltd has been engaged by EXR to share our commentary and opinion on the progress of our investment in EXR over time.
Gas supply chains globally have come under some serious pressure following the Russia/Ukraine conflict escalating into a war.
Countries all around the world are scrambling to try and secure domestic gas supply or alternatively, secure supply from regional countries they are on friendly terms with.
Our 2019 Energy Pick of the Year Elixir Energy ( ASX:EXR ) is well positioned to benefit from this and is currently in the middle of a drilling program at its Coal Bed Methane (CBM) gas project in Mongolia - right near the Chinese border.
China is home to more than 1.4 billion people and has been a net energy importer since 1993 taking its position as the largest importer of crude oil and natural gas in the world.
China's energy demands have increased by over 45% in the last decade as the country continued to build up its manufacturing base and this isn't expected to slow down anytime soon.
Just like the EU has started to realise, China is also faced with the problem of trying to secure domestic/regional energy supply chains.
Enter EXR, which is drilling for natural gas right along the northern Chinese border and is early on in the scoping works for a potential green Hydrogen project.
Today, EXR confirmed that its maiden well for 2022 which reached a total depth of 804m, intersecting 46m of potentially gas bearing coals and with that the identification of a new sub-basin.
The new sub-basin is located immediately to the south of the Tavan Tolgoi mining complex (Home to one of the world's largest untapped coking and thermal coal deposits).
EXR also confirmed that the drill rig had been moved ~200m down dip from that well to test for extensions to the new structure whilst also testing permeability (gas contents).
The structure of today's announcement was however more of an operations update and EXR confirmed all of the following:
That the 2022 2D Seismic acquisition program had commenced with 47km of the targeted ~322km being completed to date.
Drilling contractor discussions had commenced to firm up a contract for the drilling and long term production testing wells scheduled for mid-2022.
EXR has hit the ground running and is already making progress on two of the three objectives we set out in our 2022 Investment Memo.
With formal approvals in place and drilling contracts re-signed the 2022 exploration program is now off to a successful start, aimed at discovering new sub-basins and increasing the footprint of EXR's project.
This then naturally flows on into the all important pilot production program which will ultimately test whether or not EXR's project can be commercialised and whether or not all of those basins and sub-basins discovered can produce natural gas which is ready to be sold to customers.
To see all of the objectives we set for EXR and what we want to see the company achieve in 2022, check out our 2022 Investment Memo by clicking on the image below.
Today's announcement directly relates to both objectives #1 and especially to objective #2 given such a significant exploration success has come from only the first well drilled in 2022, so early in the year and with plenty more exploration still to come.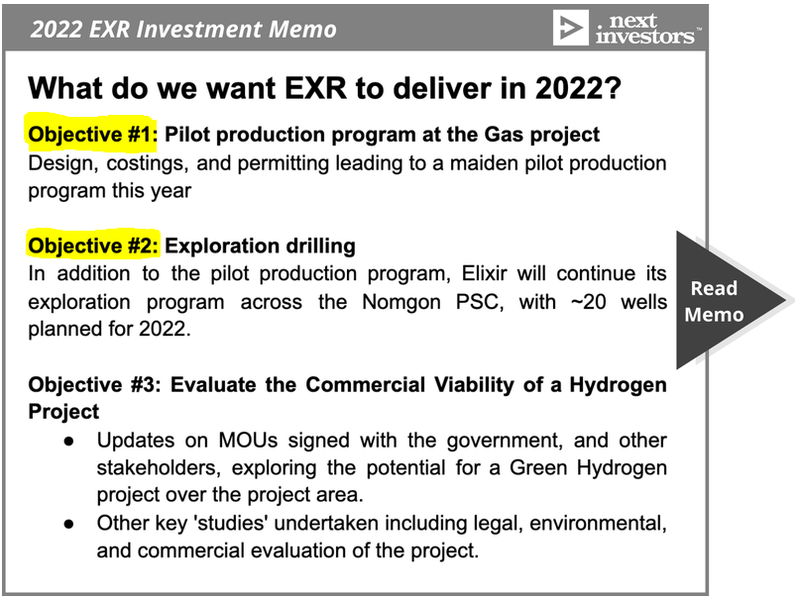 More on today's news:
The key takeaway from today's announcement was the fact that EXR had managed to discover an entirely new sub-basin, increasing the overall size of its Coal Bed Methane (CBM) gas project.
In our last note we wrote about EXR's planned 2022 drilling program which would be based around ~22 exploration wells and ~322km of 2D seismic acquisition programs.
The ultimate goal of the drilling program would be to increase the project's overall 24 billion cubic feet (BCF) contingent resource through the discovery of new sub-basins and to identify additional wells that can be production tested.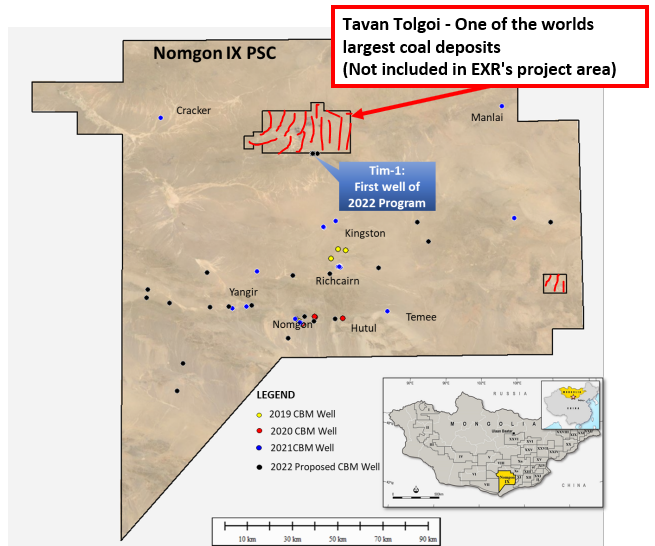 The first of these wells which is located on the image above (Tim-1) was to target the area immediately below the Tavan Tolgoi mining complex (Home to one of the world's largest untapped coking and thermal coal deposits).
A part of EXR's project where the company had minimal understanding/expectations.
After drilling its first well, EXR managed to intersect ~46m of coal paying zones from a well that was drilled to a total depth of 804m, leading to the discovery of a whole new sub-basin.
Below is an image of the previously identified sub-basins and where the newly discovered sub-basin sits.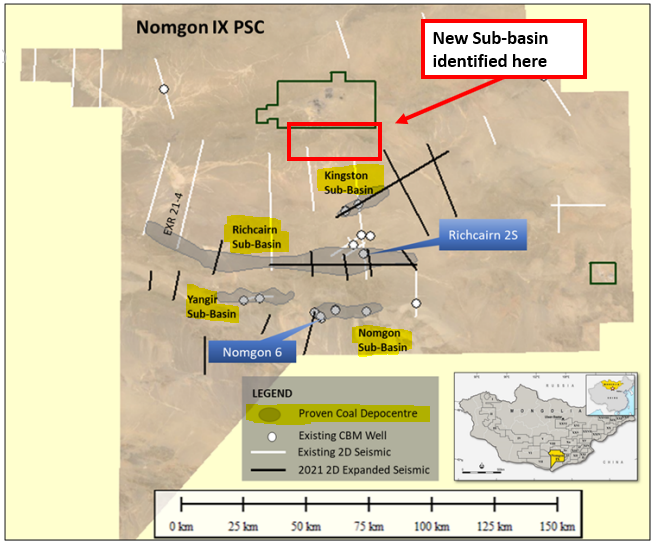 The most interesting part about today's results was that the two wells EXR would be drilling in this part of its project could be considered the highest risk of the 2022 drilling program.
A large part of the remaining holes planned for the rest of the year are in and around the already identified sub-basins and are more so focussed on expanding the understanding of those areas.
For EXR to make a new discovery is for us a surprise positive result which now means EXR's project does infact extend to the north closer to that mining complex in the middle of its project area.
Off the back of today's result, EXR has now confirmed that drilling will be moving to the second well location (Tim-2) which will be testing ~200m down dip of the newly identified sub-basin.
EXR has also confirmed that this second well will be able to have the coal desorbed and the permeability of this new sub-basin tested.
This basically means EXR will check to see if there are traces of gas in the coal intercepts and whether or not it flows out of the rock.
We found this video helpful for us to visualise what this process might look like.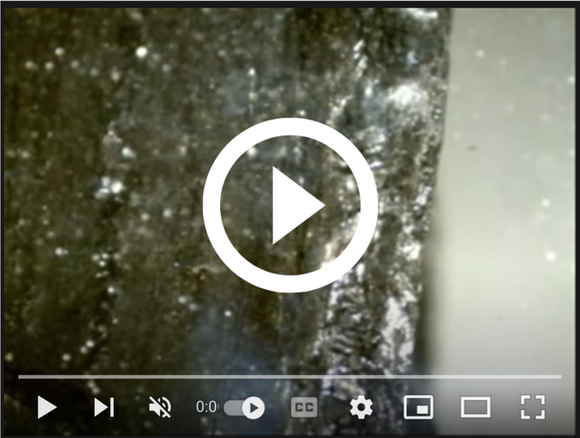 What's next for EXR's gas project?
22 well exploration program for 2022 🔄
EXR has just re-signed the drilling contractors and has completed all of the permitting required for its 2022 exploration program.
The ultimate aim of this program will be to increase the overall footprint of its Coal Bed Methane (CBM) gas project and try to determine whether or not some of these wells warrant production testing in future years.
The below image maps out the 2022 exploration program: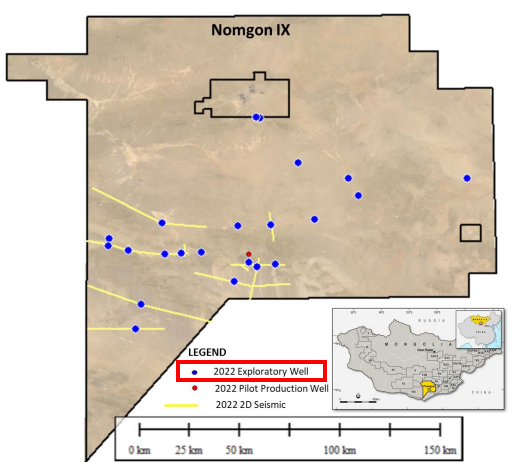 2022 2D seismic data acquisition program 🔄
EXR confirmed today that it has already commenced works on the 2022 2D seismic acquisition program with the first ~47km of a total targeted ~322km completed to date.
2D Seismic data in the oil & gas industry is used as part of target generation works.
The data is acquired by vibrating the ground and then measuring how those seismic waves bounce off rock structures below.
Any anomalies that are picked up are then earmarked for drilling as potential oil & gas accumulations.
As we know, EXR likes to drill at the same time that it does seismic acquisition programs so we expect some of these newly identified targets to be incorporated into drilling programs later in the year.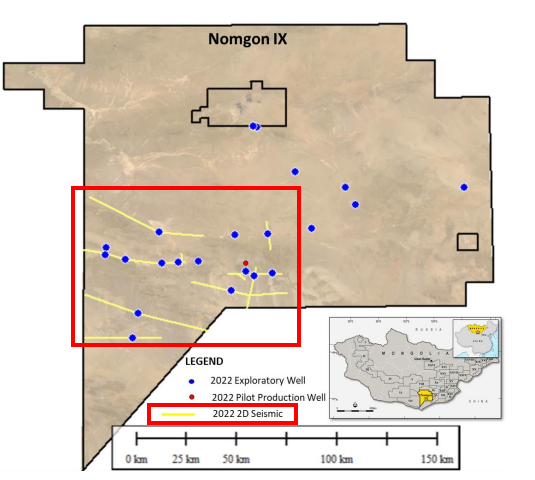 Long term pilot production program ⏹
In today's announcement EXR confirmed that it had commenced discussion with a local subsidiary of international drilling firm "Major Drilling" to firm up a contract for the drilling and long term production testing wells scheduled for mid-2022.
This will be one of the major milestones for EXR this year, as it will determine whether or not its project can be commercialised.
If the pilot production program is unsuccessful then there is a risk that the project resource sits dormant until EXR can work out how to produce gas commercially. This may mean that the company needs to go back and do production testing on other wells.
At the moment we are focussed on seeing the project size be expanded through exploratory drilling in the lead up to this pilot production program.
The below image from a recent presentation EXR did at the Brisbane Energy Minerals Conference summarises this program perfectly.
To view the entire presentation click here .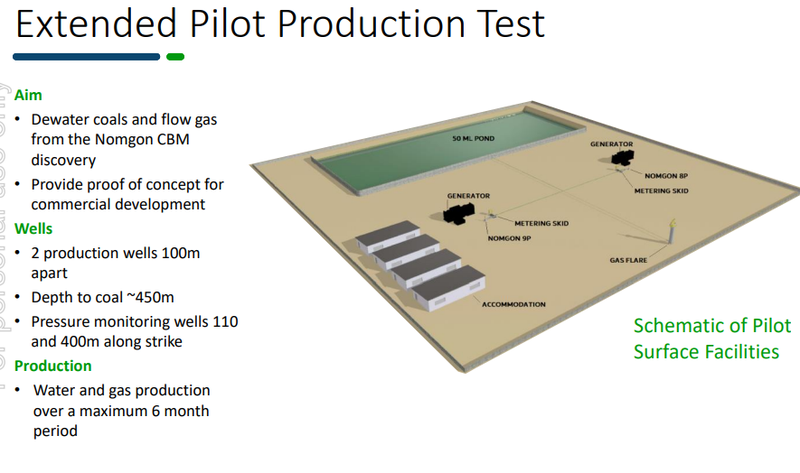 What about EXR's green hydrogen project?
Although there was no update in today's announcement with respect to this project, we attended the Brisbane Energy Minerals presentation EXR gave just last week where there was a small update given on the project.
It seems to us like a lot of the work that is ongoing for EXR's hydrogen project is being done in the background.
With pilot feasibility study's underway and discussions with various stakeholders ongoing we expect to see EXR put out updates for this project over the course of the year.
Of particular interest from the slide deck that was shown at the conference was the mention of a primary goal for 2022 being to " materially advance a 10mw pilot project ".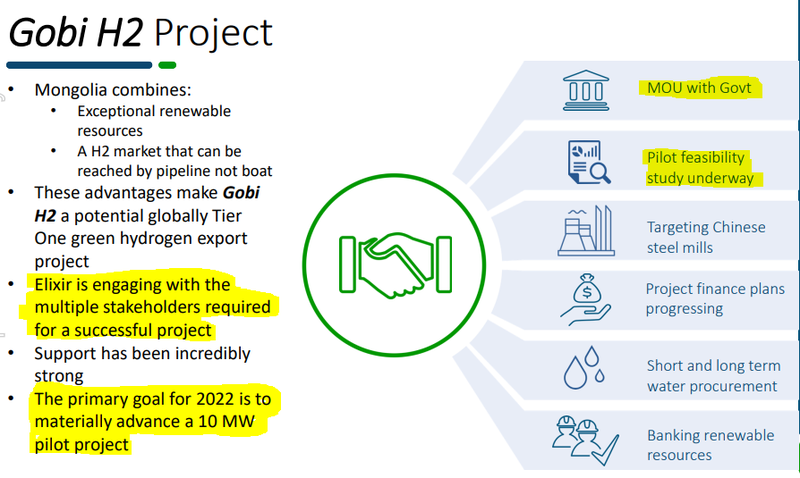 We made this objective #3 of our 2022 Investment Memo for what we want to see EXR achieve in 2022.
Given that the project is still in the scoping phase whereby EXR and the Mongolian government are trying to work out whether or not it is possible and how it would look if developed so we set our objective loosely.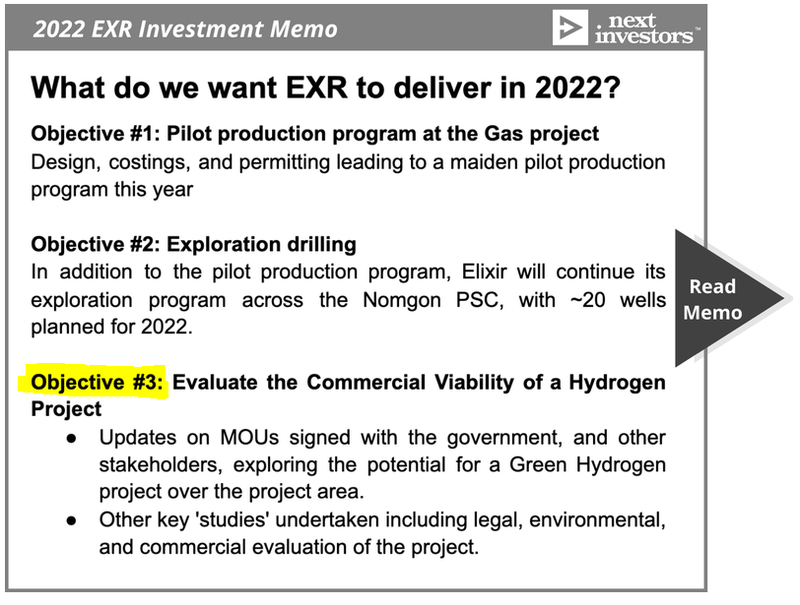 Our 2022 EXR Investment Memo
Below is our 2022 Investment Memo for EXR where you can find a short, high level summary of our reasons for investing.
The ultimate purpose of the memo is to track the progress of our portfolio companies using our Investment Memo as a benchmark, throughout 2022.
In our EXR Investment Memo you'll find:
Key objectives for EXR in 2022
Why we continue to hold EXR
What the key risks to our investment thesis are
Our investment plan
To access the EXR Investment Memo simply click here.
---